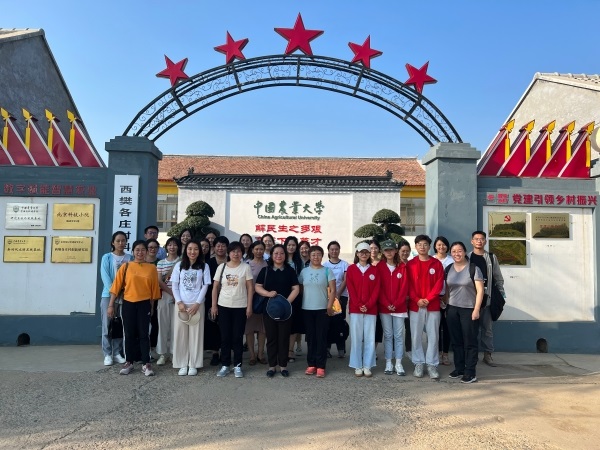 Students from the China Agricultural University participate in a program of agricultural production in Pinggu district of Beijing. [Photo/cau.edu.cn]
President Xi Jinping has hailed students at China Agricultural University for their endeavors on the front line of agricultural production, and said they displayed a spirit that all Chinese youth should have in the new era.
Xi, who is also general secretary of the Communist Party of China Central Committee, made the remarks in a reply letter to students taking part in a program that enables them to apply their academic knowledge to solving problems in agricultural and rural development through working alongside farmers.
In the letter, published on Wednesday, one day ahead of Youth Day on May 4, Xi encouraged the students at the Beijing-based university to make greater contributions to rural vitalization. He also extended his festive greetings to young people across the country.
Xi said he was glad to know that the students, who are participating in a program known as the Science and Technology Backyard, have been highly involved in agricultural production and rural areas, helped to improve the well-being of farmers, and strengthened their academic expertise.
He spoke highly of the views expressed by the students in their letter that they had learned to seek truth from facts and maintain close ties with the people only when they went deep into China's rural areas, and that young people must seek personal development from hardships.
"The young people of China in the new era should have this kind of spirit," Xi said.
The 20th National Congress of the CPC has made plans for building up China's strength in agriculture, Xi said, hoping the students will closely integrate classroom learning with rural practice, and devote their youth and strength to speeding up rural and agricultural modernization and the construction of a modern socialist country.
Xi has always given strong emphasis to work related to young people in China, and expressed high expectations for the younger generation in many of his landmark speeches.
Ma Liang, a professor of public administration at Renmin University of China, said the reply letter from Xi ahead of Youth Day again spoke volumes about the importance he attaches to the development of young people.
"The priority given by the top leadership to youth development will help create a better environment for the development of the younger generation, and help them overcome problems they face in the job market and truly live up to their potential," he said.
China Agricultural University launched the Science and Technology Backyard program in Quzhou county, Hebei province, in 2009.
The program aims to study and solve practical problems in the development of agriculture and rural areas, train high-level agricultural talent, and serve rural and agricultural modernization.
So far, the university has developed 139 Science and Technology Backyard projects in 24 provincial-level regions across the country.
Jiao Xiaoqiang, an associate professor at the university and a coordinator of the projects, said that Xi's reply letter was a recognition of the program's efforts to serve farmers, agricultural production and rural development.
The letter will inspire the teachers and students to stay true to the program's original aspiration, continue to devote themselves to innovation in agricultural science and technology, and serve the national strategy for green agricultural development, he said.
Another important outcome from the program is that it has trained over 60 postgraduate students from African countries and helped to ensure that these countries strengthen their food security, Jiao said.
Samson Mofolo, a postgraduate student from Malawi and a participant in the program, said he never thought his research and work in China would receive attention from the top leadership.
He described his experience while participating in the Science and Technology Backyard project in Quzhou county as "amazing".
"Here, I have experienced the enthusiasm of Chinese farmers, and the prosperity of rural areas, and learnt about the hard work of smallholders in China. All of these are precious treasures of my life," he said.
"I will try my best to learn and master well the working approach of the program. Once I return to Malawi, I will work as I did in China and share my Chinese experiences with my friends and family," he added.