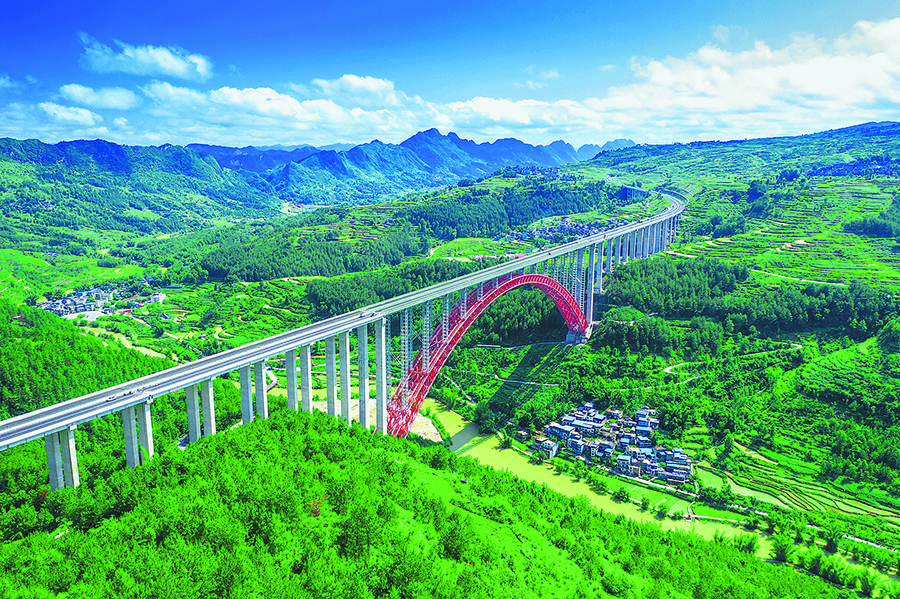 Daxiaojing bridge, crossing the Dajing River in Luodian county, is a core project of the highway from Yuqing to Anlong in Guizhou. [Photo provided to China Daily]
Prestigious award
Guizhou is home to 49 of the 100 tallest bridges in the world, including four of the 10 tallest, the commission said. Four bridges in the province have won the Gustav Lindenthal Medal, one of the most prestigious bridge construction awards in the world.
Due to the large number of bridges, the different types and the complicated technologies used in their construction, the province has been dubbed "the museum of world bridges", according to the transportation commission.
Beipan Bridge, hanging more than 565 meters above the Beipan, or Nizhu, River in Guizhou, has been certified as the world's highest bridge by Guinness World Records.
The 1,341-meter-long structure opened in December 2016, replacing the Sidu River Bridge in Hubei province as the world's highest such structure.
"Construction is affected by the wind, and it requires a high degree of precision. Transporting materials to the canyon was very difficult. Usually, we transport assembled sections, but on this project we did the opposite by transporting the parts and assembling them on-site," said Wang Chao, the project manager at China Communications Construction, the company that built the bridge.
Another mega suspension bridge is under construction above the wide canyon of the Huajiang River, which is known for its steep cliffs and fast-flowing current.
With a drop of 625 meters to the river, it is expected to become the tallest bridge in the world when it is completed in 2025. It will cut the journey time across the canyon from about an hour to 1 minute.
Deep gorges, steep terrain and the highly developed karst landscape left the project team with few choices but to design such a high bridge, said Wu Chaoming, who managed the building project.
It's not just the high technology used to build the bridges in Guizhou that has attracted attention, but also the spirit associated with it.
The Dafaqu Grand Bridge straddles a local waterway — the Dafa Canal, or Dafaqu in Mandarin — that is named in honor of a local man, Huang Dafa.
The 87-year-old led residents of Caowangba village to excavate and then maintain a 9.4-kilometer-long "life canal" that runs along the side of the karst mountains to bring fresh water to the settlement — a long-cherished dream of local people.