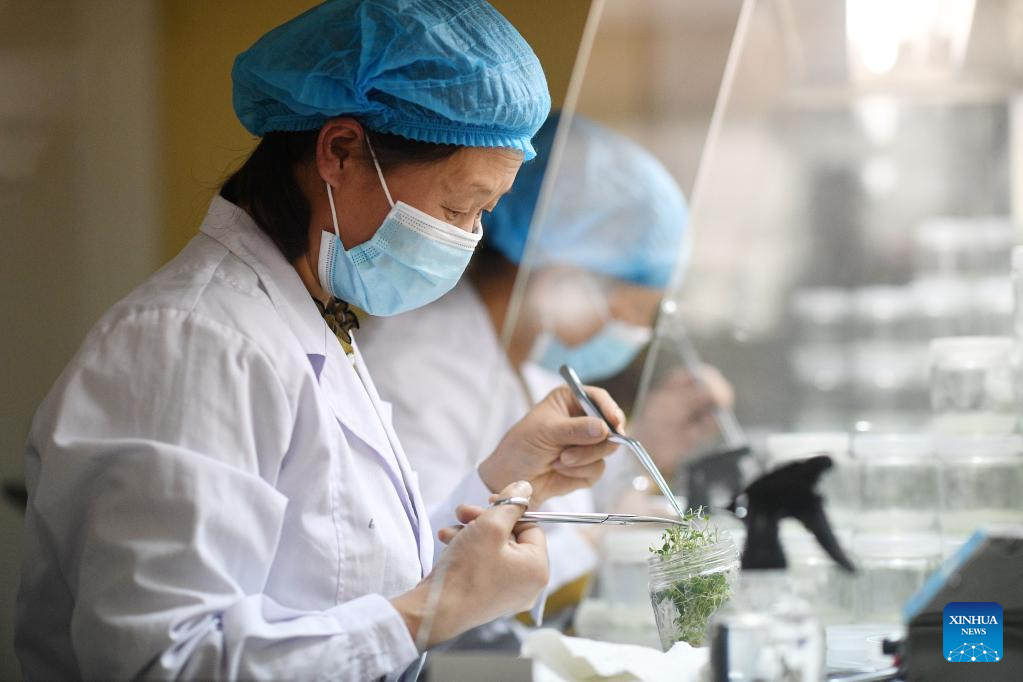 Staff members operate on potato seedlings at a potato cultivation center in Xiji County, northwest China's Ningxia Hui Autonomous Region, March 2, 2023. (Xinhua/Wang Peng)
YINCHUAN, March 8 (Xinhua) -- As the potato-planting season approaches, baby potatoes from northwest China's Xiji County are making their way to the fields of farmers across the country's major potato-producing area.
The county, sometimes referred to as China's "potato land," recently saw a bumper potato crop, thanks in part to the success of the soilless farming technologies patented by a local potato cultivation center.
He Jiandong, the center's general manager, has been busy promoting baby potatoes among the farmers in the area.
"The baby potatoes we cultivate here are free from any diseases or poisonous substances found in soil. This is because they are initially grown in a clean indoor environment," He said. "The best seedlings are selected and placed on shelves, their roots are hung in boxes, and they are sprayed with water to allow them to grow fast."
He's cultivation center and two other similar baby potato producers in Xiji produce 60 million baby potatoes each year, providing seedlings for the county's farmers, who in turn produce quality potatoes across a total area of 666.67 hectares.
"By adopting the new technology, we have raised the potato productivity rate by 30 percent, while reducing the production costs of farmers by 40 percent and cutting the soil pollution rate to below 2 percent," He said.
The baby potatoes, which are the size of walnuts and light in weight, are easy to transport and are sold to a variety of locations, especially to those with similar natural conditions to Xiji.
"Farmers can simply bury them in the soil and wait for them to grow, and urban households can also plant them in pots," He said.
Situated in Xihaigu, a region crossing the central and southern parts of the Ningxia Hui Autonomous Region that was once deemed uninhabitable, Xiji was lifted from poverty two years ago and has built itself into one of China's most famous potato-producing counties.
"We have plenty of good-quality potato products and plan to build a whole potato production chain, with products ranging from noodles to chips and crisps. We are now introducing a production line from Fujian Province," said Bai Xuegui, the Party chief of Xiji County.
The production of Xiji potato noodles could date back nearly 90 years. When the CPC-led Red Army arrived in Xiji as early as in 1935, they taught local farmers to make potato noodles. The noodles now have the trademark "Red Army Noodles" and are being manufactured in several local factories. ■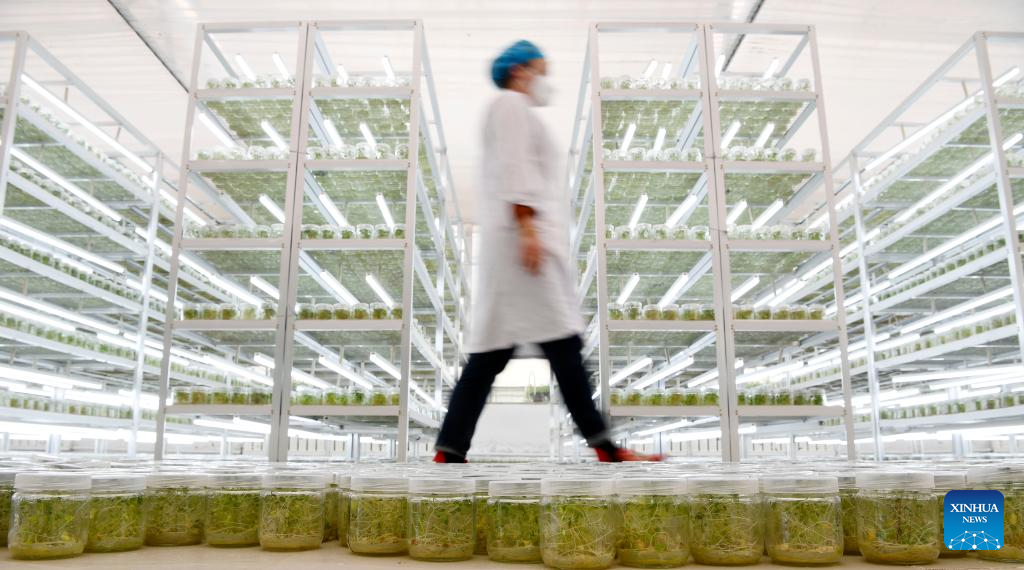 A staff member patrols at a potato cultivation center in Xiji County, northwest China's Ningxia Hui Autonomous Region, March 2, 2023. (Xinhua/Wang Peng)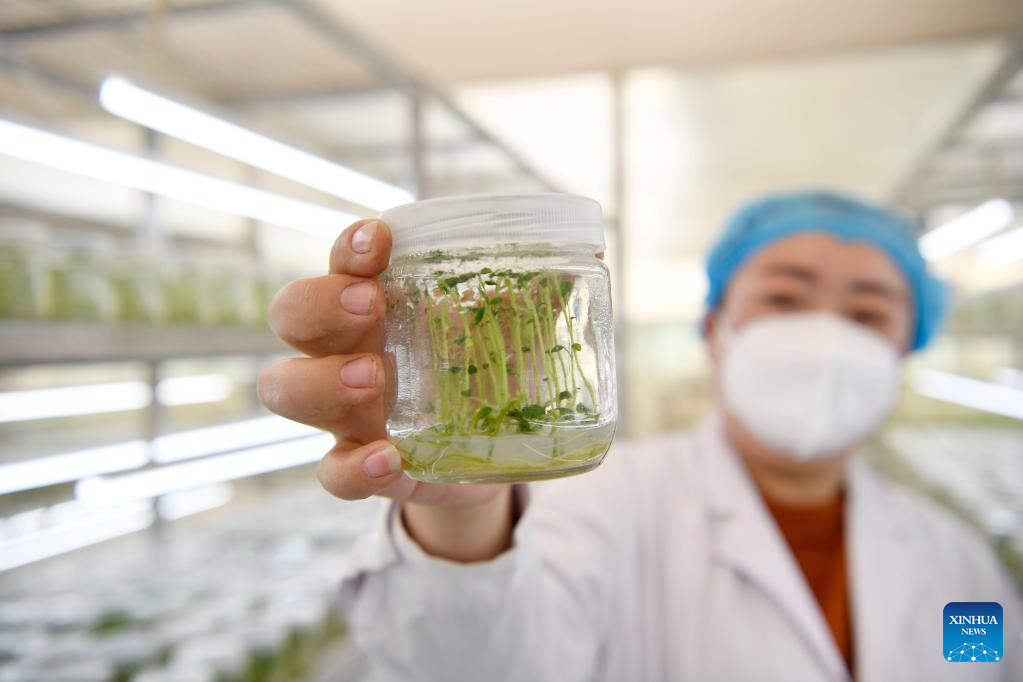 A staff member checks the growth of potato seedlings at a potato cultivation center in Xiji County, northwest China's Ningxia Hui Autonomous Region, March 2, 2023. (Xinhua/Wang Peng)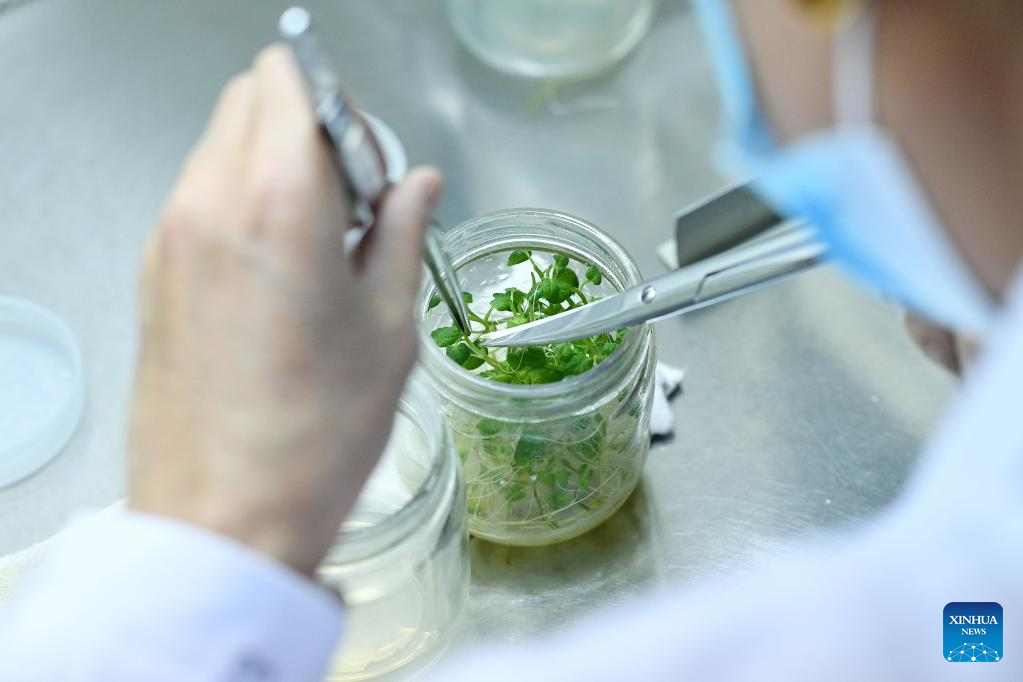 A staff member operates on potato seedlings at a potato cultivation center in Xiji County, northwest China's Ningxia Hui Autonomous Region, March 2, 2023. (Xinhua/Wang Peng)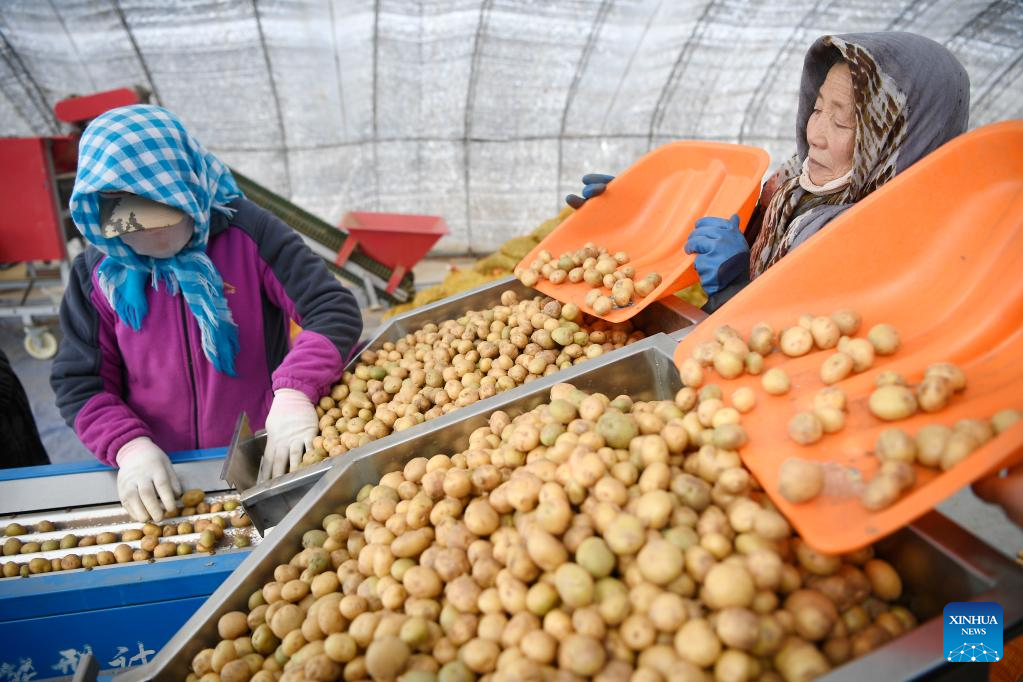 Staff members sort out potatoes at a potato cultivation center in Xiji County, northwest China's Ningxia Hui Autonomous Region, March 2, 2023. (Xinhua/Wang Peng)