The "No. 1 central document" for 2023, the first policy statement released by the central authorities each year, has outlined the roadmap for further advancing rural revitalization. It strengthens the science-based approach as an important support for modern agriculture and bolsters high-quality rural industries.
The town of Xiaotangshan in Beijing is not only famous for its hot spring vacation resorts, but also boasts modern strawberry planting bases. With its scientific breeding methods supported by local technicians, picking your own strawberries in Xiaotangshan has becoming a must-do activity for people in and around Beijing.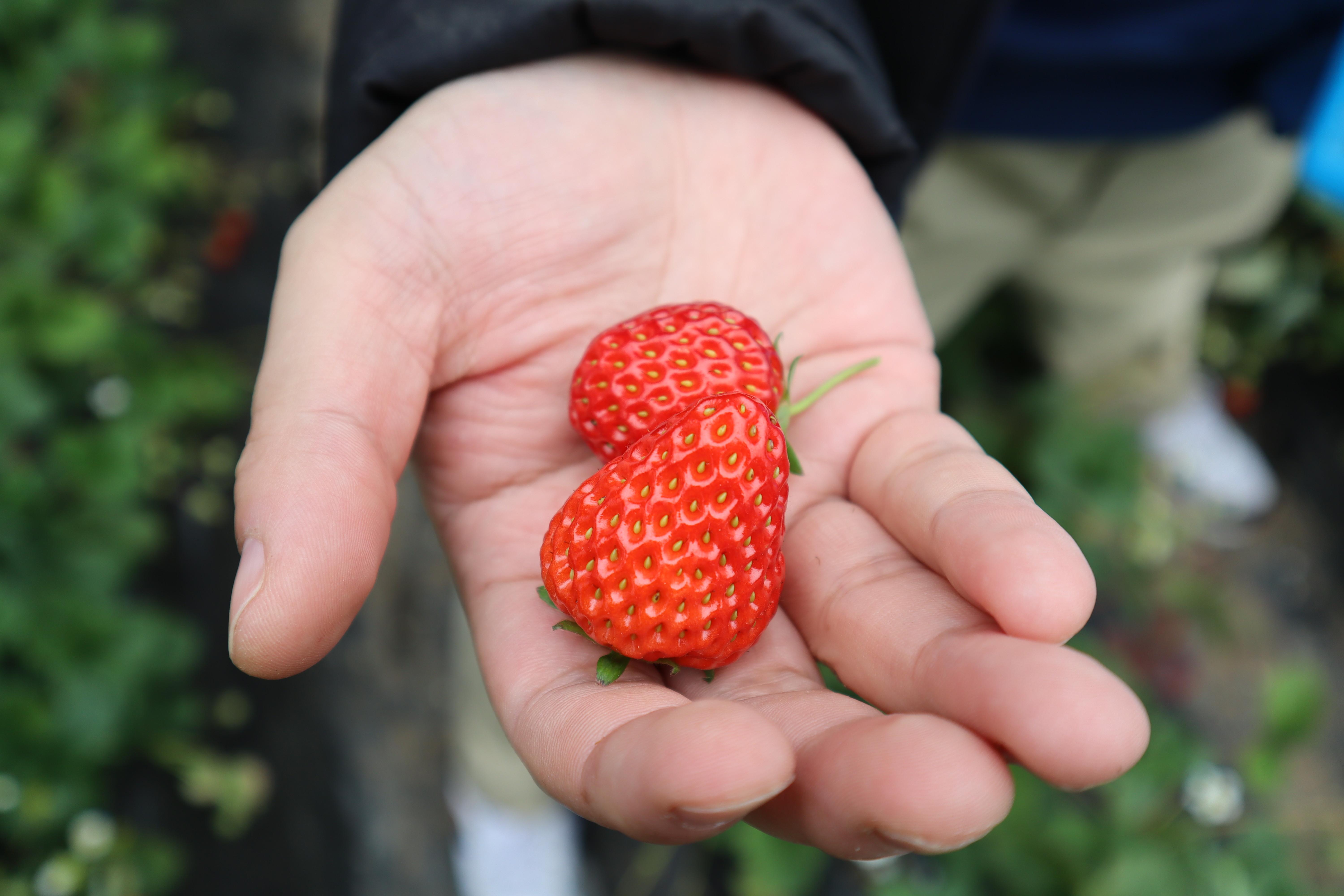 A visitor to a strawberry planting base shows his picked strawberries, Xiaotangshan town, Beijing, Feb. 19, 2023. [Photo by Yan Bin/China.org.cn]
Xiaotangshan is located in the eastern part of Beijing's Changping district. The town covers an area of over 70 square kilometers, with three communities and 24 villages under its jurisdiction.
The town enjoys natural advantages for strawberry planting since 40 degrees north latitude is considered the best production zone for growing the fruit, and Changping district is located precisely on this latitude. In addition, the water in Xiaotangshan area contains strontium, lithium, selenium, metasilicate and other minerals important for human physiological functions. This is the reason why strawberries and vegetables grown in the area have a delicious taste that is unique to this suburb of Beijing. In addition, in order to ensure flavor and nutritional content, most strawberries here are organically grown.
As one of the first towns in China to be selected as a "characteristic town" in 2016, Xiaotangshan is rich in hot spring resources and boasts a history of visits by members of the imperial household, which attracts flocks of tourists every year. With four main traffic arteries forming a mature and complete road network, nine rivers passing through the area, together with forest resources such as national-level northern nursery stock bases and Jingcheng Expressway green belts, the town has the ideal conditions to develop strawberry production.
Thanks to its unique natural conditions and mature city planning, Changping district, where Xiaotangshan is located, has grabbed this opportunity to vigorously develop strawberry growing with its planting area exceeding 300 hectares, accounting for 60% of the total strawberry planting area in Beijing. A production season can create more than 400 million yuan in output for local growers in Changping. Meanwhile, close cooperation with local hot spring resorts has also brought good economic benefits.
When visiting a strawberry planting base in Xiaotangshan area, there were sealed boxes in each greenhouse, with more than 5,000 bees living in each beehive. When the temperature in the greenhouse rises, they fly out and pollinate the strawberry flowers. In order to create a good ecological environment for the bees, planters here refuse to use pesticides to ensure the healthy growth of the sweet red fruits.
"Our organic strawberries are pretty juicy and large. When the strawberries are ripe, people from downtown Beijing often drive out here to pick them as a fun parent-child activity," said Li Ling, a strawberry grower in Xiaotangshan.
Winter is the ripening season for strawberries in Changping. Compared with the past when there was a fall-off in winter, strawberry growers in Xiaotangshan are busy picking their fruit as soon as winter arrives.
"In order to speed up production, we refrigerate seedlings to advance the flower differentiation of strawberries," Li explained. "That way people can have our strawberries in early December."
Clusters of strawberries grow neatly in rows at a strawberry planting base in Xiaotangshan town, Beijing, Feb. 19, 2023. [Photo by Yan Bin/China.org.cn]
"I contracted 10 strawberry greenhouses, which open in turn to welcome customers. During the peak picking season, that is January to May each year, every one of the greenhouses can generate more than 1,000 yuan on average of gross income each week," Li said.
Nowadays, many greenhouses in Xiaotangshan have implemented three-dimensional strawberry cultivation. On the waist-high planting platforms, the strawberry fruits naturally hang on the edge of the substrate layer, making it much easier for them to be picked. This cultivation method also reduces the use of water and fertilizer, increasing the yield by 30%. Ecological strawberry planting has effectively improved the income of local villagers and is injecting vitality into the local villages in Xiaotangshan town.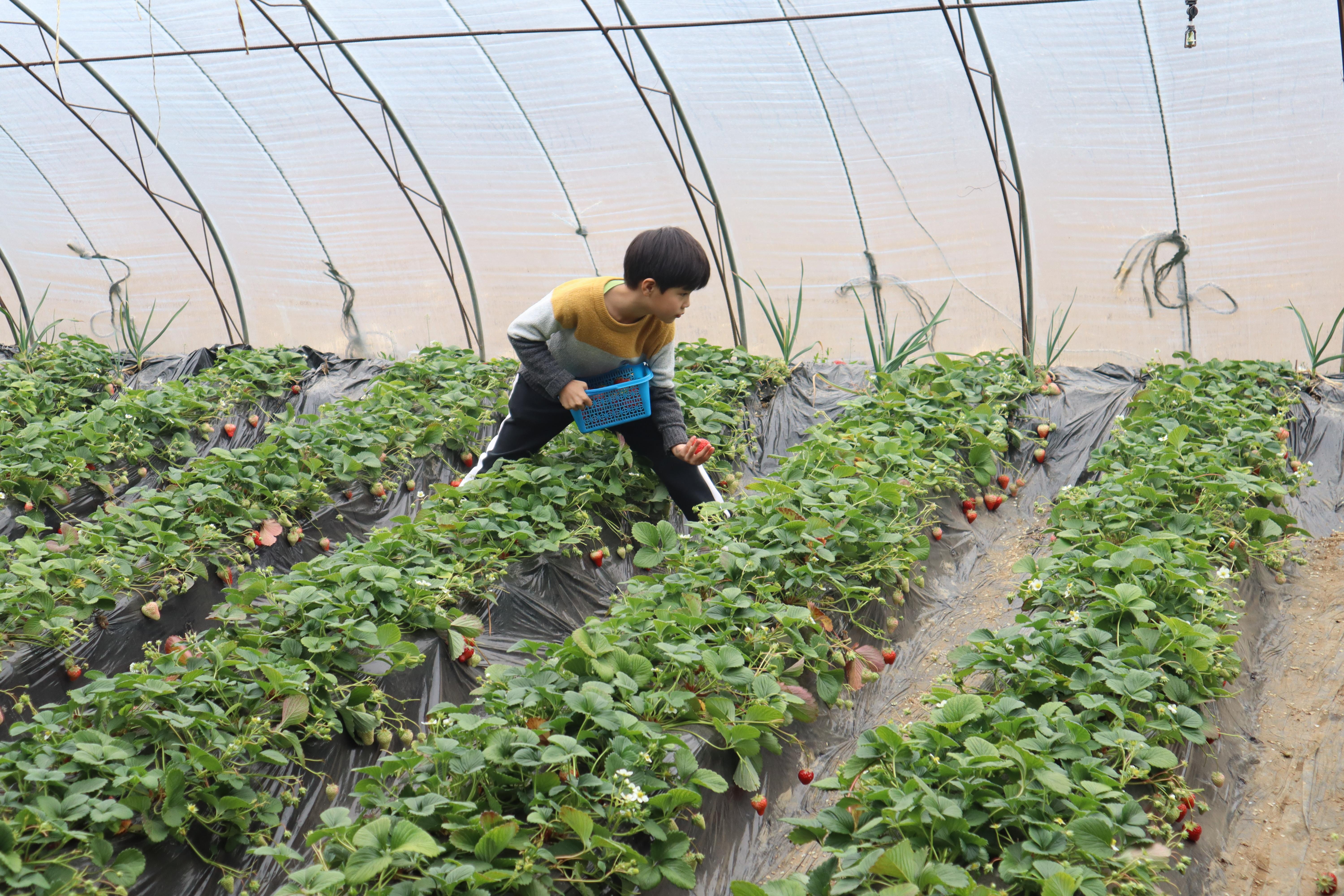 A boy picks strawberries at a planting base in Xiaotangshan town, Beijing, Feb. 19, 2023. [Photo by Yan Bin/China.org.cn]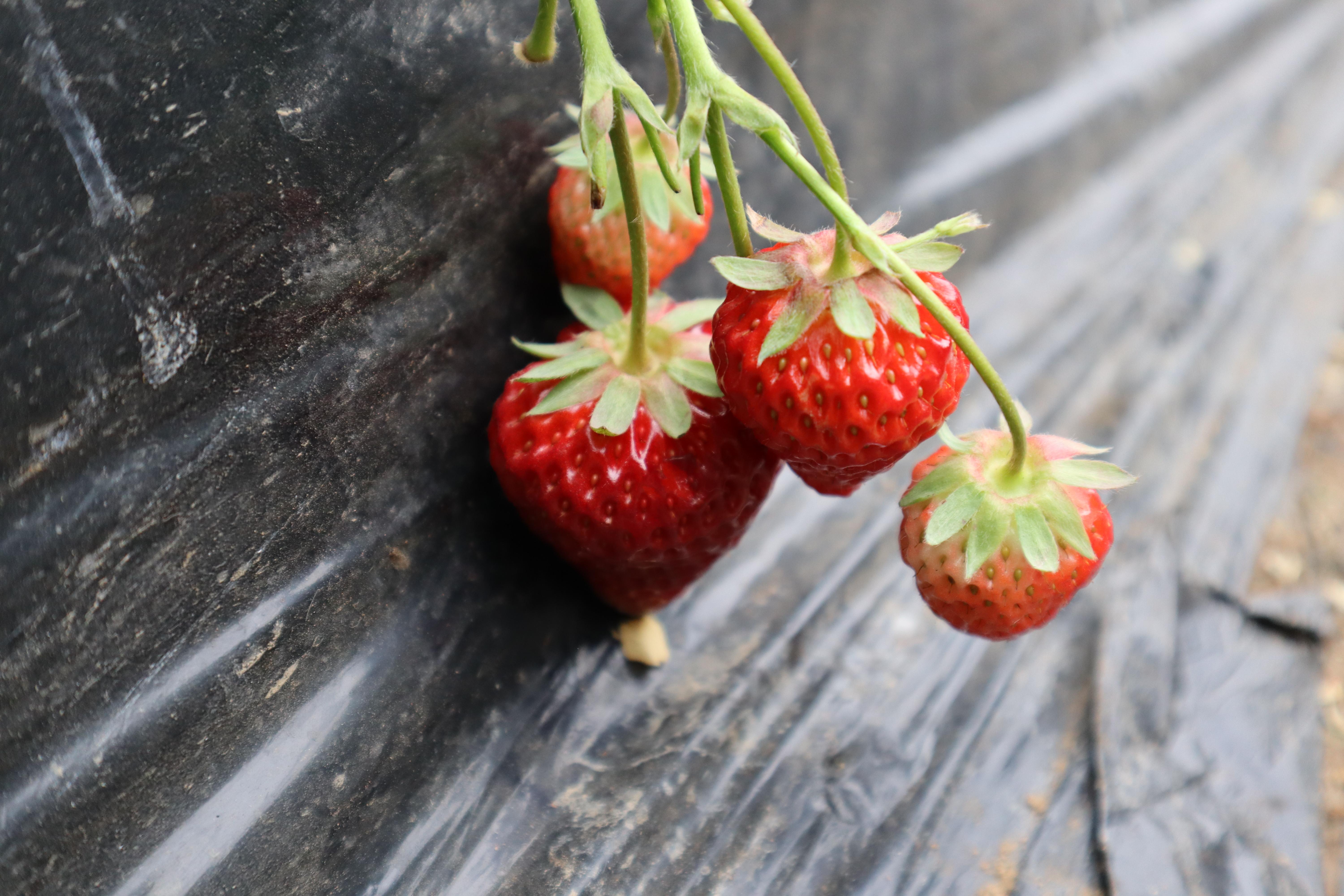 Strawberries grow in a greenhouse at a strawberry planting base in Xiaotangshan town, Beijing, Feb. 19, 2023. [Photo by Yan Bin/China.org.cn]