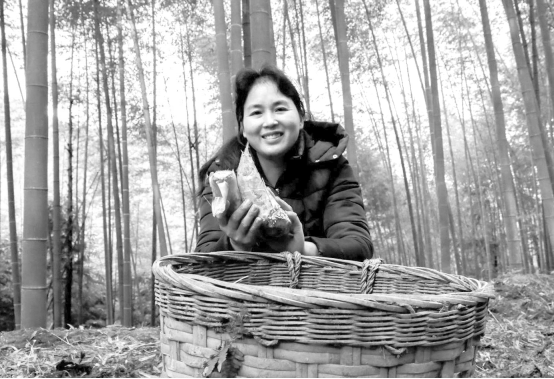 A farmer harvests bamboo shoots in Zhuhai village, Baijie township, Naxi district, Luzhou city, Sichuan province.(Sichuan Economic Daily)
One of China's 13 major bamboo-producing districts and counties, Naxi district, Luzhou city, Sichuan province, ushered in its winter shoots harvest season, which will last until about Spring Festival (late January to mid-February). Located in the middle of a 6,666-ha bamboo forest that runs through the district known as the Dawang Bamboo Sea, Zhuhai village, Baijie township, has been experiencing a flurry of activity as various species' shoots emerge.
Although they are loved by eaters as a result of their fresh, tender, crisp, and refreshing nature and experience a lot of demand, the bamboo shoots produced in Zhuhai did not make it very far in the past. Residents sold the crop to buyers who took them to Baijie, where they were then transported to central Naxi, other parts of Luzhou, and other areas. A direct connection to China National Highway 546 opened and a cooperative was established this year, however, which has enabled the village's residents to sell the delicacy without having to leave its borders and at good prices.
Zhuhai has also been developing a bamboo forest base, bamboo-oriented industrial park, bamboo product line, and various scenic tourist attractions and pursuing e-commerce, forest farming endeavors, such as mushroom cultivation and chicken raising, in its bamboo forests, and agritourism in recent years as part of a green vitalization plan that takes advantage of local Naxi characteristics in order to boost residents' incomes and promote economic growth.
"I dug up about 10 kg's worth of shoots this morning," Long Xiangyan, a Zhuhai resident who harvests them every winter, stated recently. "I killed two birds with one stone! I earned more than 200 yuan (US$31.40) and also got some exercise."
"Winter shoots sell for around 20 yuan (US$3.12) per kg this year," Yu Yuanping, vice Party secretary of Zhuhai, mentioned happily." Our harvest is expected to surpass 0.5 million kg this season, so output value should exceed 10 million yuan (US$1.57 million)."