Globally, 2022 began with severe uncertainty as a COVID-19 relapse threatened to prolong the pandemic. Conflict and climate events and the Ukraine crisis continued to exacerbate uncertainties and put the most vulnerable further at risk.

I am trying to sound the alarm about this as loudly as I can. The global food crisis just continues to intensify, and things are going to get worse in 2023.
Somalia is on the frontline of this crisis, facing the impact of climate change — seeing its worst drought in 40 years. Crops are failing, livestock are dying and millions of people are facing starvation. This is in just one corner of our planet; people in other places are also on the edge of famine.
The World Food Programme's latest analysis has found that, currently, 349 million people across 79 countries are facing acute, or crisis-level, food insecurity — up from 282 million at the start of the calendar year. This is a record high and more than 2.5 times the number of people experiencing crisis levels of hunger before the pandemic began. It's hard to believe that this number was only 80 million people just a few years ago.
Among the 349 million facing food insecurity, some 49 million people living in 49 countries are just one step away from famine. Most worrying of all, now almost one million people are living in famine-like conditions — over 300,000 in Somalia alone, the rest in Afghanistan, Ethiopia, South Sudan and Yemen.
The compounding factors like conflicts, COVID-19's economic ripple effects, extreme weather, inflation and economic shocks, fuel and fertilizer shortages, and the crisis in Ukraine have created a global food crisis unlike any other.
Put simply, the world is facing a food crisis of unprecedented proportions, with the threat of mass starvation and famine growing all the time. Rising food prices and falling living standards have combined to push millions toward starvation unable to afford a basic meal.
We must race against time to save lives. The WFP is mobilising all available resources to get life-saving help wherever it is needed most, scaling up food and nutrition assistance to prevent famine. And we aim to reach 160 million people in 2022 — the highest number in our history.
Looking ahead, it is hard to be optimistic. By 2050, there will be 10 billion people in the world to feed and this will be an unprecedented challenge if significant attempts are not made to reverse current trends.
And yet, we must confront these challenges and redouble our efforts in order to get SDG 2 — zero hunger — back on track and realize the promise of the 2030 Agenda for Sustainable Development.
Building resilient food systems is an important part of these efforts. The UN Food Systems Summit convened in September 2021 made an ambitious commitment to take concrete measures to build resilience and ensure sustainable food systems, particularly for those most vulnerable to food insecurity and malnutrition.
In the short term, an urgent and coordinated multilateral effort across governments, institutions, the private sector and civil society is needed to avoid an even more severe global hunger crisis in 2023, including supporting social protection systems and strengthening national food systems. For example, we can reach more people and create more resilient, equitable and efficient food systems by delivering home-grown school meal programs.
China is a valued partner of the WFP in tackling hunger and strengthening livelihoods, resilience and nutrition. We will continue to explore the newest ideas, latest technologies, and build lasting partnerships with our Chinese partners to reach people who have been left furthest behind. Meanwhile, we are acting as a bridge to leverage relevant expertise, experiences and resources from our partners, in response to emergencies and development needs, helping developing countries progress toward zero hunger, through South-South and Triangular Cooperation.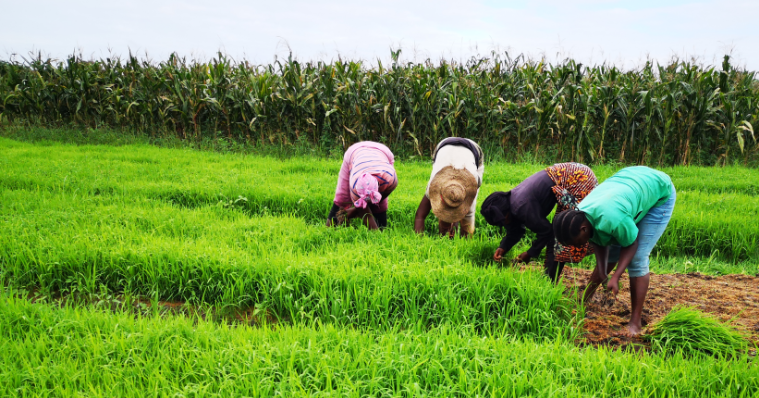 China-Africa Rice Value Chain Development Initiative (Photo courtesy of WFP)
Platforms like the WFP-China South-South Cooperation Knowledge Sharing Platform (www.wfpchinacoe.net) can work to enhance food security, improve nutrition and alleviate poverty, by providing an enabling environment for partners to post demands, share solutions and connect with each other.
In the longer term, it means investing in resilience building so vulnerable communities are more self-reliant and able to enhance protection to shocks that occur year after year while improving food security and livelihoods. This includes helping farmers adapt to the challenges of climate change, and providing capacity building for livelihoods and skills, while facilitating sustainable climate-smart agricultural practices.
We all know that ending hunger is the greatest challenge of our time, but together, we can make an impact and turn hunger into hope.
The author is WFP Representative/Country Director of the United Nations World Food Programme China.
If you have any problems with this article, please contact us at app@chinadaily.com.cn and we'll immediately get back to you.