In recent years, special teams from the Institute of Microbiology of the Chinese Academy of Sciences (IMCAS) have been playing an important role in China's poverty reduction and sustainable development campaigns by applying science and technology and popularizing new techniques and approaches in order to help the nation achieve its goals in these areas.

Agricultural development is a primary driver of rural poverty eradication, particularly in regions where most of the impoverished population lives in mountainous areas and engages in agriculture-based activities. A key aspect of promoting growth and generating other positive outcomes, enhancing productivity in the agricultural sector by improving infrastructure, access to markets, and availability of upgraded seed varieties and training directly reduces poverty in rural areas, including in regions with limited arable land.
The fourth largest crop in China, the potato is also one of the dominant crops in rocky desertified and contiguous poverty-stricken regions in less-developed provinces and autonomous regions such as Gansu, Yunnan, Guizhou, Sichuan, and Inner Mongolia and constitutes the main source of income for farmers in more than 70% of impoverished counties and county-level cities in these areas. Potato yields in China are less than a third of what is achieved in most developed countries and lower than the world average, however, due to excessive usage of chemical fertilizers and pesticides, frequent occurrence of disease, and poor quality seed often being used.
The latest IMCAS research indicates that China's potato production suffers from three main problems at present: First, the frequent occurrence of pests and disease and lack of effective prevention and control measures being applied to them results in serious yield loss, with up to US$1 billion of revenue being forfeited per year due to potato late blight alone. The pesticide usage that frequently occurs in order to stabilize production endangers the natural environment and food safety in addition to increasing costs. Second, low fertilizer utilization and high loss rates occur. China's fertilizer utilization rate is only 20-40%, which is far lower than the 50-60% that prevails in developed countries, such as the U.S. and those in Europe. Third, excessive usage of chemical fertilizers and pesticides has caused land to be damaged, mostly due to the fact that growers overuse them in blind pursuit of yields.
IMCAS poverty alleviation teams have developed and integrated a number of products and technologies that make it possible to reduce the utilization of chemical fertilizers and pesticides by increasing efficiency through making use of beneficial microorganisms and their metabolites since 2012, which has proven to be an effective way to enhance potato production in China.
In the past decade, IMCAS research teams composed of experts and scholars have advanced poverty alleviation with science and technology. Virus-resistant seedlings have been developed and are grown in laboratories capable of producing millions per year in order to improve cultivation efficiency and quality. They have been planted in more than 20 counties in 7 provincial-level administrative areas in China, which has helped growers increase their incomes. The teams have also cooperated with local enterprises and governments, especially in deeply impoverished areas, such as Liupanshan city, Guizhou Province's Shuicheng county and Liuzhi Special Zone; Ningxia Hui Autonomous Region's southern mountainous region; and Shangdu county, Ulanqab city, Inner Mongolia Autonomous Region. Sixty technical training courses were provided, and members of impoverished households participated in them more than 5,500 person times in total.
Timeline of IMCAS targeted poverty alleviation projects
IMCAS potato research teams have helped establish cooperatives and boost yields and incomes by demonstrating and promoting special potato cultivation techniques in conjunction with local governments since January 2012, which has greatly enhanced poverty-reducing potato farming endeavors and resulted in the creation of a targeted poverty alleviation model. The following specific actions were taken:
From January 2012 to December 2019, with the support of the Ningxia Agricultural Comprehensive Development Office, an IMCAS potato research team worked deep in several impoverished mountainous regions in southern Ningxia. Lectures and onsite training were provided to members of local cooperatives, which made it possible for 3,017 people from poverty-stricken households to learn how to use new green and high-yield potato technologies, such as fertilizer synergism and pesticides that reduce loss by increasing adhesion, which helped generate 210 million yuan (US$29.4 million) of economic benefits.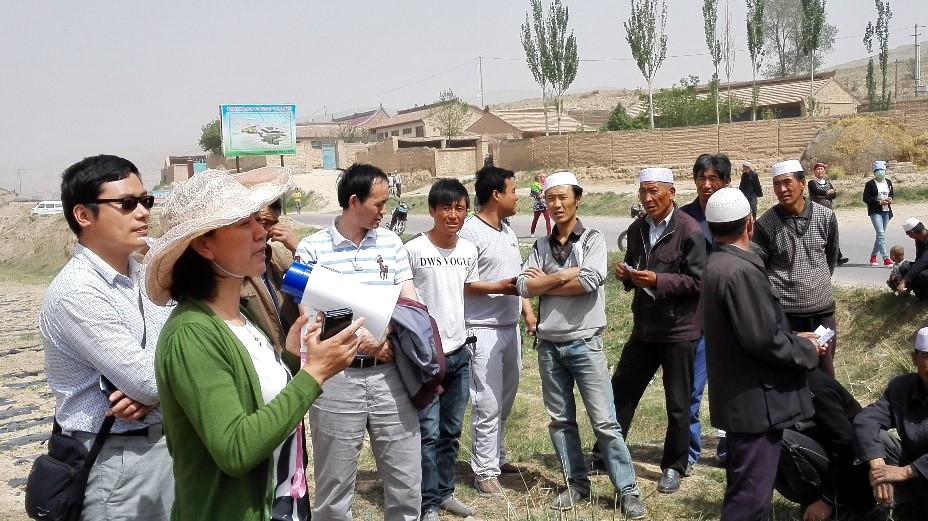 Institute of Microbiology of the Chinese Academy of Sciences (IMCAS) researcher Zhong Naiqin provides technical guidance in Haiyuan county, Zhongwei city, Ningxia Hui Autonomous Region.
From 2014 to 2016, with the assistance of the Science and Technology Bureau of Shangdu County, an IMCAS potato research team demonstrated and promoted fertilizer synergism and pesticides that reduce loss by increasing adhesion across 8,667 ha of land. The team provided various types of training, including lectures, demonstration of various techniques and technologies, and on-site assistance and observation. The endeavor resulted in increasing yields by 22.5% in average, income by 4,650 yuan (US$651) per ha in average, and total income by 40 million yuan (US$5.6 million).
An IMCAS poverty alleviation team conducts technical training in Shangdu county, Ulanqab city, Inner Mongolia Autonomous Region.

An IMCAS potato research team began engaging in science and technology-powered poverty alleviation in Shuicheng in July 2016 as well. The team helped impoverished farmers living in deeply impoverished and high-elevation villages increase their production and incomes by introducing new agricultural techniques and technologies in cooperation with the county and township governments under its jurisdiction. Zhong Naiqin, Liu Ning, Zhao Pan, and other IMCAS experts worked in turn at various locations on the front lines of poverty alleviation in Shuicheng every three or four weeks in order to conduct itinerant training related to efficient fertilizer utilization and green pest control. Average potato and ginseng fruit yields in Tianba village, Qinglin township, Shuicheng county, increased by more than 20% by 2017, which resulted in increasing income by 6,000-22,500 yuan (US$840-US$3,150) per ha and for the entire village – 695 people of 228 households – emerging from poverty a year ahead of schedule. In 2018, seed production in Muke village, Yushe township, increased by more than 40%, which enabled 199 people to escape from poverty. In 2019, yields of potatoes, tobacco, and other crops grown on 14.7 ha of land in Panlong town's Yuanba and Erdaoyan villages increased by 41.3% in average, which caused revenue to increase by 8,250 yuan (US$1,154) per ha in average.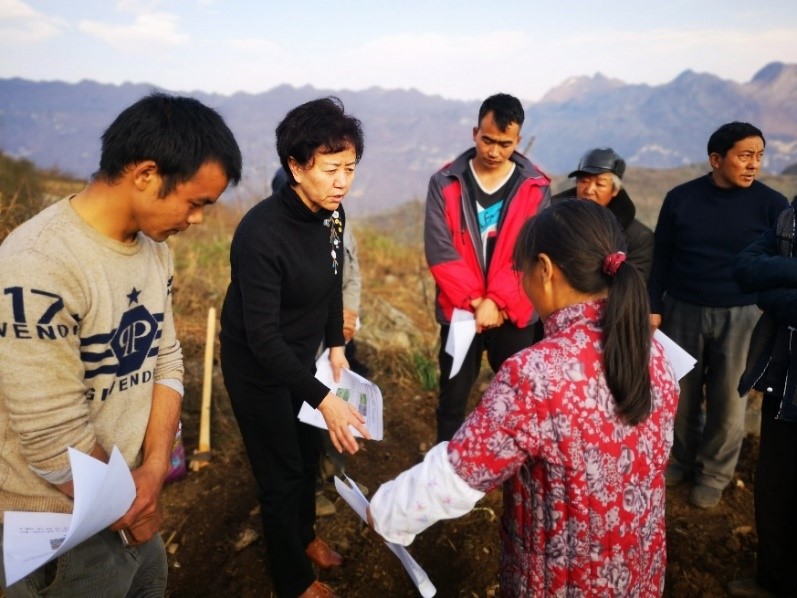 An IMCAS poverty alleviation team conducts technical training in Shangdu.
On June 20, 2017, the IMCAS signed an agreement related to the establishment of a virus-resistant potato seedling breeding center with the Shuicheng government. The project has attracted the attention of several leading local companies, and researcher Zhong Naiqin was dispatched to the area to oversee planning, design, and technical training. Statistics shown online in September 2018 that the facility is capable of producing 15 million high-quality virus-resistant test-tube plantlets, 30 million mini potatoes, and 15,000 tons of seed per year. The center has made it possible for more than 300 formerly impoverished locals to get steady jobs and reduce about 50 million yuan (US$7 million) of annual potato cultivation and transportation costs in Shuicheng. Impoverished households that have worked with the center have been able to obtain an average of over 4,000 yuan (US$560) per year of stable income from labor and dividends, helping them escape from poverty and avoid sliding back into it.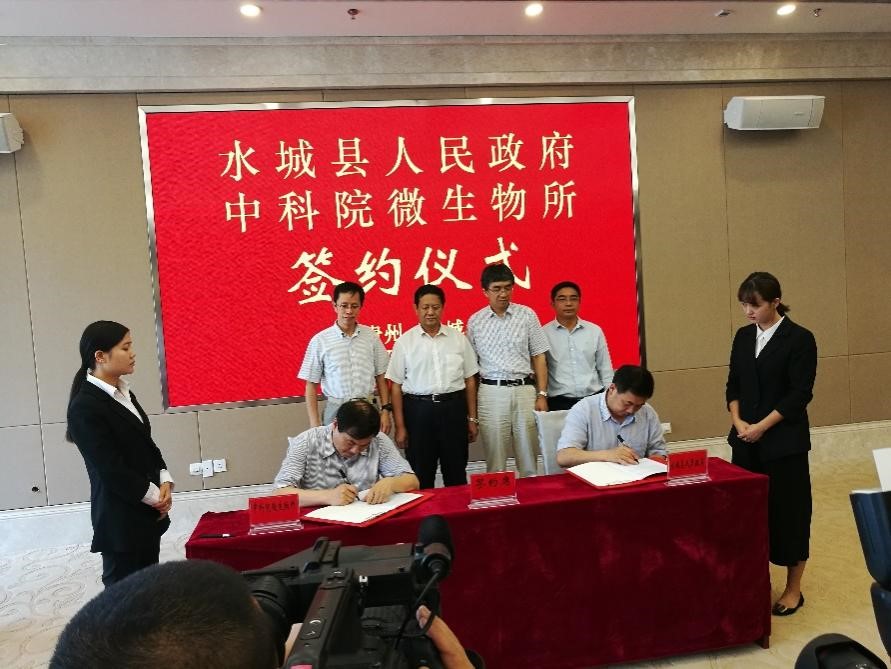 A signing ceremony between IMCAS and Shuicheng county government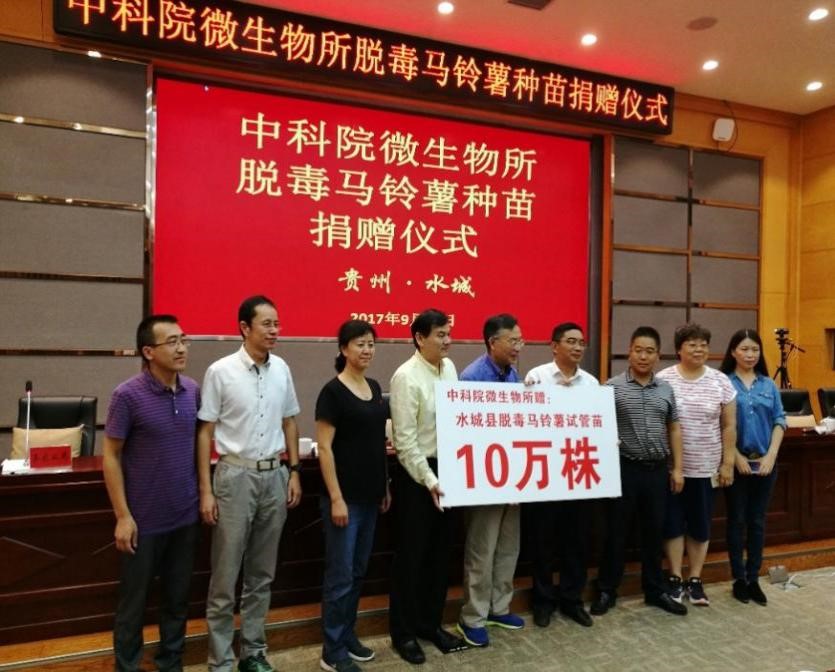 The IMCAS donates 100,000 virus-resistant potato seedlings to Guizhou province.
From 2018 to 2019, an IMCAS team also demonstrated new high-yield potato technology on a special 33.3-ha plot straddling Guizhou's Xike village, Guanzhai town, Liuzhi Special District, Liupanshui city, and Wulong residential district, Longchang township, Puding county, Anshun city, in Guizhou. Yields of the Qingshu No. 9 and Weiyu No. 5 varieties were 36% and 59.96% higher than what was being achieved before, respectively, and medium- and large-sized potatoes were often in a proportion of 10% or more, significantly boosting farmers' incomes in the area.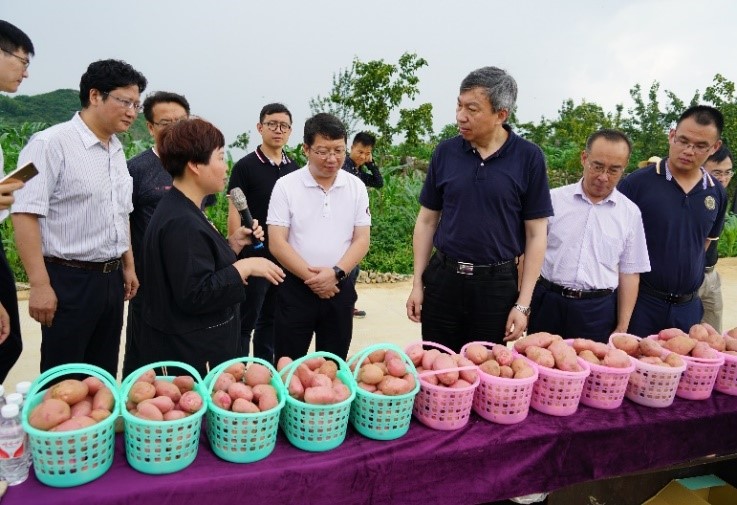 Shu Gequn, secretary of the Party committee of the University of Science and Technology of China, inspects a demonstration base.
Fruitful results achieved in seven provinces
The science and technology-driven poverty alleviation projects that the IMCAS has been involved in have had remarkable results. From January 2012 to December 2019, the demonstration and popularization of green and high-yield potato farming techniques by potato research teams in impoverished mountainous areas in seven of China's provincial-level administrative areas resulted in average yields increasing by 12.9% across 713,333 ha of land, and the growers and companies had their revenue increased by a total of 1.59 billion yuan (US$222.44 million).
Vice Chairman of Ningxia Autonomous Region People's Congress Standing Committee Yao Aixing (left in the left photo) and Vice Minister of the Organizational Department of the Ningxia Communist Party of China Central Committee Zeng Yichun (left in the right photo) inspect a poverty alleviation project.
Lessons learned
IMCAS research teams engaged in poverty alleviation have learned three main lessons in the last decade:
First, demonstrating high-yield techniques and technologies, providing scientific and technological training, and developing agricultural industries in impoverished areas and making poverty alleviation efforts more sustainable. This helps empower impoverished villagers.
Second, keeping costs low, simplifying campaigns and procedures, and planning things in a way that promotes the attainment of relatively fast results. These are three key aspects of the successful large-scale promotion of new agricultural techniques and technologies in poverty-stricken areas, which helps them be thoroughly accepted, promoted, and retained and plays a sustainable role in the poverty alleviation agenda.
Third, establishing a coordinated system that includes local governments; leading local enterprises, universities, and research institutions; and impoverished households. This helps promote the rapid and efficient application of new agricultural techniques and technologies by ensuring that knowledge and information are disseminated smoothly among relevant individuals and organizations.