The three-day 2022 International Forum on Digital Technology Empowering Rural Transformation Zoom webinar began on Nov. 25. Featuring an opening ceremony and two thematic sessions, the event brings together participants from relevant government departments, United Nations agencies and other international organizations, diplomatic missions, NGOs, academia, the private sector, and the media as well as beneficiaries in order to promote rural transformation and knowledge sharing among developing countries by discussing, demonstrating, and exploring essential, innovative, and practical techniques and solutions used to accelerate the application of digitalization in the agricultural sector and beyond.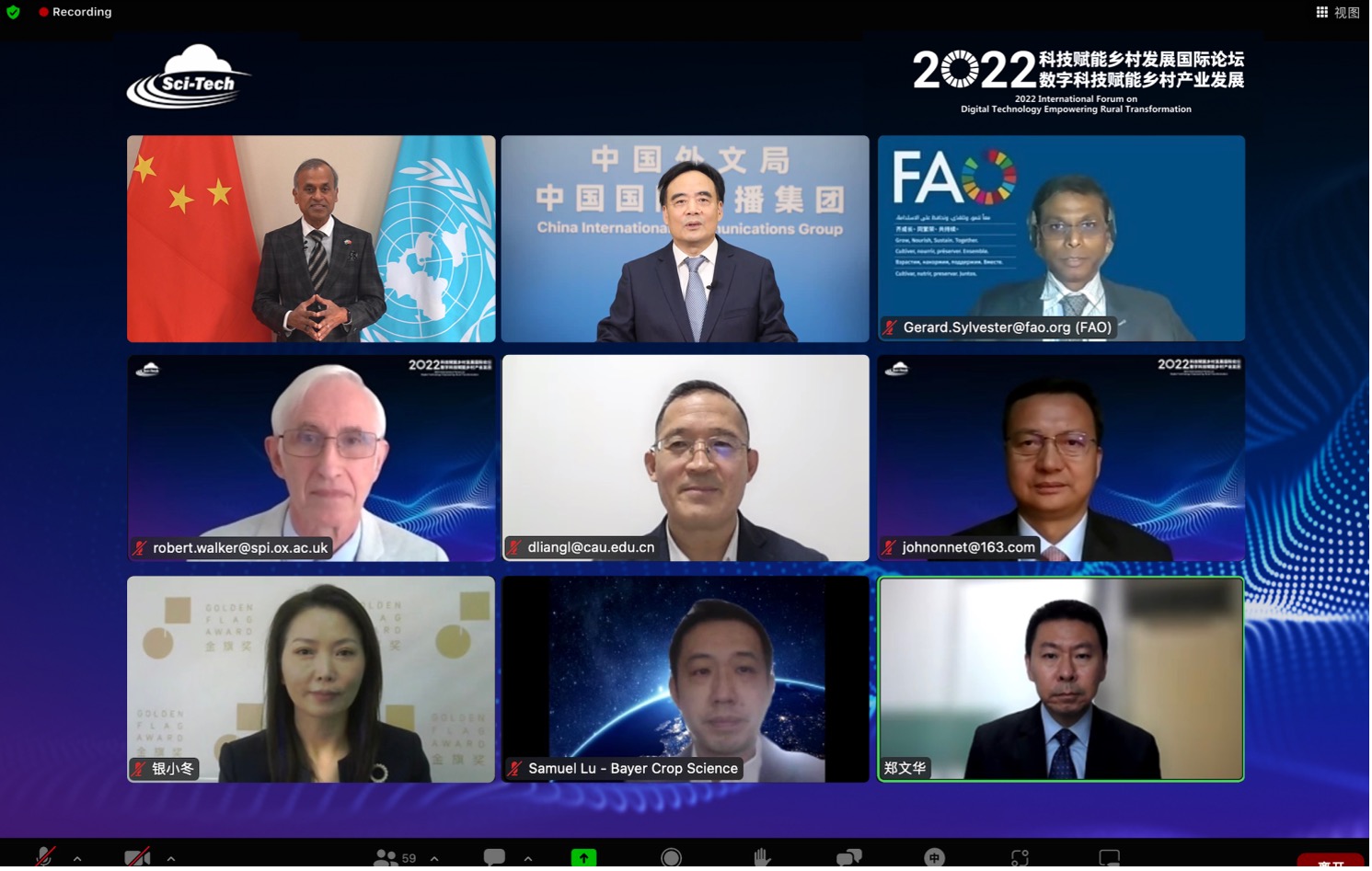 2022 International Forum on Digital Technology Empowering Rural Transformation participants [Photo/China.org.cn]
Co-hosted by China Internet Information Center (CIIC), the Food and Agriculture Organization of the United Nations (FAO) Representation in China, the International Fund for Agricultural Development (IFAD) China Office, World Food Programme (WFP) China, and the Centre for Sustainable Agricultural Mechanization of the United Nations Economic and Social Commission for Asia and the Pacific (ESCAP-CSAM), the forum also received academic support from AliResearch, the Chinese Academy of Financial Inclusion, and the School of Languages and Communication Studies, Beijing Jiaotong University (BJTU).
According to Siddharth Chatterjee, United Nations resident coordinator in China, the food and agricultural sector will need to feed 10 billion people around the world by 2050 amidst a backdrop of changing dietary patterns, increasing pressure on natural resources, loss of biodiversity, and uncertainties associated with climate change.
"There are important lessons we the United Nations can share about China's embrace of big data, [other] technology, and innovation to improve food systems with the rest of the developing world," he stated. "Just imagine the potential there is in the African continent, which has 60% of the world's arable land. The collaboration among the United Nations system, governments, academia will be significant in enabling adequate environments for innovation and further technological development."
Lu Cairong, vice president of China International Communications Group (CICG), mentioned that his organization has been exploring ways to enhance its international impact via 5G technology and that it will continue promoting international communication and knowledge sharing-oriented development cooperation by leveraging its advantages with languages, online platforms and media.
"Digitization alone cannot bring about the common prosperity that is China's goal," emphasized Robert Walker,professor at Beijing Normal University's School of Sociology and fellow at the U.K.'s Academy of Social Sciences. "Therefore, digital advance needs to be accompanied by sustained improvements in the physical, social, and policy infrastructure to ensure inevitable inequities introduced by digitization can be readily rectified."
Yin Xiaodong, Global Alliance for Public Relations and Communication Management board member, called for more organizations to adopt environmental, social, and governance (ESG) principles in order to create stronger rural vitalization synergy.
The "Sci-Tech Empowering Rural Transformation 2022" report was also launched at the forum. Jointly compiled by FAO Representation in China, IFAD China Office, WFP China Centre of Excellence, ESCAP-CSAM, the CIIC, AliResearch, and the Chinese Academy of Financial Inclusion, it highlights the latest practices and technologies that China has adopted for the purpose of bolstering agricultural value chain development, such as cloud classrooms, drone pesticide applicators, and livestreamed marketing campaigns designed to boost agricultural product sales during the COVID-19 pandemic.
The report notes that tech companies and the Chinese government have found many fruitful ways to use science and technology to energize rural development, promote financial inclusion, narrow the digital divide, help farmers become highly skilled and safeguard food security. The experience that they have accrued can help inform endeavors related to agricultural production and poverty alleviation, especially in the face of the major challenges posed by the COVID-19 pandemic.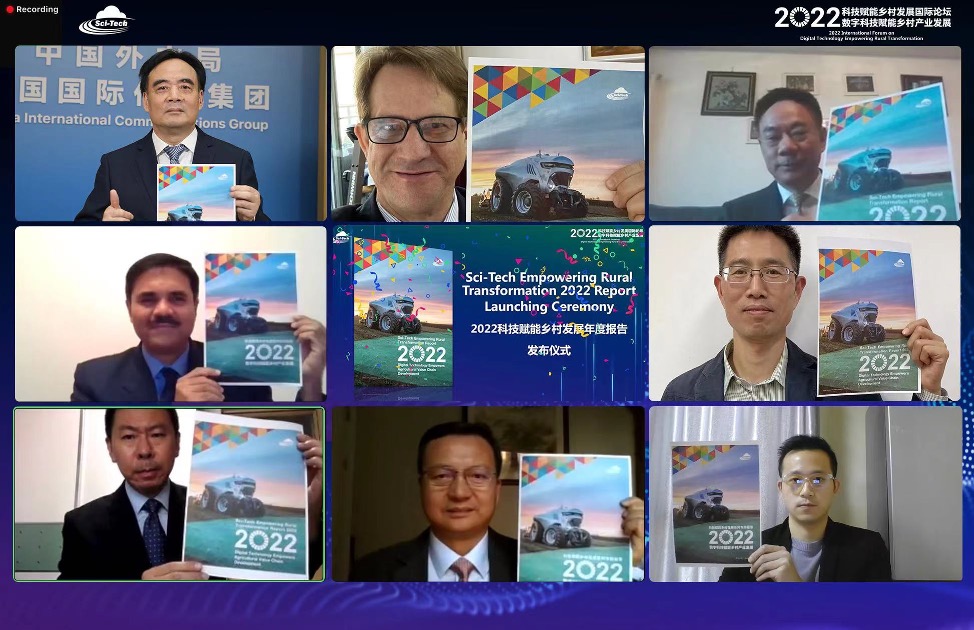 The "Sci-Tech Empowering Rural Transformation 2022" report is released at the 2022 International Forum on Digital Technology Empowering Rural Transformation on Nov. 25. [Photo/China.org.cn]
The report was made possible by a thematic study and knowledge sharing initiative focused on using science and technology to help facilitate rural transformation launched by the organizations that hosted the forum and is expected to be the first of similar subsequent annual reports. The initiative was created in order to outline and summarise development trends, practical new techniques and technologies, and select best practices associated with the undertaking, with a special emphasis on those that are innovative, sustainable, and applicable to developing countries. It also refines China's experience in this area and helps accelerate the exchange and application of such experience in developing countries via field visits, case study collection campaigns, media coverage, seminars and other knowledge sharing endeavors.