Among China's greatest global exports are the resources and know-how to tackle global hunger and poverty

In the most recent decade, despite the impacts of the COVID-19 pandemic, along with climate change and other national and global challenges, China had achieved its goal of eliminating extreme poverty by the end of 2020. This success is a great contribution to the global fight against poverty.
In the past few years, I had the privilege of spending time with people that the World Food Programme serves, and I was encouraged to see the results of the WFP's joint projects with China, designed to help communities feed themselves and achieve lasting food security.
The WFP, the United Nations' leading humanitarian agency which saves and changes lives, has been working closely with China on its development journey for more than four decades. The WFP has been a historical witness, active participant and contributor to China's development and prosperity. The WFP's Strategic Plan for 2022-25 highlights its guiding principles — such as people-centered, country-owned, context-specific, program-integrated and evidence-driven — which are enabling its global commitment to the 2030 Agenda for Sustainable Development.
China and the WFP share the common agenda of leaving no one behind, which is at the heart of sustainable development. The focus is on putting people at the center, empowering them to gain equal access to resources and a voice in decision-making, and enabling safe and dignified access to food, nutrition and other essential needs. This people-centered approach is highly in alignment with the core concept of China's national strategy for rural revitalization.
He Fengxiang, a 30-year-old farmer, cultivates tomatoes in Linxia, Gansu province. He learned agricultural skills and techniques from specialists through the pilot project and is well-known for the high yields, quality and rich variety of his crop. Last March, his greenhouse was selected as one of the food suppliers for the preschool nutrition improvement pilot project jointly undertaken by China's Ministry of Agriculture and Rural Affairs and the WFP.
Apart from free breakfasts for children, the project purchases fruits and vegetables from farmers at higher prices compared to the market, thus ensuring stable incomes for smallholder farmers.
In addition to Gansu province, the WFP has carried out the preschool nutrition improvement pilot projects in Hunan and Sichuan provinces and Guangxi Zhuang autonomous region, which contributes to the development of China's rural revitalization.
In just a few decades, China's experience in reducing hunger has become a shining example for countries seeking to learn from that success. Some of China's greatest global exports are now the resources and precious knowhow to tackle the problems of global hunger and poverty.
Globally, the effective sharing of China's experience, skills and techniques, as well as its policies, strategies, and programs will be a vital tool to accelerate progress toward zero hunger. It helps other developing countries enhance their agricultural productivity, foster technical talents and establish agricultural value-chain. The WFP facilitates such sharing of China's experience in enhancing food security, improving nutrition and alleviating poverty with other developing countries under SDG 2 (zero hunger) and SDG 17 (partnerships for sustainable development).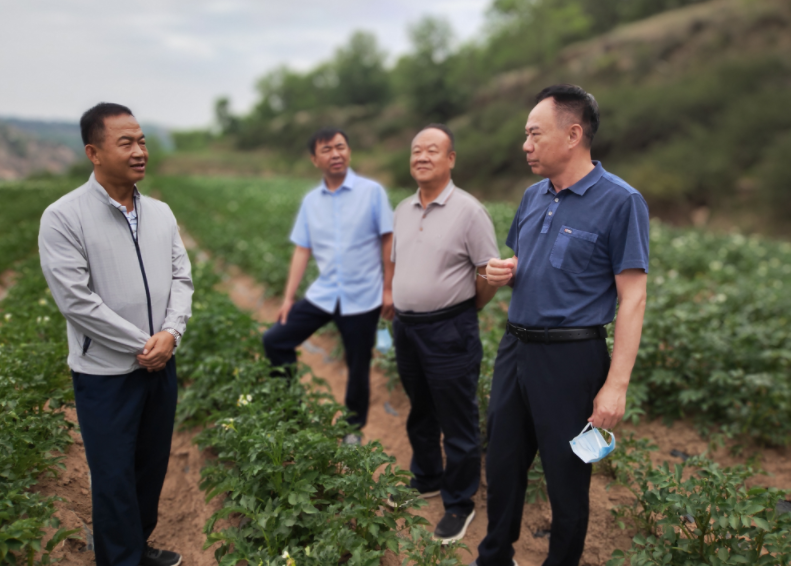 Qu Sixi (right), representative of the World Food Programme in China, visit the
smallholder agriculture pilot project on zinc-rich potato production in Gansu province. (Photo courtesy of WFP)
In March 2016, the WFP and the Ministry of Agriculture and Rural Affairs entered a new strategic partnership for global hunger solutions and development. The WFP Centre of Excellence for Rural Transformation (WFP China COE) has stepped up its commitment to support South-South Cooperation since then. Through policy dialogue, technical support and knowledge management, the WFP China COE actively introduces China's experience in poverty reduction, especially the innovative approaches taken by the government and all walks of society in poverty reduction, in order to provide ideas and references for other developing countries. The WFP China COE has organized more than 40 seminars and webinars on e-commerce, post-harvest loss management, disaster risk reduction, and climate change response, among other themes, with Chinese ministries and technical partners. In 2021 alone, South-South Cooperation activities reached out to 3,669 people from 77 countries. These activities were supplemented with field demonstrations for technical cooperation at the country level in Africa, Asia and Latin America.
Taking advantage of the increasingly important role that digital technology is playing in knowledge sharing, the WFP China COE presents the WFP-China South-South Cooperation Knowledge Sharing Platform as a web-based knowledge hub, to provide an enabling environment for partners to post demands, share solutions and connect with each other for food security, nutrition improvement, poverty reduction and rural transformation. The Platform's role is extended by the WFP-China South-South Cooperation Cloud School. This virtual school meets the needs of people in the digital age for knowledge sharing and mutual learning. It is an open and inclusive space, concretizing the WFP's efforts to create a systematic e-learning process through South-South Cooperation. Training courses are offered to participants at policy, institutional and grassroots levels with organized yet individually paced and self-learning curricula. The Cloud School introduces policy references to policymakers, targets know-how transfers to technical practitioners and showcases practical skills and hands-on techniques to smallholder farmers alike.
We know that the world is moving backwards in efforts to eliminate poverty and hunger. We are calling on more commitments from the global community to address these profound needs. We must amplify our efforts, and revitalize multilateralism to facilitate technical assistance, partnerships and coordination.
(the Original Title: Sharing of Hope)
The author is the representative of the World Food Programme in China. The author contributed this article to China Watch, a think tank powered by China Daily. The views do not necessarily reflect those of China Daily.