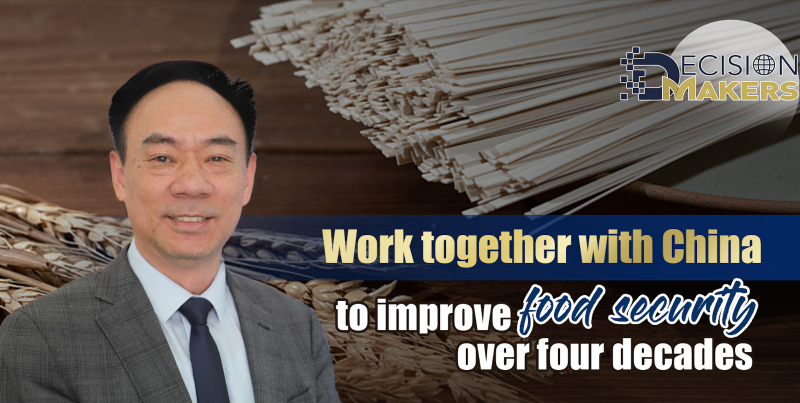 Editor's note: Decision Makers is a global platform for decision makers to share their insights on events shaping today's world. Qu Sixi is the representative and country director of the United Nations World Food Programme in China. The article reflects the author's opinions and not necessarily those of CGTN.
As the world moves ahead to mark World Food Day on October 16, the clock on the efforts to eliminate hunger and malnutrition is moving backwards.
A record 345 million people across 82 countries are facing acute food insecurity — that's two and a half times the number of acutely food insecure people before the pandemic began. There are 50 million of them living in 45 countries knocking on famine's door, while the global needs for humanitarian assistance are higher than ever before. Every region in the world is confronting the prospect of millions of people waking up each day to empty plates, soaring food prices, economic downturn and ruined crops. At this critical moment, we are calling for a stronger commitment from the international community to address food insecurity worldwide.
China, as the second largest economy in the world, has already made tremendous strides in agriculture and rural development. It is indeed a miracle that China eradicated extreme poverty by the year 2020. China's food security is a significant contribution to the world, and has played a significant role in sharing its lessons, experiences and resources with other developing countries.
We at the World Food Programme, the leading humanitarian organization saving lives and changing lives, are proud to be part of this historical progression in supporting China's remarkable accomplishments.
We appreciate the invaluable experience of China in achieving the Millennium Development Goals – this expertise will also be crucial with less than eight years left to achieve the Sustainable Development Goals (SDGs), especially SDG 2: Zero Hunger.
Looking back, 43 years ago, when Chinese farmers were struggling to grow sufficient food crops, the government of China invited the WFP to jointly implement humanitarian and development activities. At the time, one in three people did not have sufficient food.
To boost local agriculture, China and the WFP worked together to improve agricultural infrastructure, water conservancy and planting trees. Long-term integrated planning and investment by China, together with the WFP's modest investments, and the introduction of new technologies and expertise, enabled massive rural transformation, and brought about changes for many generations to come.
A villager airs harvested corn in Tancheng County of Linyi City, east China's Shandong Province, October 10, 2022. /Xinhua
China proved to the world that it is possible to quickly and definitively reduce hunger and prevent malnutrition nationwide. China has managed to feed around one-fifth of the world's population with less than 9 percent of the world's arable land. This in itself is a major contribution to global food security. In just a few decades, China's experience in reducing hunger and applicable approaches offered much learning and know-how for other developing countries as a shining example. In the past five years, the WFP China Center of Excellence for Rural Transformation facilitated knowledge sharing with policymakers, technicians and smallholder farmers in more than 80 developing countries through innovative methods such as webinars, study tours, field demonstrations, knowledge sharing platform and online learning space.
The WFP and China enter a new era of partnership to end global hunger since 2016. China has also become a valued partner to the WFP in tackling hunger and strengthening livelihoods, resilience and nutrition long-term. The focus of the new WFP China is both collaborative and reciprocal, in three important ways. First, by implementing innovative and replicable pilot programs to address food security and nutrition challenges in China. Second, by offering learning from China's successful poverty alleviation and developmental experience through South-South and triangular cooperation. And third, by developing fundraising partnerships with private and public organizations to support WFP global operations.
Building on the success of the first China Country Strategic Plan (2017-2021), the WFP has contributed towards China's nutrition and rural development objectives. For example, pre-school nutrition improvement, the WFP carried out pilot projects in less developed areas of Hunan, Guangxi, Gansu and Sichuan to help China achieve rural revitalization and improve preschool children's nutrition status, as well as meeting both quality education and Sustainable Development Goal 2: Zero Hunger. The WFP also helped small-scale farmers transform their lives, enabling them to improve productivity and access to the local food market.
By embarking on the second generation of Country Strategic Plan (2022-2025), we will continue to maximize the return on the government of China's investment in food security and nutrition, and address rural vulnerability in targeted areas to help smallholder farmers fulfill their potential.
In less-developed areas of Gansu Province, by growing zinc-enriched potatoes, the Chinese government and the WFP explore a sustainable approach for improving the livelihoods of small holder farmers and addressing hidden hunger.
In Songyuan County, Jilin Province, by promoting holistic agricultural risk management in the corn industry, the Chinese government and the WFP help corn farmers to reduce risk and vulnerability to shocks and achieve food security while enhancing resilience at the community level.
The WFP remains thankful for China's pivotal role in providing continual and concrete support to the WFP's humanitarian operations in various countries and regions in recent years, contributing significantly to saving lives and changing lives. Today, while enhancing cooperation with the government, the WFP is expanding partnerships with the private sector such as Alibaba, Tencent, Cargill and Meituan, to promote the cooperation for sustainable agriculture, improve food systems and value chain development, and build smallholder farmer resilience. Going forward, we will continue to leverage its role as a multilateral platform, and explore the newest ideas, latest technologies, and build lasting partnerships to reach the people furthest behind.
We have come a long way together, but our work is not yet done. We must raise our efforts to ensure the world can get back on track towards the goal of ending hunger, food insecurity and malnutrition in all its forms, so that zero hunger will become a reality today and in the future.