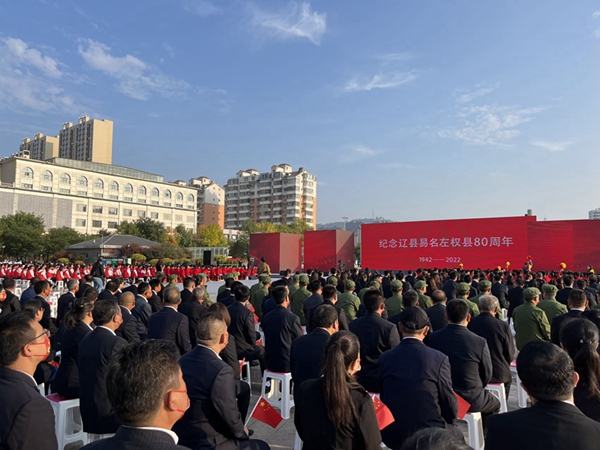 A ceremony on September 18 celebrates the 80th anniversary of the renaming of Zuoquan County in China's northern Shanxi Province (TAO XING)
On September 18, a ceremony was held in Zuoquan County in north China's Shanxi Province to celebrate the 80th anniversary of its renaming.
The county, once called Liaoxian, was renamed in September 1942 after Zuo Quan, four months after his death in the region as he and some 2,000 comrades attempted to break out of encirclement by the Japanese invading army. Zuo was a general with the Eighth Route Army, the larger of the two major Chinese communist forces that fought the Japanese from 1937 to 1945.
The county's mountains provided a natural defensive barrier during the war, but also posed a natural obstacle that hindered residents' access to the outside world, a major factor resulting in regional poverty.
Fortunately, the county was lifted out of extreme poverty in 2019 under China's overall poverty alleviation program. China had eliminated absolute poverty by late 2020 and now it has shifted its focus to all-round rural revitalization, a new stage in agricultural and rural development.
Workers at the Zuoquan latex industry park under construction in Zuoquan County, Shanxi Province, on September 17 (WEI YAO)
The ceremony called on people to carry forward the revolutionary spirit and further transform the county into a more modern one.
Stepping into a new stage of rural revitalization requires Zuoquan to rely more on its self-development. Shi Yong, Secretary of the Communist Party of China Zuoquan County Committee, stressed the importance of developing industries. "Industries could bring in both capital and people," he said at a meeting with visiting reporters from China International Communications Group (CICG) on September 16.
Since 2002, the CICG has been sending its employees to Zuoquan, first to participate in the poverty alleviation drive and now in rural revitalization. It organized a media trip to the county from September 16 to 19 to cover its recent development.
Nowadays, many places in the county are under construction, from manufacturing factories to cultural tourism bases. These projects are bound to entail more job opportunities and local economic development.
The Zuoquan latex industry park, which is still under construction, will feature 160 production lines and provide 10,000 jobs once finished; and mainly produce balloons, condoms and medical gloves, Xia Zhiqiang, project manager of the park, told reporters on September 17.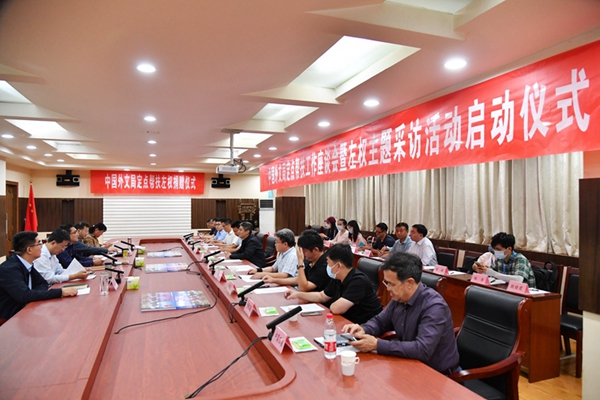 The leadership of Zuoquan County in Shanxi Province hosts a meeting with visiting reporters from China International Communications Group on September 16 to discuss the next cooperation stage (WEI YAO)
"The first 14 lines are expected to begin production in October," another staff member told Beijing Review. Thousands of locals have received training for the coming operation, the staff added.
Zuoquan is also setting up painting and photography bases to attract more visual artists to the area. With its illustrious natural scenery and historical heritage, the county is cultivating cultural tourism to boost the local economy, Shi said. He hopes CICG can help advertise the county's industrial development, bringing more opportunities.
CICG will continue to assist the country in its new stage of development, Gao Anming, Vice President and Editor-in-Chief of CICG, said at the meeting. "CICG will present the story of Zuoquan to the nation and the world," Gao added.