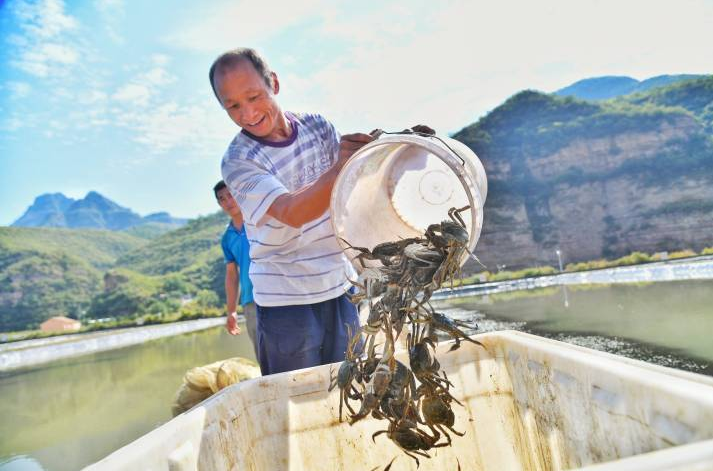 A villager unloads fresh crabs at a breeding farm in Xiakou Village in Zuoquan County, Shanxi Province, on September 17 (WEI YAO)
Rural collective economy is an important part of China's socialist public ownership economy. Rural cooperatives have played an important role in poverty alleviation and rural revitalization in China.
One farmer cooperative typically consists of members from one or several village collectives. The co-op is jointly managed by its members who then share the profits. Simply put, the cooperative provides villages and farmers with an entrepreneurial platform for commercial production.
A new co-op model came to Xiakou Village in Zuoquan County, Shanxi Province, in 2018 in the form of a crab farming company. The cooperative rents land from the Xiakou village collective, to run a 13-hectare crab breeding farm, at an annual rent of 80,000 yuan ($11,457).
The crabs produced by the co-op are sold, under a long-term supply contract, to a supermarket in Taiyuan, capital city of Shanxi, Zhang Songxin, head of Matian Town, told Beijing Review on September 17. Xiakou is affiliated with Matian.
The farm has provided more than 30 jobs to locals, allowing every of them to increase his or her yearly income by 10,000 yuan ($1,432). Furthermore, the cooperative also pays each of 20 low-income families an additional dividend of 1,000 yuan ($143) every year.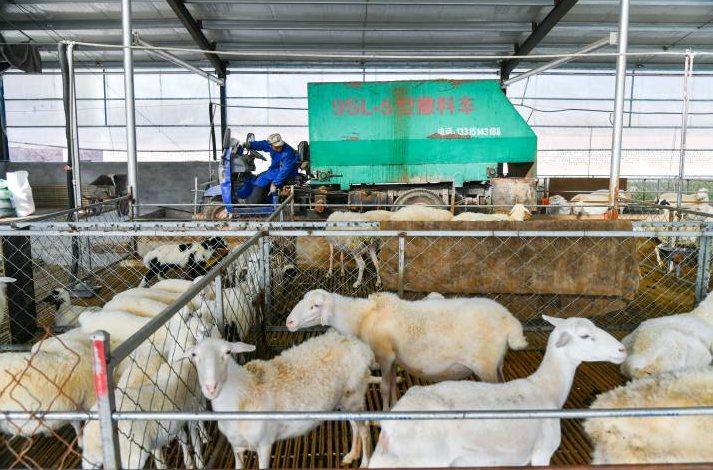 A worker drives a sheep feeder wagon at a breeding base in Hanwang Town, Shanxi Province's Zuoquan County, on September 16 (WEI YAO)
While Xiakou has benefited from a crab cooperative, Hanwang Town of Zuoquan County has introduced a similar undertaking to develop a sheep breeding base. Several villages in the town have entered the cooperative, together purchasing sheep for breeding at the base and then selling mutton and by-products. It also brings locals job opportunities.
The base now fetches an annual income of 2 million yuan ($310,000), according to one of its staff members.
These cooperatives have effectively motivated villagers to use the collective land to develop specialty agriculture and boost their income.