Agri-cooperation benefits China, Africa
China Daily, March 28, 2022

Adjust font size: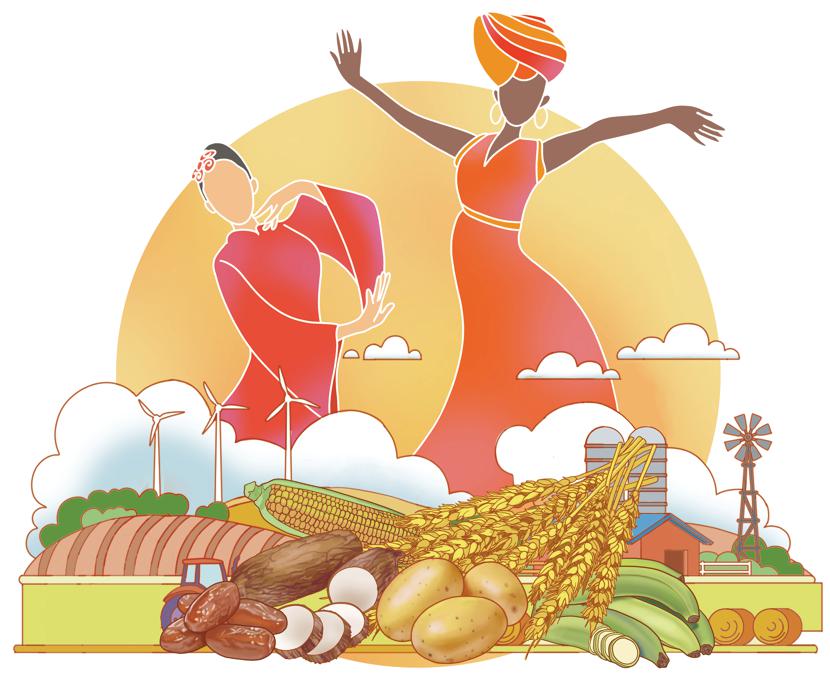 [JIN DING/CHINA DAILY]
The Eighth Ministerial Conference of the Forum on China-Africa Cooperation held in Dakar, Senegal, in November marked China's new commitment to Africa for the next three years on the theme of "strengthening partnership and sustainable development for a Chinese-African community with a shared future in a new era".
In this ambitious cooperation program, agriculture, food security, and overall sustainable rural transformation have a central place given their importance to the development of African countries.
There is much that Africa can benefit from China's experience in rural development. China has succeeded in feeding 1.4 billion people-about one-fifth of the world's population-with less than 10 percent of the world's arable land and less than 7 percent of the world's water resources. On the other hand, although the African continent has 60 percent of the world's potentially arable land and although agriculture production in Africa has increased 160 percent over the past 30 years, many African countries still suffer from food insecurity and a low-productive agricultural sector.
At the International Fund for Agricultural Development, we are well placed to see how Africa can benefit from this cooperation.
For two decades, the IFAD, China and Africa have been working together on South-South cooperation programs, which have facilitated the transfer of technologies and good practices between China and Africa. For instance, successful biogas digester technologies for rural households introduced by the IFAD in China's Guangxi Zhuang autonomous region in early 2000 were later replicated in several African countries through IFAD-funded projects.
Transfer of knowledge, technologies and development solutions between countries from the Global South-including between China and Africa-have also been pursued by IFAD through the establishment in 2018 of a South-South Cooperation Facility with the financial contribution of the Chinese government. The small-scale dryers for post-harvest management project funded under the facility, for instance, facilitates the adoption of, and adaptation to, food dryer technologies already available in China in the African context.
An example of how China's experience and best practices could benefit Africa can be seen in the "Great Green Wall" initiative, a tree-planting program implemented in China since 1978 to prevent the expansion of the Gobi Desert that generated a number of benefits: it reduced the impact of dust storms, reduced soil erosion, protected China's grasslands, and helped absorb millions of tons of greenhouse gas emissions.
A similar initiative, the "Great Green Wall for the Sahara and the Sahel", is being implemented by the African Union to combat desertification in the Sahel region and restore 250 million hectares of degraded land, mainly for agricultural use. The initiative is expected to create 10 million jobs, and sequester 250 million tons of carbon. The IFAD, on its part, will lead the delivery of the Great Green Wall initiative "umbrella program", which will help promote investments to build forest resources, strengthen agro-pastoral practices and guarantee water supply, while facilitating the resolution of conflicts at the community level in the region. Such an initiative could greatly benefit from China's Great Green Wall experience.
But the IFAD's South-South cooperation does not focus only on technology transfer. Between 2009 and 2018, the IFAD and China jointly supported a series of South-South cooperation workshops that facilitated exchanges between Chinese and African policymakers, a major development given the role of policy dimension in promoting sustainable rural transformation and achieving Sustainable Development Goals No 1(no poverty) and No 2(no hunger).
There is much Africa can learn from Asia in general, and China in particular, in terms of land reform. China's second land reform in 1978, for instance, is recognized as one of the key factors that triggered China's rapid economic growth and rural transformation. The reform, also known as household responsibility system, replaced collective farming by contracting cultivated land to all village households. This had positive effects on the equitable distribution of land to farmers, and ultimately on agricultural productivity, food security and poverty alleviation.
Finally, China-Africa cooperation does not have to be restricted to technologies and policies; it can more broadly also include "approaches". A well-noted approach in China that favoured the integration of small producers in profitable value chains, for example, foresaw the establishment of a contractual business relationship between smallholder farmers and "dragonhead enterprises", subject to meeting quality standards.
The public sector could support smallholder farmers to develop the required quality to enter into these types of contracts with the agro-enterprises. This type of "contract farming" between smallholder farmers and large agro-enterprises is also promising in Africa, as proved during the past decades in the cotton, cocoa and market gardening sectors. And it can be extended to many other sectors in agriculture and livestock, as shown by the recent success of the poultry sector in Senegal.
Such cooperation between the public sector, the private sector and small-scale producers can lead to enormous production gains, which Africa needs in the next 30 years. But despite African agricultural growth averaging 2 percent a year over the past three decades, it has failed to catch up with population growth.
Hence, a paradigm shift is needed for food production to keep pace with Africa's increasing population, which is expected to double by 2050. We at the IFAD believe that this type of cooperation, combined with the support programs for small producers that the IFAD is setting up, will make it possible to achieve more equitable food systems, capable of producing food of quality and providing decent incomes for producers while preserving the environment.
There is much Africa can benefit from China's experience, and the IFAD is well-placed to facilitate such cooperation in the rural and agricultural sectors.