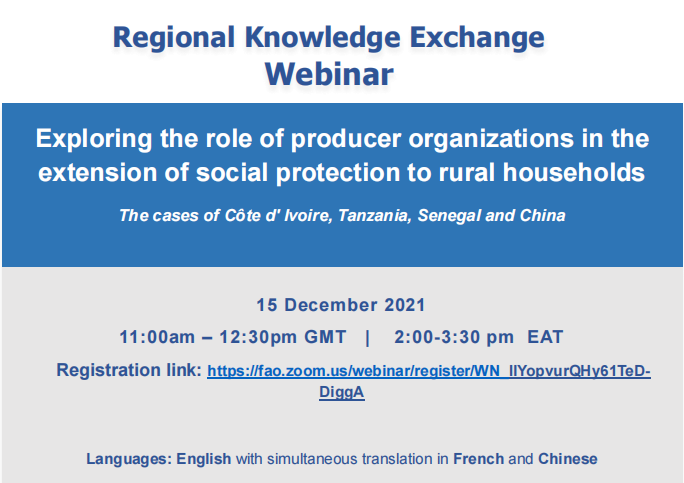 In the context of a two-year regional Technical Cooperation Project (TCP) with the African Union (AU) entitled "Partnership to Support AU's Strategies on Social Protection, School Feeding and Rural Youth Employment", FAO is supporting the AU to implement its First Five Year Priority Programme on Employment, Poverty Reduction and Inclusive Development (AU 5YPP), including providing support to the implementation of the AU's Social Protection Plan for the Informal Economy and Rural Workers (SPIREWORK). To further regional dialogue on the role of rural and producer organizations in extending social protection to rural populations, FAO is organizing a virtual regional knowledge exchange workshop to foster the sharing of experiences in engaging producer organizations and cooperatives in improving delivery and access to social protection.
During this event, countries will present case studies as examples of engagement of producer groups in advocating for and improving access to social protection. The webinar will provide a space for sharing successes, challenges and promising approaches to enhance the capacity of rural organizations in supporting social protection systems from countries such as Cote d'Ivoire, Senegal, Tanzania and China. The cases cover a variety of agricultural subsectors (e.g., crops, fisheries, forestry) and types of rural organizations, with the aim of providing a range of examples that African countries may adapt to their specific contexts to further the agenda of expanding social protection coverage. After the cases are presented, government, civil society and development partners will be invited to offer their perspectives around the potential for cooperatives and rural organizations for expanding social protection coverage, enhancing adequacy and supporting more effective social protection delivery.
FAO intends for this webinar to give a platform to key stakeholders in various agricultural subsectors to share their experiences of good practices of working with rural and producer organizations in extending social protection to rural communities.
Date:15th December 2021, 11:00 am - 12:30pm GMT / 2:00 - 3:30pm EAT/ 7:00 - 8:30pm China
Venue: Online
Registration link: https://fao.zoom.us/webinar/register/WN_IlYopvurQHy61TeD-DiggA
Languages: The event will be conducted primarily in English with simultaneous interpretation in French and Chinese available throughout the meeting.