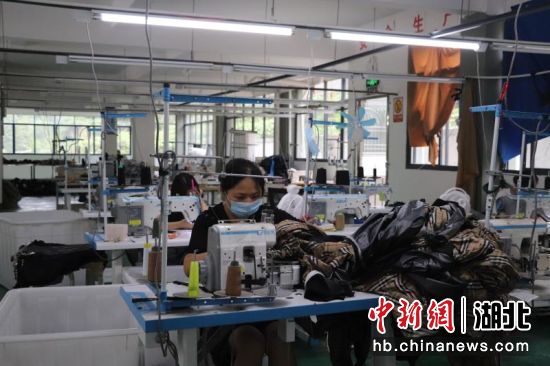 A staff member works in the Wufeng Quanjun Garment Co. Ltd. poverty alleviation factory. [Photo/Chinanews]
Caihua township, Wufeng Tujia Autonomous County, Yichang city, Hubei province, residents will likely mention the Wufeng Quanjun Garment Co. Ltd. poverty alleviation factory when asked where good-quality clothes can be purchased at reasonable prices. Located in the same mountainous township dominated by traditional agriculture as this group of less than 30,000 people, the enterprise has gradually become larger and more popular over the course of the last several years.
Opening a clothing factory in the depths of the mountains
Quanjun Garment Company staff carefully measure, cut, and sew fabric while person-in-charge Wang Lei patiently teaches production techniques to new employees and provides a warm welcome to customers and other visitors.
The 32-two-year-old Dacun village, Caihua township, resident worked as an apprentice at the Garment Industrial Park in Beijing's Daxing district until he returned to his hometown in 2017 in order to take care of his family once he attained a sufficient amount of experience. He decided to launch a small clothing factory after discussing the idea with his wife, father, and cousin, Wang Mingcong. The family soon began renting a storefront with less than 50 sq m of floor area and accepting orders. They were not wealthy, but they were happy and very content with their lives.
In 2018, Caihua entered a critical period of poverty alleviation and constructed three subsidized, poverty reduction-oriented resettlement buildings in its market district. Wang Lei thought it would be a good idea to employ impoverished people who needed jobs after he witnessed 90 poverty-stricken households suddenly relocating to the site.
Caihua made the first floor of the buildings at the resettlement site available for commercial lease shortly after their residential occupants moved in. The first person to attempt to rent a storefront, Wang Lei's application was accepted after he passed assessments covering his integrity, economic strength, and ability to employ impoverished people. The entrepreneur decided to call his business the Quanjun Garment Company after discussing the matter with his family and vowed to only hire members of impoverished households for the time being. Poverty-stricken people began applying to work for him as soon as the news spread, and more than 70 were hired, gaining the ability to work in their local area.
Wang Lei and Wang Mingcong traveled to Jiangsu – one of the three largest textile and garment producing provinces in China and the other two are Guangdong and Zhejiang – for a week at this time in order to study the advanced operations, management, and marketing models that are employed by the coastal administrative area's clothing companies so they could expand their business quickly.
"One of the things we learned is the importance of leveraging core advantages, which is labor resources in our case!" Wang Lei explained recently.
The cousins returned to Caihua armed with new ideas and received their first major order – 200,000 saliva towels for babies at an average profit of 0.1 yuan (US$0.015) a piece.
"Quanjun Garment Company was very small when it started," Caihua Party Secretary Xu Shihua mentioned. "The development process that it has gone through is quite significant."
The official also noted that the enterprise has helped modernize the outdated mindsets and industrial models that existed in the township before it was founded in addition to providing employment for impoverished people and explained that it has absorbed many surplus tea farmers and idle laborers in general and made it possible for them to work near their homes.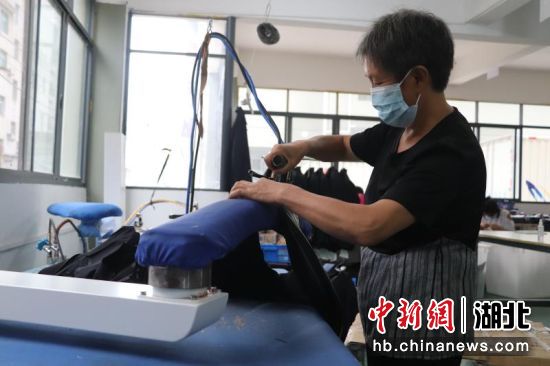 Quanjun Garment Company products are popular in its local region . [Photo/Chinanews]
Wang Lei performed the roles of technician, logistics clerk, driver, salesman, and even mechanic during Quanjun Garment Company's early days in order to grow and expand his business.
In 2019, the industrious employer began renting an additional 1,200 sq m of floor space across three more storefronts in order to expand his company's production scale but began experiencing a new problem: he was only receiving outsourced orders for low-quality products, which caused profits to stagnate and his employees' wages to continue to hover around 2,000 yuan (US$309) per month.
The cousins realized that they needed to purchase better equipment, enhance the level of skill and craftsmanship at their company, and produce higher-quality products if they were to gain a solid foothold in the clothing market, so they decided to travel to Hebei province to conduct further research. The trip was productive, and they took several important steps when they returned to Caihua. First, they immediately eliminated the obsolete sewing machines that their factories were equipped with and purchased 70 of the latest multifunction sewing machines. Second, they began providing comprehensive training for their employees and exploring the adult men's and women's clothing markets. Finally, they established the first private factory store that produces customized garments in the township.
Wang Lei received an order for 200 uniforms at the end of 2019 – his first directly from an independent organization since launching his own brand. He realized that his products were gradually being recognized by the market now that their quality had improved. Various orders began pouring in from individuals and organizations, profit per garment increased from 0.1 yuan (US$0.015) to 2 to 3 yuan (US$0.31 to US$0.46), and employees' monthly salaries rose to more than 5,000 yuan (US$773).
In 2020, the COVID-19 pandemic seriously hindered China's entire clothing industry. The smooth and timely development that Quanjun Garment Company had been engaging in enabled it to overcome the outbreak and become the dominant clothing supplier in its area, however. Residents of nearby townships, such as Fujiayan and Niuzhuang, frequently began making the trek to Caihua to buy clothes from the enterprise.
"Both young people and members of older generations buy the clothes that we make," Wang Lei stated. "Many public officials even order formal clothing from us in person."
Building a brand that can compete outside of the mountains
Quanjun Garment Company transformed from a small garment factory into a fairly mature enterprise over the course of three years of hard work. The independent sales and production model that it employed in its local area was not competitive in the ever-changing broader market, however. The enterprise urgently needed to improve the quality of its products, meet consumers' demands, guarantee employee remuneration, and solve other problems.
At the beginning of 2021, Wang Lei held a meeting with his managers, and everyone agreed that the company would need to continue to evolve in order to achieve new breakthroughs. The Caihua native decided to abandon all of the company's existing sales channels and vowed to create an independent brand focused on high-quality menswear.
"There is a lot of pressure to deal with," Wang Lei mentioned. "Cost control, market development, employee welfare, and other factors all need to be considered carefully."
He also noted that he plans to analyze Zhejiang garment manufacturers' development experiences in the near future and factor what he learns into the building of his boutique brand and his attempts to take his company to the next level.
"Quanjun Garment Company sets fashion trends in our town as a result of the research that we engage in," Wang Lei stated.
The industrious businessman concluded that the measures that have been taken hitherto are far from enough, however, explaining that the company intends to increase employees' wages and make it possible for consumers to enjoy higher-quality garments at the same prices if he can successfully build his brand and emphasizing that these groups will, therefore, be the true beneficiaries of the efforts that are being made if things go as planned.