‍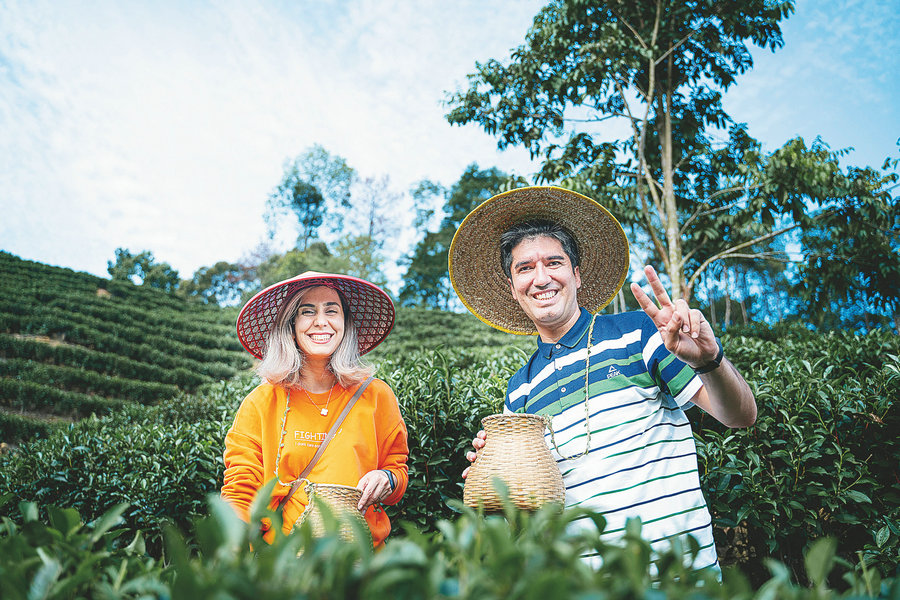 A couple from Iran pick tea leaves at a tea garden in Liubao, whose tea is considered one of the best in the country and was served in tribute to Emperor Jiaqing during the Qing Dynasty (1644-1911). [Photo provided to China Daily]
The tea terraces resembled giant shining steps, glowing under the heavy autumn sun, as the green tea plants that adorned them sprouted tender shoots in Liubao town in late October.
It was right after the Frost's Descent, the 18th of 24 solar terms, fell on Oct 23. Locals were busy harvesting the leaves. This was an auspicious time for the ritual. The fragrance of the leaves is considered to be at its sharpest due to the temperature difference between day and night at this time of year and little rainwater.
It was not just farmers who were shuttling among the trees, but visitors exploring the rural charm of the town that sits in Cangwu county, Wuzhou, the Guangxi Zhuang autonomous region.
The visitors usually bring a sense of activity to the normally quiet town in October, according to the local authority. Many of them do what the locals do: carry a bamboo basket on their shoulders and pick tea leaves. Naturally, they pose for pictures against the backdrop of the looming terraces and the clear blue sky.
At the end of the day, travelers can refresh themselves with the tea, learning to fry and roll the leaves the old-fashioned way, while the aroma spills from heated pots and permeates the air.