‍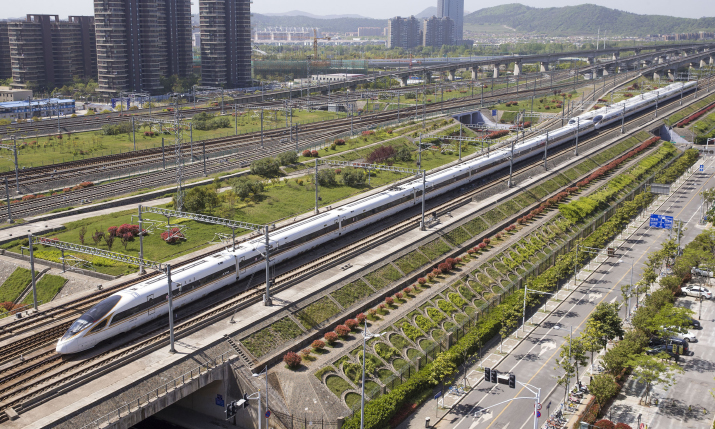 A bullet train passes through Nanjing, Jiangsu Province, on April 9, 2018 (XINHUA)
The image of a red truck exiting a tunnel on its way to Dulongjiang Township in Yunnan Province has been printed on a stamp issued on October 15 during the Second United Nations Global Sustainable Transport Conference (UNGST Conference). The stamp shows how the development of transport can help alleviate poverty.
Prior to 2014, Dulongjiang did not have a paved road and the only footpath that led to the outside world was closed for six months every year due to heavy snowfall. In 2014, a new road opened to traffic and changed the life of locals. As transportation became more convenient, villagers developed rural tourism to improve their livelihoods. As of the end of last year, the township's per-capita income had reached 12,000 yuan ($1,880) and 80 percent of local households had cars.
The improved transportation infrastructure in Dulongjiang is a microcosm of the development of transportation in China at large. According to the Report on Sustainable Transport in China, which was compiled by China Academy of Transportation Sciences and released at the Second UNGST Conference, beginning in 2014, efforts have been strengthened in the construction, management, maintenance and operation of roads in rural areas. Where feasible, governments had provided paved roads to towns and villages by 2019, and bus services by 2020.
The conference, originally scheduled for May 2020 and then postponed due to COVID-19, eventually took place in Beijing both online and in person from this October 14 to 16. It focused attention on the opportunities, challenges and solutions for achieving sustainable transportation worldwide and indicated a way forward for sustainable transportation to help achieve the objectives of the 2030 Agenda for Sustainable Development and the Paris Agreement on climate change.
For the common good
While addressing the opening ceremony of the conference via video link on October 14, President Xi Jinping called on countries to advance global transportation cooperation for humanity's common development and to write a new chapter featuring the connectivity of infrastructure, unfettered flow of trade and investment, and improved interactions between civilizations.
He also announced that China will set up a Global Innovation and Knowledge Center for Sustainable Transport, as a contribution to global transportation development.
Noting that transportation has facilitated economic integration and people-to-people exchanges, and is turning the world into a close-knit global village, Xi said it is important to pursue an open world economy, reject discriminatory or exclusive rules and systems, and make economic globalization more open, inclusive, balanced and beneficial for all.
Although the COVID-19 pandemic has exacerbated the wealth gap and widened the North-South divide, Xi called for efforts to leverage the enabling role of transportation and scale up support for developing transportation infrastructure in the least-developed countries and in landlocked developing countries to achieve common prosperity.
China has made notable progress in sustainable transport and its growing transport infrastructure network supports the economy and society. According to the Report on Sustainable Transport in China, an integrated transport network, underpinned by 10 north-south and 10 east-west transport corridors, has formed, covering the whole country and connecting it to the world.
China now leads the world in the length of its high-speed railways, expressways, navigable inland waterways, urban rail transit lines, and the network length of postal and express delivery services. High-speed railways cover 95 percent of cities with a population of 1 million and above, expressways connect 98 percent of cities with a population of 200,000 and above, and civil airports reach 92 percent of prefecture-level cities.
Economic belts and city clusters are thriving along the transport corridors between Beijing and Shanghai, between Beijing and Guangdong Province, throughout the Yangtze River Delta and its ports, the Pearl River Delta and along the Bohai Sea Rim. These are becoming the most economically dynamic and populous areas of the country.
"Without sustainable transport there would not be sustainable development. Promoting sustainable transport is not simply about solving transport problems. Its fundamental goal is to support the national economy. I hope China's experiences can provide a reference for more countries," Liu Zhenmin, UN Under Secretary General for Economic and Social Affairs, said at the conference.
China has also advanced sustainable transport globally. Under the framework of the Belt and Road Initiative, China has signed 22 bilateral or multilateral road transportation facilitation agreements with 19 countries. At present, the China-Europe Railway Express freight train service is connected to over 170 cities in 23 countries in Europe, greatly enhancing interconnectivity between them.
Lower emissions
At a press conference on October 12, Under Secretary General Liu said greenhouse gas emissions from transportation account for 24 percent of the global total emissions, which underlined the urgency for the global community to realize safe, green, efficient and affordable transportation.
He hoped for the global community to work together to reduce carbon dioxide emissions from the transportation sector to help mitigate climate change.
China has made progress in reducing emissions from the transport sector in recent years. Transport carbon emissions account for around 10 percent of total carbon emissions in China and road transport accounts for over 85 percent of transport carbon emissions. China has worked to adjust its transport structure in recent years and achieved some positive results. From 2016 to 2020, the annual railway freight transport volume increased from 3.33 billion to 4.55 billion tons, rising from 7.6 percent to 9.8 percent of total freight volume.
Under normal conditions, the energy consumption and pollutant emission per unit of rail freight transport is one seventh and one 13th of that of road freight transport. For this reason, increasing the use of rail transport can help reduce emissions and contribute to the sustainability of transport.
According to the Report on Sustainable Transport in China, China is actively pushing for diversified energy use in transport equipment and facilities, and promoting the use of new energy and clean energy. As of the end of 2020, 466,000 new-energy city buses, 132,000 taxis, and 430,000 urban logistics and distribution vehicles were operating. The railway electrification rate had reached 74.9 percent.
Forging ahead
In addition to optimizing transport structure, China has also improved the transport sector's capacity for innovation in order to further promote its sustainability. The integration of new technologies such as 5G, big data and artificial intelligence with transportation is bringing new opportunities for the sector. At an exhibition held as part of the conference, China Mobile, China's largest telecom operator, showcased a smart port built in Xiamen, Fujian Province. With the help of 5G technology and autonomous trucks, the whole port has achieved unmanned cargo loading and unloading.
To ensure the easier movement of people and smoother flow of goods, Xi said at the opening ceremony of the UNGST Conference that more should be done to develop smart transportation and smart logistics, and to promote the deep integration of new technologies with the transportation sector.
The Central Committee of the Communist Party of China and the State Council issued the Outline for Building China's Strength in Transport and the Outline on Developing Integrated National Transport Network respectively in 2019 and 2021. According to the documents, China will have achieved most of its transport goals by 2035. The National 1-2-3 Travel Circle (one hour to commute in cities, two hours to travel within city clusters, and three hours to travel between major domestic cities) and the Global 1-2-3 Logistics Circle (one day to deliver within China, two days to deliver to neighboring countries, and three days to deliver to major global cities) will be in place, providing a convenient combined transport of passengers, and economical and efficient multimodal transport of goods.
Liu said in addition to government efforts, sustainable transport also needs the support of investors and the public. The UN will further advance international cooperation in pursuit of sustainable transportation.