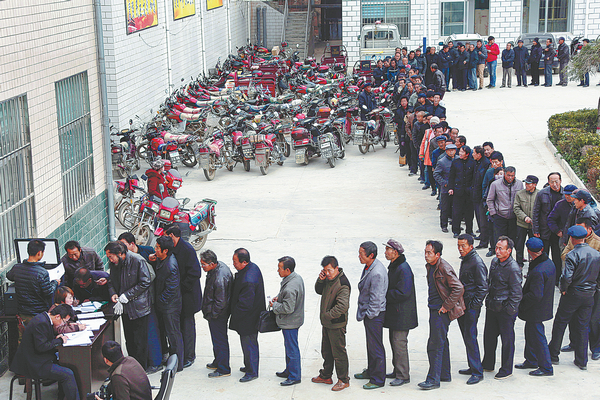 More than 300 households in Panke town, Ningxian county, Gansu province line up to sign in at the Apple Production Technology Poverty Alleviation Training Office, Nov 18, 2018. YANG DONGFU/ZHU YAYUN/LI GANGLING/FOR CHINA DAILY
The 14th Five-Year Plan (2021-25) is an important transition period for China's economic and social development, and it is also critical for achieving the goal of building a moderately prosperous society in an all-round way. During this period, China's rural development will take on new traits.
The Rural Development Research Institute of the Chinese Academy of Social Sciences and the China Social Sciences Press jointly released the China Rural Development Report 2020 last year. The report predicts that by 2025, China's urbanization rate will reach 65.5 percent. It is conservatively estimated that the new rural migrant population will be more than 80 million; the proportion of agricultural employment will drop to about 20 percent; the proportion of rural population over 60 will be 25.3 percent, about 124 million.