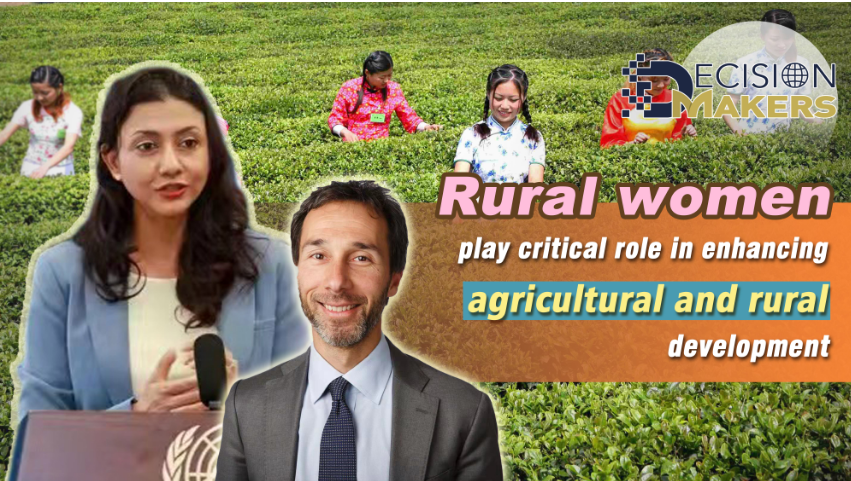 Editor's note: Decision Makers is a global platform for decision makers to share their insights on events shaping today's world. Smriti Aryal is the head of UN Women China. Matteo Marchisio is the country director and representative at the International Fund for Agricultural Development (IFAD). The article reflects the authors' opinions and not necessarily the views of CGTN.
Rural women make up about one-quarter of the entire human population. They are active participants in many different sectors as workers, innovators, and leaders. In agriculture, women make up around 43 percent of the global workforce, producing and processing a considerable proportion of the food we all consume. In China, the percentage of women in agriculture is as high as 70 percent, according to State Council estimates from 2015.
There is no doubt women have a major role in the rural economy, in feeding the world, and in reducing malnutrition.
Yet, they are often poorer than men, they are more prone to go hungry themselves, or to suffer health consequences of insufficient nutritional intake. Rural women, on average, are paid 25 percent less than men for the same work. They are 2 percent more likely to be poor than men. They represent less than 20 percent of landholders worldwide – despite their much larger proportion to agricultural labor. And almost 30 percent of them around the world are anemic because of the consequences of insufficient nutritional intake.
In recognition of "the critical role and contribution of rural women in enhancing agricultural and rural development, improving food security and eradicating rural poverty", we celebrate International Rural Women's Day which falls on October 15 every year.
This year's International Rural Women's Day's theme "Rural Women Cultivating Good Food for All," highlights the essential role those rural women and girls play in the food systems of the world. The COVID-19 pandemic has, in fact, disproportionately affected women and exacerbated existing vulnerabilities by reducing their economic opportunities and access to nutritious foods. Among the additional people which experienced food insecurity following the onset of the pandemic, there are 10 percent more women than men.
On this occasion, we would like to share four messages.
First: if we wish to reduce poverty, revitalize rural areas and improve food security and nutrition, we must empower rural women. Empowering rural women means "untapping" the potential of half of the population.
Second: when women (particularly rural women) are empowered, our families, communities, and – ultimately – our whole society benefit. If the status of rural women is improved, if they are given the same access to assets and to opportunities as men – land, financial resources, education, training, etc., it will not only empower women themselves, but also benefit the community and the whole society, with increased agricultural productivity, better nutrition, and even GDP growth.
Third: an intentional targeted approach focusing on women's empowerment is needed to address the multi-fold gender barriers that rural women face, including the lack of resources and support, lack of power in decision-making, and heavy burden on unpaid care work that hinders their participation and productivity in agriculture and paid work. Only when women are included as active decision-makers, as beneficiaries, and in statistics through the collection of sex-disaggregated data, can an enabling environment for rural women's empowerment and well-being be created.
Last: empowering women does not mean "depowering" men. On the contrary, without male engagement, the word "gender equality" will lose its meaning. Gender equality is not a "zero-sum" game: if women are empowered, if they become more productive, if our families and communities become richer and less hungry, the whole society – men included – will benefit from that transformation. Men and boys can be advocates and champions of gender equality and play an important role in creating an equal, inclusive, and harmonized world for all.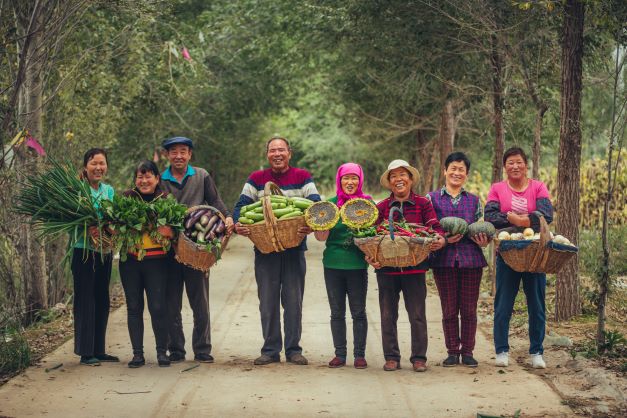 Farmers from Guanglin Agricultural Cooperative at a UN Women and IFAD project pilot site in Qinghai Province, China. /UN Women
Our two organizations, the International Fund for Agricultural Development (IFAD) and the United Nations Entity for Gender Equality and Empowerment of Women (UN Women), have been at the forefront in promoting gender equality, particularly in rural communities, as a key element to reduce poverty and improve food security everywhere and in China.
An example where IFAD and UN Women's partnership contributed to rural women's socio-economic empowerment can be found in Qinghai Province. Since 2018, IFAD and UN Women have worked together with Qinghai Rural Revitalization Bureau and Qinghai Women's Federation to improve rural women's livelihood opportunities and entrepreneurship in some remote areas of Qinghai.
Thanks to the joint efforts, about 70,000 women benefited from training in several areas, including leadership, agricultural practices, e-commerce, and how to access finance – and received production inputs or technological packages. Six women's networks and community cooperatives have been built or strengthened, including one women-led agricultural cooperative, to increase women's collaboration, advocacy and leadership, and their participation in economic growth and entrepreneurship.
Among those who benefited from the entrepreneurship start-up training, 75 percent succeeded in creating their own businesses such as farm-style restaurant cooking and operation, handcrafts, housekeeping service skills and management, community grocery and small shop operations.
Overall, women's increased economic status in the household led to increased voice and participation in the decision-making of their families and communities. It is in fact reported that at least 12 women were elected as members of Village Committees of the communities covered by the project – two as leaders.
The results of IFAD-UN Women's partnership in Qinghai were so promising that the two agencies have decided to replicate the model in a new project being implemented in Hunan, in partnership with the Hunan Department of Agriculture and Rural Affairs and Hunan Women's Federation. And it's hoped that more women will fulfill their value and play an increasingly important role in society.