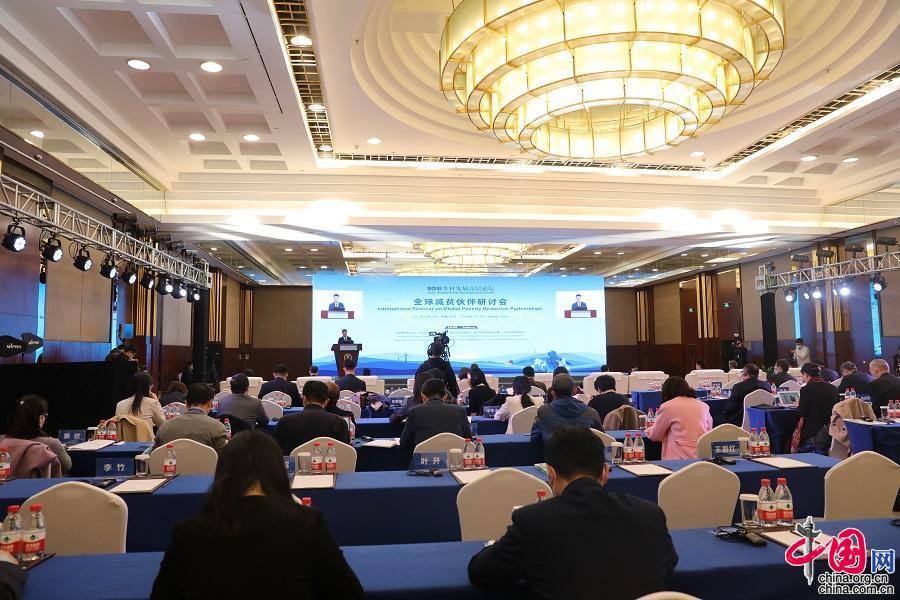 The 2021 International Seminar on Global Poverty Reduction Partnerships is held in Beijing on Oct. 19. (Photo by Yang Nan/China.org.cn)
The 2021 International Seminar on Global Poverty Reduction Partnerships was held in Beijing on Oct. 19 and featured the "Post-COVID-19 Global Rural Development and Poverty Reduction: Innovations for Agri-Food Systems Transformation" theme.
As the fifth annual seminar, this year's session was organized by the International Poverty Reduction Center in China (IPRCC), China Internet Information Center (CIIC), three United Nations Rome-based agencies (RBAs) – the Food and Agriculture Organization of the United Nations (FAO), the International Fund for Agricultural Development (IFAD) and the World Food Programme (WFP).
More than 120 participants from governments, academia, international organizations, NGOs, and the private sector attended the conference in person, and high-level representatives from the UN and officials from developing countries participated via videoconference.
The seminar focused on interventions and innovations that have been implemented and are being considered by development actors in the post-COVID-19 era and provided an opportunity for its audience and participants to discuss China's development experience and how it can further empower global poverty reduction governance, highlight the work that UN entities have done alleviating poverty and food insecurity; and explore opportunities to strengthen partnerships, especially through the South-South and Triangularcooperation frameworks.
The seminar also provided a space to further explore the connections between poverty and food systems. Key stakeholders discussed challenges that have arisen, lessons that have been learned, and successes that have been experienced related to poverty alleviation and rural development. They have been taking actions to support the outcomes of the Food Systems Summit held in September this year in particular and in global poverty reduction in general.
Since the COVID-19 pandemic, IPRCC has been leveraging its role as an international platform for global poverty reduction by organizing international forums, carrying out research and developing knowledge products, offering training courses and facilitating international cooperation on poverty reduction projects. It has maintained active communication with bilateral and multilateral poverty reduction institutions to hold global and regional dialogue forums and online seminars (such as the International Seminar on Global Poverty Reduction Partnerships, the International Forum on Sharing Poverty Reduction Experience, the ASEAN-China Forum on Social Development and Poverty Reduction, China-World Bank Seminar on Poverty Reduction Cooperation etc.), to strengthen knowledge sharing, and promote cooperative partnership for poverty reduction for the post-COVID-19 world.
CIIC established the Global Center on Development Knowledge Sharing recently with the goal of building a professional knowledge hub dedicating to sustainable development. This center is willing to engage in in-depth cooperation with international organizations and think-tanks to co-launch intellectual products and exchange activities, to tell China's development stories and contributions to global sustainable development.
The People's Republic of China has been a major promoter and contributor to the FAO's SSTC Initiatives. Through the close SSTC partnership with FAO, China offers considerable practical agricultural technological and policy solutions to developing countries, and these solutions have delivered visible and concrete results. To date, the FAO-China SSC Programme has supported 25 national, regional and global projects on SSTC with more than 250 Chinese experts and technicians fielded in host countries to carry out agricultural technical demonstration and extension. These projects have directly contributed to the capacity-building of other key stakeholders and improved the food security and nutrition situation of the host countries.
At the seminar, the IFAD built on the outputs from an enriching discussion to reinforce SSTC interventions for nutrition and poverty alleviation. Through the China-IFAD SSTC facility, IFAD is responding to the consequences of the pandemic by leveraging innovations from the Global South that can address new challenges to food systems and support the resilience of local communities. The seminar provided a space to further explore the connections between poverty and food security, contributing ideas and pathways toward impactful SSTC interventions for poverty alleviation.
Globally, the WFP is leveraging its purchasing power and creation of consumers' demand through its cash-based transfers to address inefficiencies along the supply chain and achieve the best value for refugees and host communities. WFP's interventions in some countries have a positive influence on food systems include Home Grown School Meals, which connect local smallholder farmers to the supply chain of school meals programmes; fortification initiatives that help communities access locally produced nutritious food; the creation and rehabilitation of infrastructure in exchange for food or cash-based assistance; strengthening public food reserves; and supporting smallholder farmers through the facilitation of credit, capacity development and access to markets.
(Yan Bin contributed to this story.)