Home to vast, clear waters and magnificent, mountainous landscapes, Fujian province features some of the most spectacular natural scenery in southeastern China, particularly during the midsummer period (late July to early August). Lush tea plantations cover countless hectares of land on and around the Wuyi Mountains – a range that runs roughly along the Jiangxi border – while the abalone farming industry booms in Lianjiang county, Fuzhou city. The administrative area has been developing high-quality traditional industries that take advantage of its land resources, while its aquaculture industry rapidly expands as it vigorously pursues the ocean economy. Fresh flows of financial capital are the secret to the rural vitalization that is gradually unfolding in its borders.
The Chinese government's "2021 No. 1 Central Document" explicitly states that exclusive financial products that support new agricultural business entities and new rural industries should be developed and that the provision of first-time loans and credit in general should increase. It also notes that the scale of agricultural credit guarantee should be enhanced and quantitative assessment of this undertaking will be conducted.
In recent years, the Fujian Branch of the Agricultural Bank of China (ABC) has been issuing more "e-loans designed to benefit farmers," innovating service models, and providing increasing levels of "agricultural, rural, and farmer" support. Designed to make comprehensive financial services readily available, the measures have opened up a new chapter in rural vitalization.
Finance promotes transformation from small tea farms to large industry
Lucid waters and lush mountains boost well-being
"One will find countless hectares' worth of tea growing on the mountains in Huangcun village.Visitors are reluctant to leave the source of the Jiuqu stream." The lyrics of the song "Looking for Tea in Huangcun" capture the fact that Huangcun village, Wuyishan city, Fujian province, is full of a pleasant, refreshing tea fragrance due to the fact that it produces a type of oolong tea known as Wuyi Rock Tea.
It is said that "tea grown in Xingcun is more fragrant than tea produced in other areas." The town has played an important role in the Wuyi Mountains region's tea industry since ancient times. Taking advantage of the excellent geography and ecological environment that exist in the upper reaches of the Jiuqu stream, Huangcun's farmers currently grow the crop on more than 833 ha of land in the village. Favorable natural resources are not enough for the industry to thrive on a broad basis, however; its success depends on improved, comprehensive systems and the support of relevant parties.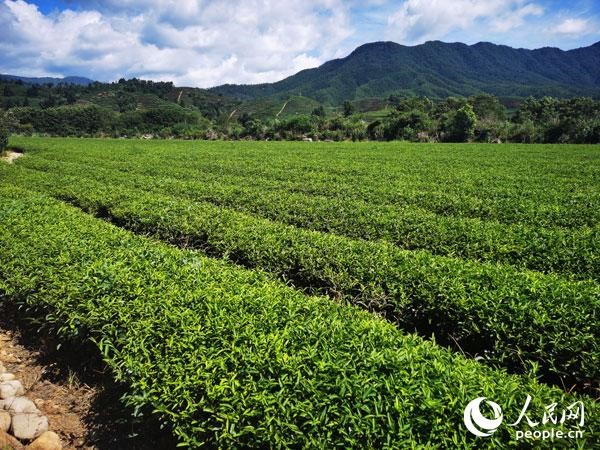 Tea fields in Xingcun town, Wuyishan city, Fujian province (People's Daily/Li Dong)
"In the past, most of the tea growers in the area operated in isolation and did not understand scientific cultivation," Huang Zhenghua, secretary of the Party branch of Wuyishan's Mingchuan Shifu Agricultural Cooperative, remarked recently, recalling the motivation for establishing the cooperative. "They lacked sufficient funds, did not understand things like branding and marketing, and had difficulty selling their products even though the quality was good. Great unity and strength have taken root now, however."
"Turnover was a problem before," Huang explained. "There were delays associated with accounts receivable, so farmers often attempted to obtain loans from financial institutions. Their applications were rejected due to the fact that they lacked real estate that could be used as collateral and for other reasons though."
The Nanping Branch of the Agricultural Bank of China eventually introduced a financial service scheme that allows small and micro enterprises to use their tea farms as collateral after it became aware of the situation. A customer manager made field visits and conducted research, and the bank began issuing loans that only take five days to approve not long after.
The improved flows of financial capital that now exist have contributed to Mingchuan Shifu Agricultural Cooperative's membership rising to 124 households and annual income climbing from a little over 3,000 yuan (US$464) in 2003 to more than 40,000 yuan (US$6,188) in 2020 per capita.
"We must continue taking full advantage of the development opportunities that the Agricultural Bank of China is enabling and expanding Wuyi Rock Tea business," Huang remarked, full of confidence.
Zheng Shunyao, vice president of ABC's Fujian Branch, mentioned that the branch has vigorously promoted "e-loans designed to benefit farmers" and online loans for rural households by combining the advantages of modern agriculture with local characteristics and that these measures have greatly improved the efficiency of fund allocation and effectively alleviated financing problems that the people in the area used to suffer from.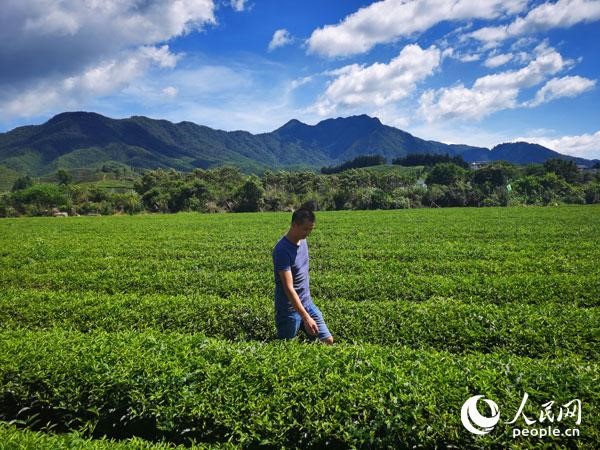 Mingchuan Shifu Agricultural Cooperative member Li Yong checks the growth of his tea saplings. (People's Daily/Li Dong)
Mingchuan Shifu Agricultural Cooperative member Li Yong responded enthusiastically when asked about the relationship between his 2.4-ha tea plantation and the financial institutions in the area while he was inspecting the growth of his tea saplings recently. He explained that the scope of their dealings has grown from a 100,000-yuan (US$15,470) "e-loan designed to benefit farmers" that he took out in 2017 to a credit line equal to his family's current annual income – over 400,000 yuan (US$61,880) – that he enjoys at present.
"In the past, I had to borrow money from friends and relatives in order to raise funds," Li recounted. "Now I can access comprehensive services right on my smartphone. I am able to receive money quickly and enjoy interest rate concessions. Output and quality have both increased at my tea plantation, and overall prospects are quite promising."
Yi Kai, president of ABC's Xingcun Sub-branch, stated that a total of 140 million yuan's (US$21.66 million) worth of "e-loans designed to benefit farmers" were granted to approximately 1,000 people who live in the area in 2020. He also mentioned that more than 200 additional households now enjoy the bank's services and that the branch's farmer credit line has risen to 160 million yuan (US$24.75 million) as of the second quarter of 2021.
"ABC plans to continue to use finance to help with rural vitalization and will provide service in more areas in the future," Yi concluded.
Finance helps specialty ocean economy industries mature
The world looks to China, China looks to Fujian, and Fujian looks to Lianjiang for abalone
Agriculture is the foundation of a society. The creation of a society that is moderately prosperous in all respects and the realization of the Chinese dream are highly dependent on the development of agriculture, rural areas and farmers.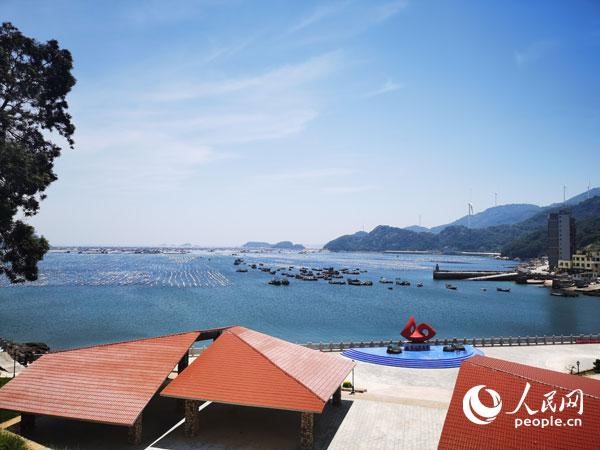 The abalone breeding base in Tongxin village, Ankai township, Lianjiang county, Fuzhou city, Fujian province (People's Daily/Li Dong)
The fishing industry connects people's livelihoods with rural development. Possessing vast waters and a network of interdependent mountains and rivers, Lianjiang has a long history of being a prosperous fishing port and is well-known for its abalone. It was difficult for fishermen in Tongxin village, Ankai township – one of its major abalone farming hamlets – to access credit until recently, however, despite the fact that the industry is booming and there has been a lot of demand for capital.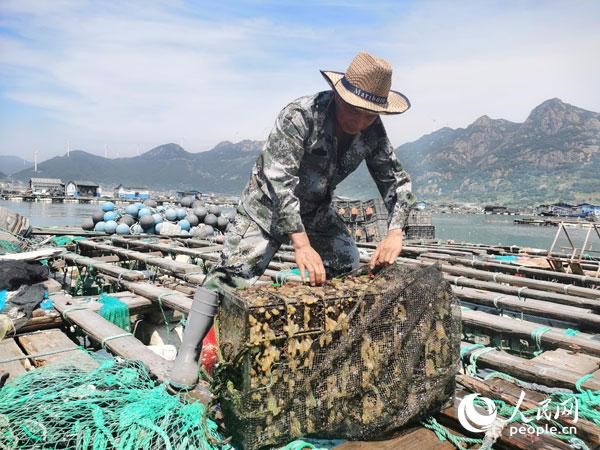 Abalone farmer Huang Andeng works on a fishing raft. (People's Daily/Li Dong)
Huang Andeng, a tanned aquaculturalist who has been engaged in the industry for 15 years, noted that he is currently the largest abalone farmer in the area and that he has produced 12,000 cages' worth of the mollusks while fleetly pulling one out of the water in order to inspect the abalone growing inside it recently.
"I can produce 50 tons of abalone per year and achieve 4 million yuan (US$618,800) of output value if the weather is good and prices are fair," he calculated.
Abalone farming and other aquaculture pursuits are currently thriving in Lianjiang. Financing was often slow, difficult, and expensive in the past, however, and other thorny issues existed as well. The county's ABC branch has been promoting "e-loans designed to benefit farmers" based on local characteristics in order to address the issue. Lin Lianzhong, Tongxin's Party branch secretary, said that the bank's automatic approval system and the efforts it has made to survey the farming households in the area have simplified the loan authorization process for them and that eligibility requirements have also been reduced. He explained that a loan can be obtained without collateral after identity verification is completed if an applicant's credit is good and that this has solved local aquaculturalists' fundraising problems.
"More than 80 of Tongxin's abalone farmers have received "e-loans designed to benefit farmers" since the village introduced them in 2019," Lin stated. "The preferential interest rates, fast application process, and one-stop procedures that we have been able to provide in light of the high, urgent demand for credit in the village has made us their first choice for financing."
The Party branch secretary also mentioned that he hopes to increase credit lines so that hamlet's aquaculturalists can expand the scale of their operations and noted that their best days are ahead of them.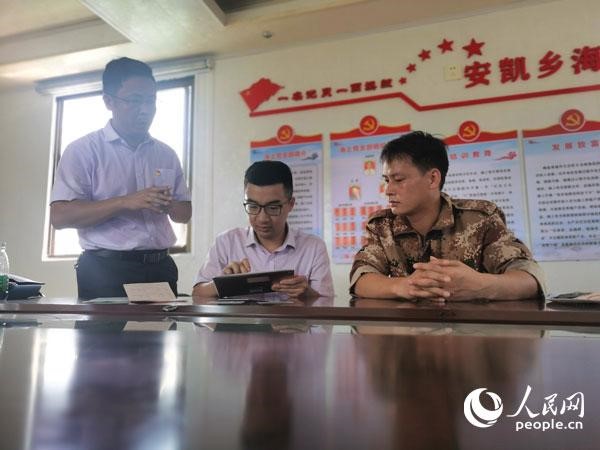 ABC employees review aquaculturalists' loan applications at a wharf. (People's Daily/Li Dong)
"Over 120 farmers currently live in Tongxin," stated Chen Bao, Party Branch Secretary of ABC's Danfeng Sub-branch in Lianjiang. "We have provided loans to about 60 of the village's households thus far and have a balance of approximately 9 million yuan (US$1.32 million) at present. Our relatively low interest rates have also greatly reduced pressure on aquaculturalists in terms of production costs."