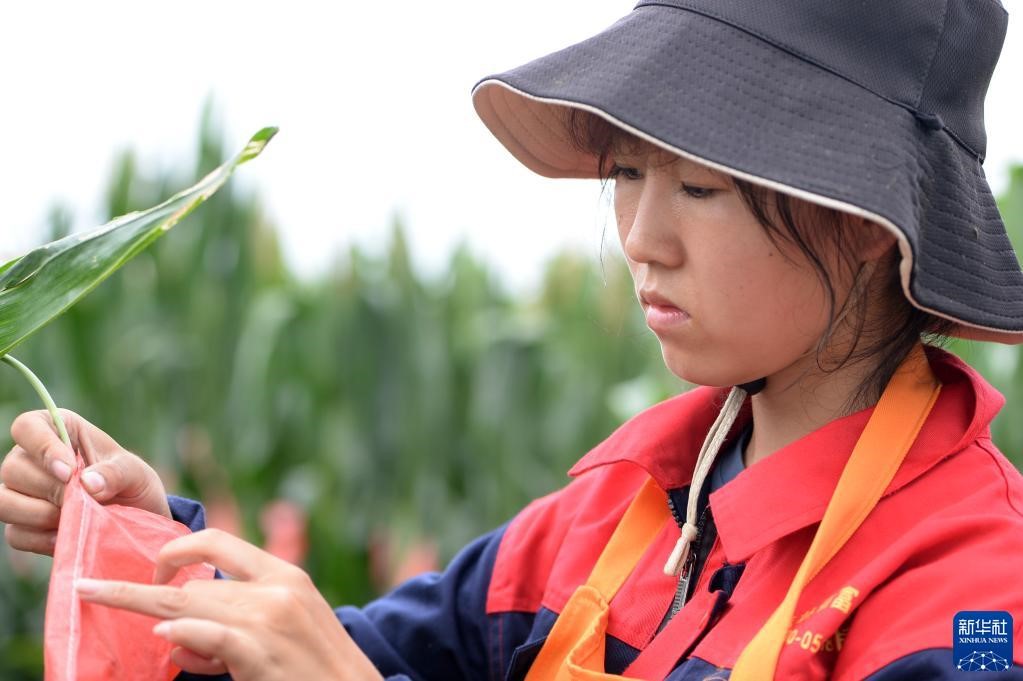 Li Shuiying pollinates inbred maize strains. (Xinhua/Lin Hong)
A special summerlong practical training program is currently drawing to a close at Fumin Seed Industry Science and Technology Demonstration Park in Lishu county, Siping city, Jilin province – one of China's major grain-producing counties – as the season ends. Originally from Kashgar city, Xinjiang Uygur Autonomous Region, ethnic Tibetan participant Li Shuiying has been learning about corn seed R&D and cultivation at the site and will soon start her sophomore year at Liaoning Vocational College.
"We are in a critical corn pollination period right now," Li explained excitedly in late August. "Several other students and I begin working at sunrise. We spend the entire day in the field and the lab aside from a short lunch break."
The 20-year-old has developed an initial mastery of corn pollination techniques after several weeks of study and practice and has become more and more interested in breeding experiments as the program has progressed. She has also helped promote new varieties of corn online.
"Corn is the third most-cultivated crop in my hometown after winter wheat and red dates, but our annual yields are not high and disaster resistance is insufficient," Li stated.
The budding agronomist also noted that she has become very aware of the fact that seed is the key to agricultural production and mentioned that she wants to help revitalize her hometown's agriculture and make achievements in the seed industry.
Li has learned about many kinds of farm work that she was not previously familiar with over the past month and has improved her ability to transform knowledge into practical results, which has been her biggest gain.
"I plan to come back [to the science and technology park] every year on future holidays," the agriculturalist concluded.