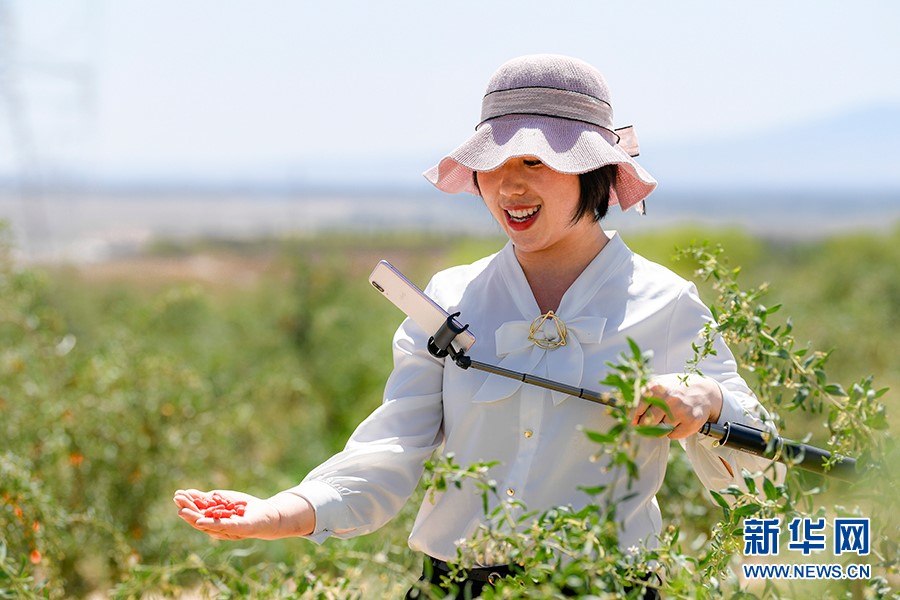 A woman promotes specialty agricultural products on a livestreaming platform. (Xinhua)
Remarkable results related to market information services, e-commerce, and the promotion of agricultural technology are being achieved as penetration and extension of big data and internet technologies, including the Agricultural Internet of Things, accelerate in China's rural areas. The rich, fast, efficient data and information services that are becoming available enhance agricultural production, daily life, education, healthcare, eldercare, and other areas in particular and benefit China's rural vitalization campaign in general.
Improving specialty agricultural products' market reach
"I always wanted to learn how to promote my products on livestreaming platforms," a major apple grower in Xunyi county, Xianyang city, Shaanxi province, named Wang Tiewa expressed recently, echoing the aspirations of many of the other villagers in the area. "My neighbor was able to sell all of his apples at good prices using the technology last year. Luckily, the county listened to our wishes and made e-commerce-oriented livestreaming training classes available to us at no charge. It was really considerate of them!"
Xunyi has also made subsidies and awards available to its farmers in order to help them sell their goods on livestreaming platforms and introduced policies that help connect the poverty reduction results that have been attained with rural vitalization.
"Industry is the foundation of rural vitalization," the person in charge of the county's human resources bureau mentioned.
Known for its apple industry, Xunyi has been utilizing livestreaming in order to promote its agricultural products and create new employment opportunities for its farmers. The technology has become a new tool that helps people increase their incomes and become more prosperous.
Livestreaming has become popular in China in recent years. Approximately 873 million of the country's citizens watch short videos and around 617 million use livestreaming platforms as of December 2020 according to the "2021 China Network Audiovisual Development Research Report," which was released by the China Network Audiovisual Program Service Association at the start of June. Short videos and livestreaming have made it possible for agricultural specialty products, such as Hubei province's red oranges, Hainan province's mangos, Fujian province's fresh bamboo shoots, Sichuan province's Baba-variety tangerines, and Xinjiang Uygur Autonomous Region's fragrant, Korla-variety pears, which are grown in the city of the same name and other locales in the area, to be transported directly from their points of origin to countless households throughout the country.
Renmin University of China's National Academy of Development and Strategy's "Report on How Short Videos and Livestreaming Boost Economic Development in Rural Areas" indicates that simple voices accompanied by real images from the front lines of crop cultivation and animal husbandry endeavors narrow psychological distance between farmers and consumers, enhance consumers' trust in farmers, and are a sustainable way to market agricultural products. Short videos and livestreaming stimulate new forms of industry in the countryside, such as rural cultural tourism and intangible cultural heritage, in addition to possessing the ability to be widely deployed for the purpose of destocking agricultural products and obtaining consumer feedback related to the food processing industry.
Making digital agriculture smarter
Big data and cloud technology make it possible for field data related to soil, precipitation, temperature, location, and other areas to be automatically uploaded, processed, and delivered to large-scale intelligent agricultural machinery, which enables them to perform precise operations. This procedure has become a reality in many of China's rural areas.
Known for its honey pomelos, Dapu county, Meizhou city, Guangdong province, achieves fruitful harvests every autumn. The administrative area has also become imbued with a sense of science and technology in recent years: it created a 5G agricultural big data service platform that makes full use of 5G, remote sensing, big data, AR (augmented reality), VR (virtual reality), and other technologies and covers the entire industry chain, including data, cultivation, and supervision, for its agricultural parks.
The platform has the ability to analyze information related to soil moisture and fertility and share it in real time, which improves accuracy during the sowing stage; intelligent robots pick fruit in a precise manner based on fruits', trees', and orchards' sugar, moisture, and pesticide residue levels during the harvesting stage; and online and offline sales data is accurately analyzed during the sales stage, which makes it possible to move agricultural products in a methodical, scientific manner. The system has caused Dapu's pomelo sales to increase by 19.1 percent and their prices to rise by 0.28 yuan per kg, thus far and was included in the Information Center of the Ministry of Agriculture and Rural Affairs' "2021 List of Excellent New Products, New Technologies, and New Digital Agriculture Models in Rural Areas."
The innovative application of digital technologies has resulted in data becoming a new factor in production, information networks a new type of infrastructure, informatization a new governance method, and the digital economy a new engine in development. Guangdong Mobile agricultural informatization expert Zhang Junkai, who holds a Ph.D. in communications from the South China University of Technology, believes that numerous refined unmanned agricultural machines equipped with low-latency 5G technology will operate in the fields in the future and that the large number of devices simultaneously accessing the Internet of Things that 5G makes possible will unleash the vigor of digital agriculture.
Addressing problems associated with rural governance
"Prosperity will only truly exist when the entire country and all of its people are secure," a beautiful female voice could recently be heard stating in Wanzhuang village, Hezhuangping town, Baota district, Yan'an prefecture-level city, Shaanxi province, emanating from loudspeakers in the hamlet's square. It was the first time its residents were able to enjoy Baota's smart streaming service since it began making use of the Ximalaya online audio platform.
Many of Wanzhuang's seniors are curious about smart streaming. Black, state-of-the-art, palm-sized devices similar to TV set-top boxes automatically play at specified times as long as they are connected to speakers. Rich content related to Party history, agricultural knowledge, life skills, and other areas is available in line with the diverse needs of Baota's villages.
"Don't underestimate these boxes," Wu Wei, deputy director of Baota's Publicity Department, remarked. "They are very useful!"
"First, entire villages can be connected in real time, which is useful for holding meetings and other events," he continued, explaining the ways smart streaming promotes rural vitalization. "Information can be shared in a richer, more-transparent, and more-symmetrical manner. Second, it helps villages become more cohesive and stimulates a sense of belonging in left-behind members of the community. Third, the diverse content that is available increases entertainment options and can provide spiritual nourishment."
Li Xu, a mycological technician who lives in Wanzhuang, is full of praise for Baota's smart livestreaming system. He noted that some of the senior citizens in the village do not use smartphones and had very limited access to diversion in the past but that the village has become more lively now that people gather in the small square in front of Wanzhuang's village committee building in order to discuss the news, music, agriculture, and other programming that is now available.
China's rural areas are currently undergoing a transformation from traditional enclaves into modern communities. The application of new internet technologies plays an important role in strengthening the nation's digital rural vitalization foundation and has the potential to help address problems and challenges associated with rural grassroots governance and make it possible to cover the "last meter."