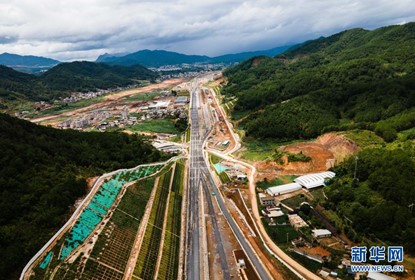 A view of the Kunming-Wanxiang Railway under construction in summer 2021 (Xinhua/Wang Guansen)
Minority Ethnic citizens from Lingyun county, Baise city; Bama Yao Autonomous County, Hechi city; and other parts of Guangxi Zhuang Autonomous Region, adorned in beautiful traditional folk costumes, invite passengers to sample local specialty products on the area's D1780 train. Themed on "high-speed rail tourism and rural vitalization," the train and related e-commerce platforms promote an increasing number of Guangxi's agricultural and sideline products in addition to its tourism industry and help make the offerings more well-known in the broader market. A growing number of popular new towns that retain elements of nostalgia have sprung up along the autonomous region's railways, and the people who live along the routes have been becoming more prosperous by the day.
China's railway operators have proactively adapted to the changing demands of development in the contemporary era by improving and expanding high-speed rail infrastructure. They continue to offer slow train services as well, however, in order to meet the varying needs of different people and regions and make contributions to rural vitalization.
Slow trains provide a valuable service to the public and play an important role in development. China Railway Nanning Bureau Group Co. Ltd.'s 5511/5512 trains travel between Nanning – Guangxi's capital and most-populous city – and the Pingxiang prefecture-level city, border in five hours and nine minutes and stop at Fusui county, Chongzuo city and Ningming county and four other stations along the 220-km route. Featuring high-quality service at an average cost of less than 4 yuan (US$0.62) per station, the eight-car-long hard-seaters make it possible for people to visit friends and relatives, go to school, travel to markets in order to sell their goods, get to places that provide medical treatment, and make other trips in a very convenient manner. Deeply appreciated, the trains tend to be filled with happiness and laughter despite the fact that they may seem a little slow. Records indicate that a total of 29.31 million passengers traveled on the nine pairs of slow trains operated by the Nanning Railway Bureau from 2013 to 2020. They enable the people who live in the area to enjoy the huge benefits that railway reform and development have created, promote the local economy, and have launched a new chapter of rural vitalization.
China's expanding high-speed rail infrastructure bolsters rural vitalization by injecting development momentum into numerous industries. Providing a seamless connection between Bama and Baise Railway Station, the autonomous county's high-speed trackless railway stations make it possible for ethnic Yao citizens to travel easily and promote tourism in the region. Residents have been building and operating farmstay facilities and characteristic bed and breakfasts in response to the fact that people from other areas are eager to visit the "towns known for the longevity of their residents" that exist in the region now that it is convenient to do so. Demand for agricultural and sideline products produced in Guangxi has also increased, and ethnic Yao culture has enjoyed positive word-of-mouth buzz. The tourism boom has invigorated the economy, greatly improved the living environment and quality of life, and promotes rural vitalization in the region. A total of 16 high-speed trackless railway stations currently exist in Beiliu city, Rongxian county, Fuchuan county, Lingyun county, and other parts of Guangxi.
Imperfect communication, transportation, cold chain, and warehousing infrastructure restricts rural vitalization. Agricultural products can be produced without much difficulty, but it is not always easy to sell them, whereas effective logistics help boost people's livelihoods. Measures have been taken to increase the depth and breadth of special, punctual, efficient, reliable rail services that depart from Guangxi and are minimally affected by the weather in light of the COVID-19 pandemic. These efforts have made it possible to ship Tiandong county's Guiqi-variety mangos, Pingguo city's pitayas; Badu township, Tianlin county's bamboo shoots; and other high-quality fruits and vegetables from Baise to destinations all over China, which has effectively addressed serious sales problems that the autonomous region's farmers have experienced and boosted the value of their agricultural products and incomes, demonstrating robust, responsible rural vitalization.
China's railway operators strive to uphold the principle of being "people's railways that truly serve the public" by providing services that benefit the nation's courageous, hardworking, optimistic, industrious citizens and help the country gradually advance down an expansive rural vitalization path.