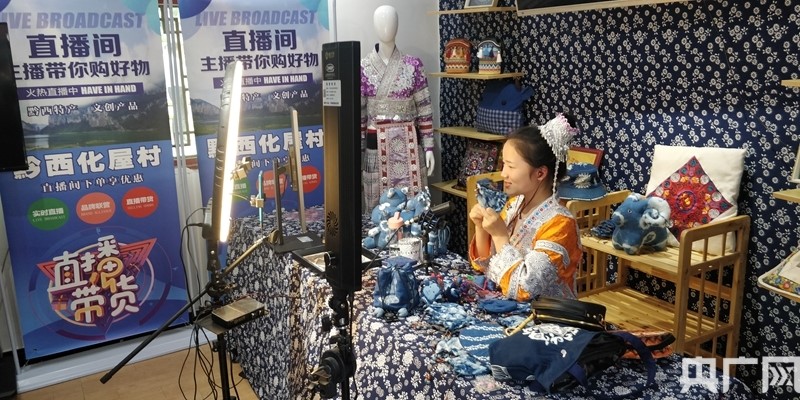 Resident Yang Yang in her livestreaming studio in Huawu village, Qianxi county, Bijie city, Guizhou province. [Photo by cnr.cn]
Huawu village, Qianxi county, Bijie city, Guizhou province, resident Yang Yang's livestreaming studio is becoming as hot as the temperature in the summer.
Staff carefully stitch a variety of exquisite traditional costumes and handicrafts at the ethnic Miao embroidery workshop in Huawu village, and sell them online.
Huawu native Yang Yang markets the products on various livestreaming platforms in the workshop's video studio. She recently noted that she achieved nearly 4,000 yuan (US$620) of sales over the course of a month in late spring despite the fact that she has not reached many viewers yet because the workshop has just begun using live video to promote its embroidery and has thus experienced the benefits of the approach.
"The internet has made it possible for Huawuji to transform from a black chicken (a pun on "Huawuji" in Chinese) into a phoenix," Yang continued.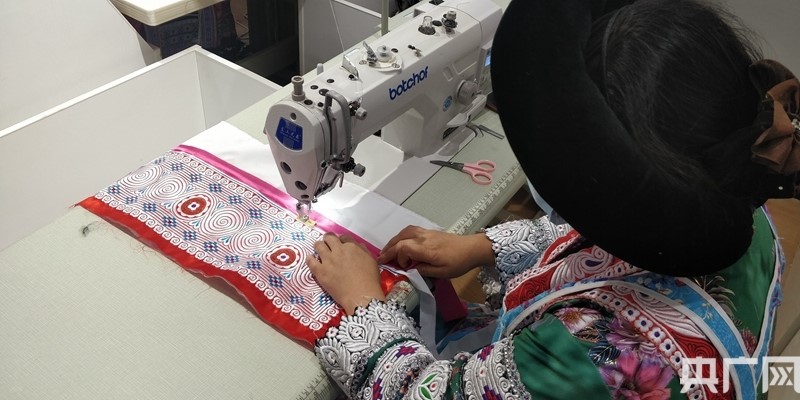 A member of staff carefully stitches a variety of exquisite traditional costumes at the ethnic Miao embroidery workshop in Huawu village. [Photo by cnr.cn]
The local name for Huawu, Huawuji means "village under cliffs" in the indigenous language spoken there.Sandwiched between craggy ridges and the Wujiang river, the 98 percent Miao hamlet was classified as uninhabitable in the past due to the difficult natural conditions that exist in the area.
Twenty years ago, annual per capita income and grain output stood at only 214 yuan (US$33) and 171 kg, respectively, in Huawu, and the village was eventually found to be 66.3 percent impoverished. It was able to achieve its goal of escaping from poverty by 2017, however, and has become the pearl of the Wujiang headwaters area in recent years.
Part of China's intangible cultural heritage, Miao embroidery has played an important role in Huawu's successful experiences with poverty reduction. Almost every household in the villagehas the ability to produce high-quality creations that feature the bright colors, dense patterns, symmetrical and harmonious composition, and bold, vivid shapes that are typical of the style. Hand-embroidered Miao costumes can command up to tens of thousands of yuan (thousands of US dollars), and livestreaming makes it possible to sell embroidered sachets and other accessories to customers in places like Hong Kong.
"In the past, we had to take our phones to the tops of the mountains in the area in order to get service," Yang recounted. "Now we have the ability to engage in e-commerce and livestreaming in an uninterrupted manner."
The Qianxi E-commerce Public Service Center has conducted more than 10 free e-commerce and livestreaming training sessions covering a total of more than 100 trainees since 2019 and has played a pivotal role in the creation of Yang's livestreaming studio.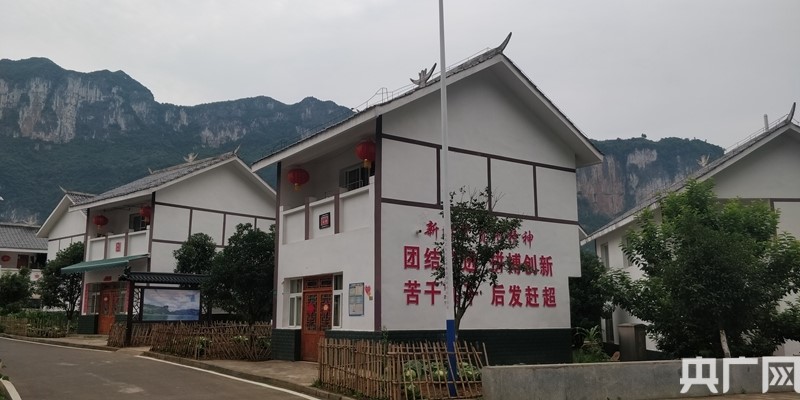 A view of Huawu village [Photo by cnr.cn]
"If we help someone get on a horse, it's better to help them start a ride," Mei Jiping, the organization's director, stated.
She also mentioned that the center is developing an app that integrates local food, accommodations, transportation, tourism, shopping, and entertainment in order to promote the products that it produces on a wider basis and attract visitors in addition to continuing to help Huawu's residents master skills related to e-commerce and livestreaming.
Smartphones became new agricultural tools that help promote specialty agricultural products, such as Miao embroidery, as the area gradually achieved full internet coverage.
Taobao and various livestreaming platforms make it possible for Huawu's residents to enjoy the convenience that technology provides and facilitates the sale of Miao embroidery to customers living in other parts of the country.
No longer isolated, Huawu has become a digital village that is highly integrated with the internet.
"Huawu now possesses a 5G+ digital village service system, which is like a 'smart brain,'" remarked Wang Meng, chairperson of the Xinren Township People's Congress.
The system covers all aspects of digital rural governance in Huawu, including local ecology, tourism, education, and five other areas.
"It represents a new information-oriented development framework for rural areas," Wang continued. "The 5G+ digital village service system uses new technology to generate new momentum and create new synergistic development models involving high-quality industries and precision management and pollution control while addressing development problems in a manner suited to local conditions."
An important aspect of digital technology, precision has been the key to achieving the improved level of management that now exists in the villages that utilize the system.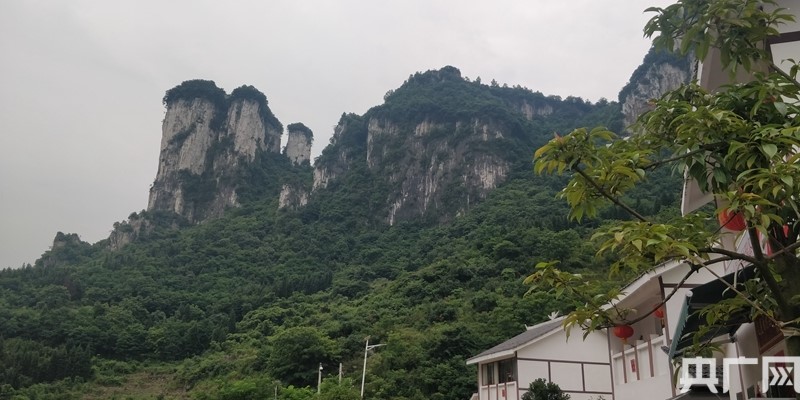 A view of Huawu village [Photo by cnr.cn]
Annual per capita income increased from 2,450 yuan (US$380) in Huawu in 2012 to 11,500 yuan (US$1,781) in 2020, and the changes that the village has experienced epitomize the digital poverty reduction that has occurred in Guizhou in recent years.
Liu Chong, director of the Guizhou Cyberspace Administration, explained that the province has made full use of the foundation that big data provides, combines the internet and information technology with poverty reduction, explores new digital poverty reduction models, and has injected a heavy dose of network technology into its poverty eradication campaign in order to achieve a comprehensive level of prosperity throughout its borders.
In recent years, Guizhou has integrated the government, enterprises, and internet users and promoted the implementation of major projects related to network coverage, rural e-commerce, intelligent network support, information services and internet-based public welfare. All of the administrative villages in the province currently enjoy fiber optic internet and have access to the 4G network at the minimum, essentially completing the network in remote mountainous areas and realizing full 4G coverage in natural villages with more than 30 households.
As of the end of 2020, Guizhou has cultivated 70 national e-commerce rural demonstration villages, upgraded 23 hamlets that have been pursuing e-commerce into rural demonstration villages, and created more than 60 county-level e-commerce service centers and 10,220 village-level e-commerce service stations, achieving express logistics coverage in 80 percent of the towns and villages in its borders.
Implementation of rural vitalization strategies is the best way to consolidate and enhance poverty alleviation achievements. Liu mentioned that digital poverty reduction models benefit people in both the present and the long term and noted that they can overcome restrictions related to time and location, expand sales channels for agricultural products, promote the development of specialty products in impoverished areas, and help the people who live in these areas become more educated and improve their employability.