One notices fragrant tea plantations and stands of green bamboo when traveling along the winding mountain roads in Jiangkou village, Zhaoping county, Hezhou city, Guangxi Zhuang Autonomous Region. The hamlet's residents have been working hard on various development projects.
Jiangkou's inhabitants have been engaging in several new endeavors since 2017, which made it possible for the village to emerge from poverty in 2020. Its collective did not have any income when the undertakings began, but it brought in over 300,000 yuan (US$46,432) of income in 2018, more than 400,000 yuan (US$61,910) in 2019, and in excess of 500,000 yuan (US$77,387) in 2020.
"This year, I plan to work with everyone to consolidate and expand the poverty eradication results that have been achieved," Jiangkou first secretary Xuan Yan noted recently.
The senior deputy manager of Air China's ground services department's global baggage service center, Xuan came to Jiangkou in July 2018 in order to work as a poverty alleviation officer. He has spearheaded efforts to overcome the obstacles that have stood in the way of prosperity in the village ever since, which has led to touching stories and a series of poverty alleviation achievements.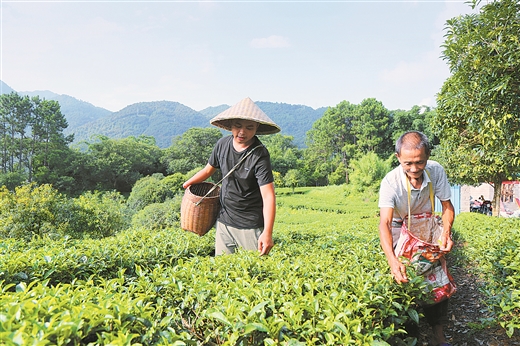 Tea planation in Jiangkou village, Shaoping county. [Guangxi Daily/Feng Geli]
More than 90 percent mountainous, Jiangkou possesses little water and arable land, and transportation was inconvenient until recently, which tended to stifle its development. The community and 363 of its households were eventually registered as impoverished after government officials surveyed the area in 2015. Xuan has been very devoted to helping the hamlet become more prosperous ever since he arrived, however.
The first secretary's living quarters are situated at the end of a corridor on the second floor of Jiangkou's village committee's office building. The unit is furnished with a wooden table, a wooden bed, a plastic chair, and a simple garment rack, and several suitcases and cardboard boxes are scattered on the floor. The official's office is located next door; his daily life is closely integrated with his work.
Xuan is intimately familiar with the situation in Jiangkou. The village encompasses 3,004 ha of mountainous land and only a little more than 260 ha of arable land and is currently home to 4,759 people in 1,070 households. Natives mostly either grew tea or worked outside the hamlet until recently. The raw materials that Jiangkou's family-based tea farms sold did not command high prices, however, and the village's migrant laborers similarly tended to obtain low wages.
Xuan focused on helping Jiangkou's impoverished residents escape from poverty as quickly as possible when he became its first secretary. He determined that choosing appropriate projects for the village collective to pursue, avoiding unnecessary risks to the greatest extent possible, and helping people increase their incomes were the keys to eliminating poverty in the administrative area.
Xuan spent a lot of time visiting farms, working on tea plantations, arranging for experts to come to the area, hiking deep in the forest, and conducting research in Jiangkou and concluded that it would be best for the village's collective to establish an ecological tea cultivation demonstration park, a tourism office, a mulberry farm and a kindergarten. He led bids to bring these projects to life and spends countless time participating in the field, examining various data, and communicating with the village's residents. The efforts that everyone has made – including the last two first secretaries who have worked in Jiangkou as Xuan is quick to point out – have led to much greater prosperity in the administrative area.
Jiangkou's cooperative brought in 452,000 yuan (US$69,958) in 2019, which was more than what any of the other 150 village cooperatives in Zhaoping achieved that year, and was named Guangxi's model village collective.
"The Party and the government have implemented many good poverty alleviation policies in China," Xuan remarked.
The official noted that Jiangkou is fully electrified, its drinking water problems have been solved, all aspects of its environment are improving, and the Dapo Bridge project that the Air China Group provided assistance with has been completed, which has made the hamlet more accessible.
"Working here is really hard, but it is also a very happy experience because we are doing something meaningful every day," Xuan explained.
"I hope that Jiangkou can take advantage of its geographical advantages by offering commercial services and spearheading the development of a new economic corridor in the area in order to increase incomes and create more jobs," the first secretary stated when asked about his goals for the rest of the year. "This way will be better positioned to dovetail with rural revitalization efforts in the future."
Xuan intends to help Jiangkou develop its tourism industry as its appearance transforms as a result of efforts that are being made to beautify China's countryside areas.
"I hope more people will come for a visit, stay the night, and enjoy the green mountains and clean water in the village," the first secretary stated.