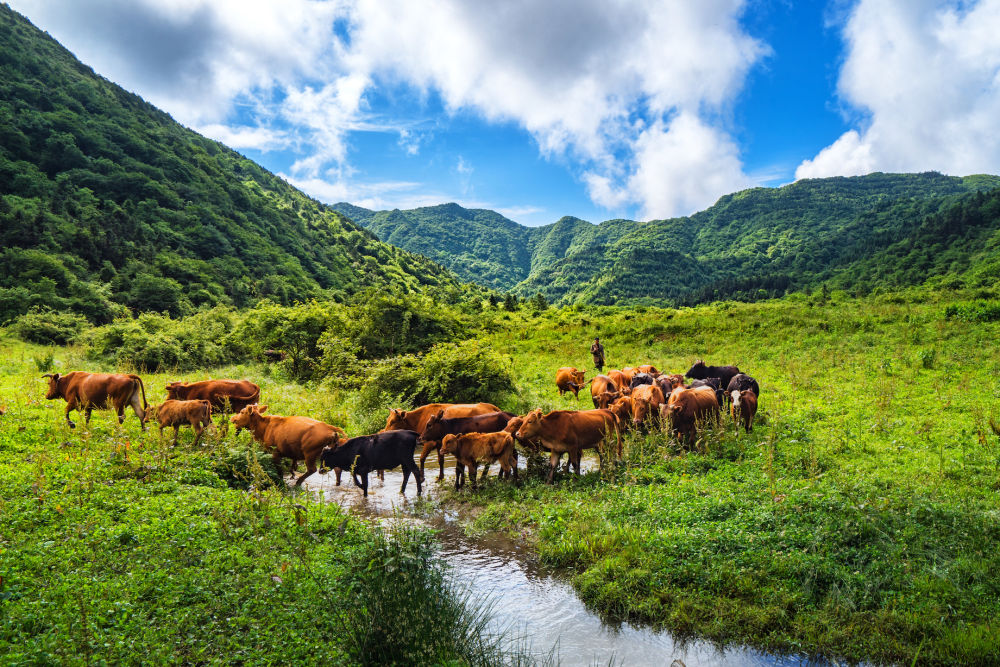 A farmer herds cattle in Fengdu county, Chongqing municipality. (Photo courtesy of Publicity Department of the CPC Fengdu Committee)
Located at the northern edge of the Wuling Mountains region in the heart of the Three Gorges Reservoir area, Fengdu county, Chongqing municipality, lends itself to livestock farming due to the lush and vast upland grasslands that run through the vicinity. Residents underestimated the value of the sector for an extended period of time, however, and mostly engaged in other pursuits.
In 2000, Fengdu began constructing a comprehensive industry chain comprised of grass cultivation, environmentally friendly cattle farming, intensive processing, R&D, and marketing components in order to address the hallowing out that the economy had suffered in the Three Gorges Reservoir area. The endeavor has been a success and has played a key role in the county's battle against poverty and its rural revitalization efforts.
Formerly impoverished Qinbanggou village, Shizhi town, Fengdu county, resident Fu Tibi has become a poverty alleviation role model in Chongqing as a result of the favorable outcomes that she and her family have experienced with cattle farming. The rancher started out with six cows after taking out a 30,000-yuan (US$4,608) loan five years ago. Her inventory has gradually grown to over 30 head, and she currently earns a total of more than 100,000 yuan (US$15,370) of net income per year across multiple income streams.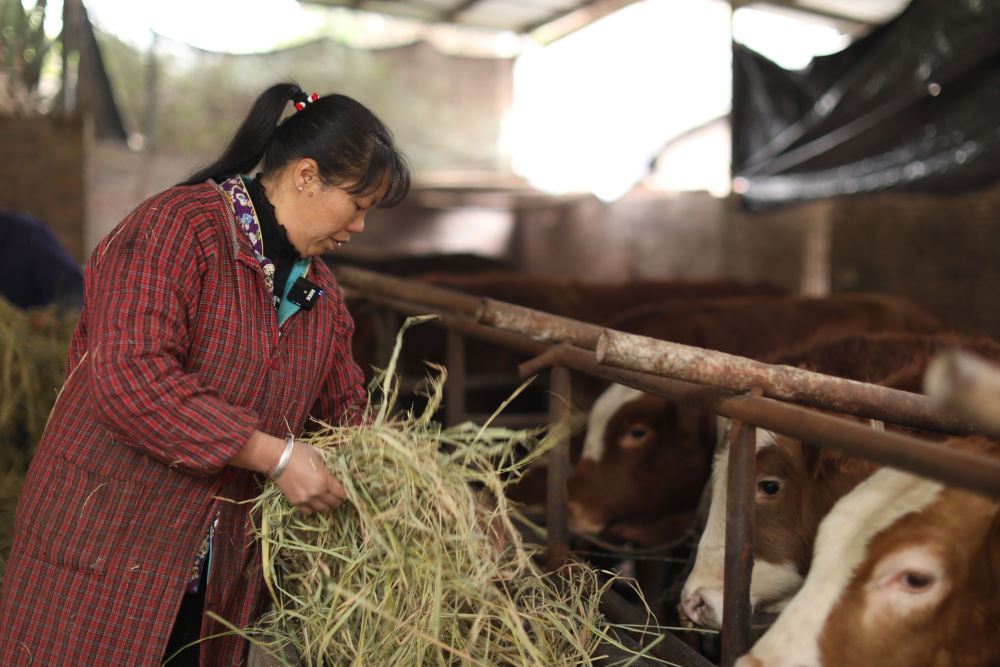 Fu Tibi feeds cattle in Qinbanggou village, Shizhi town, Fengdu county. (Xinhua/Tao Ye)
"I make at least 4,000 yuan (US$615) of profit from every cow that I raise," Fu noted recently. "I also sell calves and can even sell manure to organic fertilizer companies for dozens of yuan (about US$5 to US$15) per ton."
Sun Jianchuan, deputy director of the Fengdu County Office of Poverty Alleviation and Development, mentioned that the administrative area established a special support system that promotes "direct participation, employment, and other forms of engagement" in order to ensure that the public benefits from the industry.
Twenty-one thousand households currently farm cattle in Fengdu, 2,300 of which were poverty-stricken prior to doing so. Displaced families living in the area have become more prosperous, and formerly impoverished residents have been able to escape from poverty and increase their incomes.
He Chuandong, deputy director of the Fengdu County Animal Husbandry and Veterinary Development Service Center, mentioned that the administrative area implemented a poverty reduction model involving "enterprises + bases + farmers" and that 34 companies, 31 farmers' cooperatives, and 800 family ranches subsequently emerged over the years and have been provided with support.
Fengdu's cattle industry has become closely integrated with secondary and tertiary industries associated with it. The county's farmers currently maintain a stable inventory of around 250,000 head of cattle in total, 90,000 of which are slaughtered every year, the 4,000 ha's worth of forage grass that is grown in the area yields about 100,000 tons of feed per annum, 200,000 tons of organic fertilizer are produced each year, and more than 30 specialty beef restaurants have opened thus far.
Fengdu plans to incorporate advances that have been made in science and technology into its cattle industry chain and value chain and extend and enhance them in other ways during the 14th Five-Year Plan period (2021-2025) in order to promote the bullishness of the sector and help residents continue to increase their incomes and become more prosperous.