Located in the Wumeng Mountains region, Huawu village, Xinren Miao Town, Qianxi county, Bijie city, Guizhou province, attracts many visitors with its beautiful scenery and traditional ethnic culture.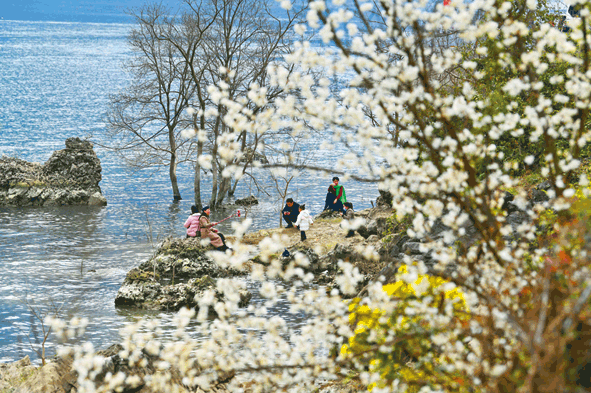 Visitors enjoy blossoming cherry trees in Huawu village, Xinren Miao Town, Qianxi county, Bijie city, Guizhou province. (Xinhua/Yang Wenbin)
The travelers who ride in the vehicles that dot the winding asphalt roads that lead to Huawu village, Xinren Miao Town, Qianxi county, Bijie city, Guizhou province, in the early spring have the opportunity to savor the flowers that emanate from the cherry trees that grow on both sides of it. Located near the headwaters of the Wujiang river, the hamlet's Tongxin square often becomes a sea of ethnic Miao citizens singing folk songs, playing bamboo reed instruments known as Lushengs, and dancing with tourists during this time of year as well.
Huawu resident Wang Guangyuan lived with his family in a dangerous mountainous depression near the edge of a cliff in an isolated part of the village prior to 2017 along with more than 30 other ethnic Miao households. The community cooked with wood stoves, used kerosene lamps and lived difficult lives.
Huawu began to experience rapid development in 2014 after Guizhou launched a vigorous targeted poverty alleviation campaign. The village gained access to water and electricity, modern roads and residences were constructed, and new industries took root and began to expand, which made it possible for the once-more-than-60 percent impoverished hamlet to emerge from absolute poverty in 2017.
The local government decided to take advantage of the picturesque riverscapes present in and around Huawu and the improvements that were made to the infrastructure in the vicinity by establishing a AAA scenic area so that the village could pursue the tourism industry, which has led to it becoming increasingly well known for the attraction and its ethnic Miao culture.
"Huawu was poor and isolated until several years ago," a resident named He Lan noted recently. "It lacked paved access roads, tap water and electricity. It was difficult for residents to leave the area, and people did not want to visit. I am happy to say that the government has helped us improve our living conditions and beautify our village in addition to building roads and engaging in targeted poverty relief."
"I moved into a new home in 2017," Wang explained. "I began raising more than 2,000 black chickens and producing other local specialties and didn't have to work outside the village anymore like I used to. The visitors who come to Huawu on Spring Festival buy these kinds of items and take them home with them, and they sell well."
Wang's wife, Yang Yan, mentioned that the village has changed a lot in recent years and stated that the tourists who visit the village also purchase things like embroidery and local dishes and engage in homestay travel.
Xu Lei, deputy head of Xinren, noted that targeted poverty relief and rural beautification have been pursued in tandem in the villages under the administration of the Miao town that were in need of these efforts and that the diversified industrial structure that is taking shape in them has formed a solid foundation that will help residents increase their incomes in the long term.