Although the cold air that hovers over the Qinghai-Tibet Plateau in the winter generally lingers into the spring, the sun tends to shine brilliantly as the seasons change. Sixty-year-old Xi Jinlian and many other women sit in circles at an embroidery park that was established on the tableland in Huzhu Tu Autonomous County, Haidong city, Qinghai province, and manufacture various products adorned with colorful, eye-catching patterns during the workweek at the site.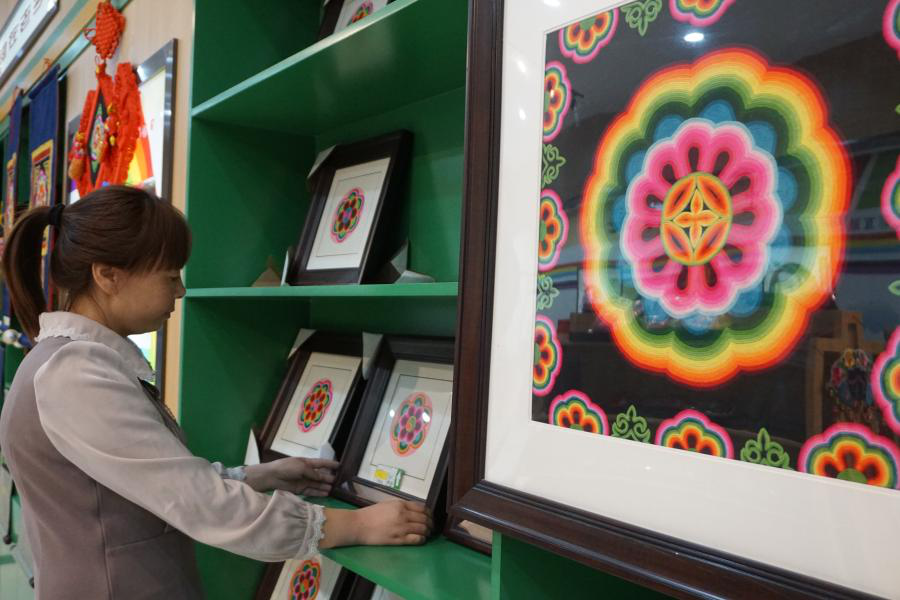 A woman puts framed heronsbill-patterned tapestries on display at the embroidery parkin Huzhu Tu Autonomous County, Haidong city, Qinghai province. (Xinhua/Yangxiu Dazhen)
"Tu women always embroider their trousseaus themselves," the bespectacled Xi noted while working in March. "I started learning the craft when I was 13."
"Good embroidery requires a lot of effort and concentration," the artisan added while holding a piece of cloth in her left hand and stitching it with her right thumb and forefinger, one thread stemming from her needle and another hanging from her traditional Tu costume.
No longer impoverished, Huzhu was part of the contiguous poverty-stricken region that encompassed the Liupan mountains area until recently.
"A development model involving 'enterprises + bases + rural households + capable people + markets' was implemented in Huzhu, which led to poverty alleviation bases and workshops being established in various towns and villages in the autonomous county, creating job opportunities for 2,000 craftswomen and 15,000 embroiderers," Qinghai Sulonggu Cultural and Tourism Industrial Development Co. Ltd. Chair Su Xiaoli explained.
Traditional Tu embroidery has evolved into an industry that makes it possible for people to escape from poverty and forge new lives by harnessing their talent and skill.
"I earn at least 3,000 yuan (US$460) a month," Xi stated while adjusting herpresbyopic glasses with a smile. "It's great that I don't have to ask my family for money anymore."
Suo Yingmei commutes to and from Huzhu's embroidery park by bus and works from 8:00 a.m. until 5:30 p.m.
"I had all kinds of difficult jobs in the past and performed as well as the men who were doing them did," the 39-year-old mentioned.
Suo quietly noted that she has done everything from mixing cement at construction sites to working as a cook and that her youngest daughter was diagnosed with leukemia and became seriously ill after she began embroidering for a living but that she was determined to help her.
"I felt miserable when I saw my daughter lying in bed," she continued. "I couldn't sew at that time."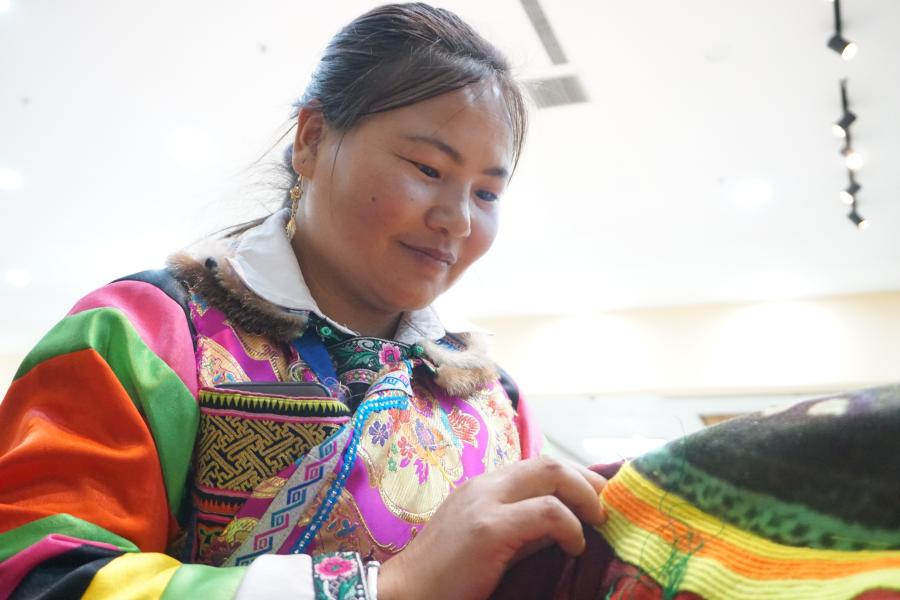 Suo Yingmei works on heronsbill-patterned embroidery. (Xinhua/Yangxiu Dazhen)
In 2020, Suo raised more than 700,000 yuan (US$107,240) with the help of the local government and some of the other villagers in her area in order to pay for the bone marrow transplant that her daughter required, and the procedure turned out to be very successful.

"I'm very happy that my daughter is getting better by the day," the craftswoman exclaimed. "The heronsbill patterns that I make seem more beautiful than ever before."
Suo currently earns more than 3,000 yuan (US$460) per month at the embroidery park near her home as well. She also plans to raise six pigs this year in order to make additional income.
"I feel that I have done something meaningful when I see that embroidery has made it possible for villagers to live better lives," Su expressed.
The Sulonggu chairperson also mentioned that the men living in Huzhu's villages tended to doubt that embroidery would be a profitable undertaking but that many of them are now learning the craft from their wives and that this change came about one stitch at a time.
Su's team has designed and promoted a total of more than 800 products in categories such as clothing accessories, bags, paintings, and ornaments in recent years. Formerly little-known Tu embroidery has become widely popular and is now sold online and offline to customers in places as far as South Korea, Japan and Southeast Asia.
"I plan to continue embroidering and let people see that Tu women can enrich themselves with their handiwork in addition to weaving beautiful patterns," Xi concluded.