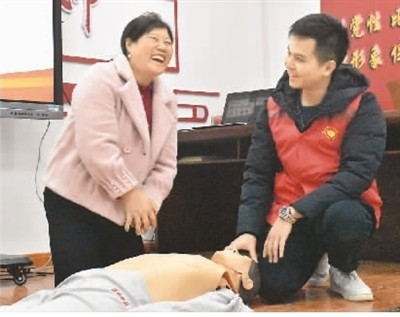 Gao Shuoheng (left) teaches CPR and other first aid procedures to a Jimei new village, Liupanshan town, Jingyuan county, Guyuan city, Ningxia Hui Autonomous Region, resident at a local health clinic. (Photo courtesy of Gao Shuoheng)
The hit TV series "Minning Town," which debuted in January of this year, tells the story of a group of poverty alleviation officials and technical experts who traveled from Fujian province to Minning town, Ningxia Hui Autonomous Region, in the 1990s in order to help the people who live there become more prosperous. Twenty years later, a new poverty reduction team journeyed from Fujian's Xiamen city to Jimei new village, Liupanshan town, Jingyuan county, Guyuan city, Ningxia Hui Autonomous Region, including a young man from Taiwan province named Gao Shuoheng.
Since 2014; Gao spent time living in Fujian's Quanzhou city and Pingtan county, and Hainan province over the next several years; and ultimately decided to become a member of the community service team in Xiamen's Haicang district. Last year, he heard that his unit had the opportunity to participate in poverty eradication work in western China and was interested in getting involved. He applied to become a member of Jimei's poverty relief team and was accepted and began working there that October.
"I still had some concerns when I left for Jimei," Gao stated in February after returning to Fujian for the time being, noting that he is interested in the customs and practices in western China but was a little worried about his lack of poverty alleviation experience and mentioning that his family and friends supported and encouraged him, which made him want to follow through with his plan to work in the rugged Liupan mountains region.
"I have mostly been responsible for managing afterschool classes, a special lunchroom that was originally established to help the elderly, a charity supermarket and a health clinic," the community service member remarked, adding that his team was sent to Jimei to help the officials who are stationed there operate these kinds of facilities.
"The dining hall that I have worked at originally only offered meals to seniors who live alone, but we noticed that the employees of the poverty reduction workshops in the area also needed a place to eat," Gao remarked.
The officer and his colleagues wanted to make the facility available to this group of people as well and were able to obtain meal subsidies for them after communicating with relevant bureaus. These workers enjoy eating lunch there and have gradually gotten to know the senior citizens who frequent it.
Gao is also a certificated lifeguard and has put this experience to use after he finishes his other duties. He has delivered many first aid courses at Jimei's health clinic and makes other health and wellness information available.
The versatile public employee has striven to provide students with a practical and effective learning space at the afterschool programs that he was worked at in the village and has always made sure to turn the heat on in advance in the building that hosts them.
"Children who arrive on time and finish their homework get to play Chinese chess and other games and are also rewarded with two vouchers that look like little red flowers, which can be redeemed for prizes," he explained.
Gao has done a great job fulfilling his duties but needed some time to adapt when he first arrived in Ningxia. He used gestures to communicate because he did not understand the local dialect initially and wore a down jacket when he went to sleep on cold nights. The officer relied on his courage and his love of challenges, however, just as he did when he first departed from Taiwan.
"Before I left Ningxia, students asked me, 'Will you come back?'" Gao recounted. "'Of course I will,' I told them. I will definitely continue to participate in poverty eradication work if I am needed."