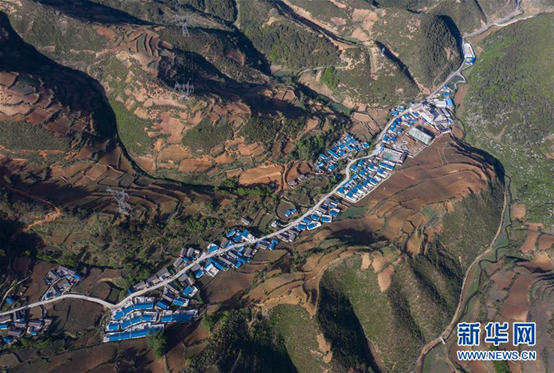 A view of the poverty alleviation resettlement site in Luoxia village, Wuke township, Butuo county, Liangshan Yi Autonomous Prefecture, Sichuan province. (Xinhua/Jiang Hongjing)
A little over a year ago, a 30-MW centralized photovoltaic power plant known as the Sawajiao farm was constructed in Sawajiao town, Jinchuan county, Aba Tibetan and Qiang Autonomous Prefecture, Sichuan province, on a snow-covered plateau with an elevation of more than 4,000 m.
The electricity that the power station generates has made it possible for approximately 3.6 million yuan's (US$548,640) worth of poverty alleviation dividends to be issued to 3,366 people in 1,064 households living in 109 villages in the prefecture thus far.
A total of 72 million yuan's (US$10.97 million) worth of dividends will be distributed over the next 20 years, providing a major boost to recipients' livelihoods.
"My family has lived here for generations, but we never imagined that the sunlight that covers the grassy mountains that run through the area would generate more income than cattle and sheep herding have," Sawajiao resident Hu Bogang recently noted happily.
The improvements that have been made to Sichuan's power capacity and infrastructure in recent years have been boosting industry in the province and helping its residents become more prosperous. The person in charge at the Sichuan Provincial Bureau of Energy stated that many of the regions that were once impoverished in the administrative area have been able to generate electricity by harnessing the sun and wind that they receive and make use of other forms of renewable energy and explained that the upgrades that have been made to the province's electric grid have enhanced its economy and made it possible for it to engage in industry-oriented poverty alleviation, use its power resources as a cash cow that helps people boost their incomes and escape from poverty, and increase total centralized and distributed photovoltaic poverty alleviation project capacity to 484 MW and use it to benefit approximately 25,000 families that lived in poverty until recently during the 13th Five-Year-Plan period (2016 to 2020).
"I purchased a large freezer six years ago, but it required more voltage than was available in my area," Xiaba town, Litang county, Ganzi Tibetan Autonomous Region, Sichuan province, restaurant owner Yang Xiaoyan mentioned. "The ample electricity that is now available is very convenient."
A 35-kV transmission and upgrade project that connected Xiaba to the electrical infrastructure in Litang was completed in June 2020 and was a major enhancement to energy availability in the town. All of the county's approximately 70,000 residents have gained access to the regional grid in recent years if they were not connected to it already. The light that emanates into the distance from Litang's high-altitude population centers at night is a testament to the prosperity that they now enjoy.
Nearly 44 billion yuan (US$6.71 billion) was invested in power transformation and upgrade projects in rural Sichuan as part of efforts to help 1.36 million members of 379,000 households gain access to a stable supply of electricity at poverty alleviation resettlement sites, 88 of the administrative area's counties' rural power facilities experienced major improvements, electrical infrastructure was consolidated and upgraded in 19 of its counties, 15 of its county-level power grids were connected to the regional grid, comprehensive upgrade projects made it possible for Liangshan, Ganzi, and the Aba Tibetan and Qiang Autonomous Prefecture to gain full electrical coverage, and all of the rural energy infrastructure that did not already meet national standards in the province was brought up to compliance during the 13th Five-Year Plan period.
The electricity that flows throughout rural Sichuan has promoted the development of modern agriculture in its hamlets. For example, the abundant supply of reliable power that now exists in Linian village, Guzeng township, Muli county, Liangshan Yi Autonomous Prefecture, has made it possible for its residents to use electric lighting, heating, and fodder harvesting equipment, which has increased their livestock farming output and helped them become more prosperous.
The improvements that have been made to Sichuan's power capacity and infrastructure have been a major boon to its residents' livelihoods. A total of 5,382 of the province's wells and 1,371 of its villages were electrified, its rural areas experienced a 99.7 percent electrical reliability rate and 99.6 percent voltage qualification rate, and average annual blackout duration was shortened to 17 hours during the 13th Five-Year Plan period.
Industries that help people escape from poverty are developing at an accelerating rate in Sichuan as well. Records indicate that power consumption related to secondary industry increased by 26.57 percent in rural Liangshan, enterprises in the autonomous prefecture's towns used 11.27 percent more electricity, and energy utilization related to Ganzi's tourism industry rose by 17.73 percent in 2020.