Though it is home to the ancient and mysterious Nujiang Grand Canyon – a landmark that is well-known as one of Asia's great canyons both in China and abroad – northwest Yunnan province's Nujiang Lisu Autonomous Prefecture had a high poverty rate until a targeted poverty alleviation campaign that incorporated digital agriculture and other scientific and technological advances led to remarkable poverty reduction achievements in recent years.
Approximately 99.96 percent mountainous, Nujiang Lisu Autonomous Prefecture spans an elevation range of more than 3,000 m, and over 90 percent of its farmland has a slope exceeding 25 degrees. Swaths of the stretches of the Biluo Mountains and Gaoligong Mountains that run through its borders were carved out by the Nujiang River over the millennia, graduallyforming the V-shaped Nujiang Grand Canyon.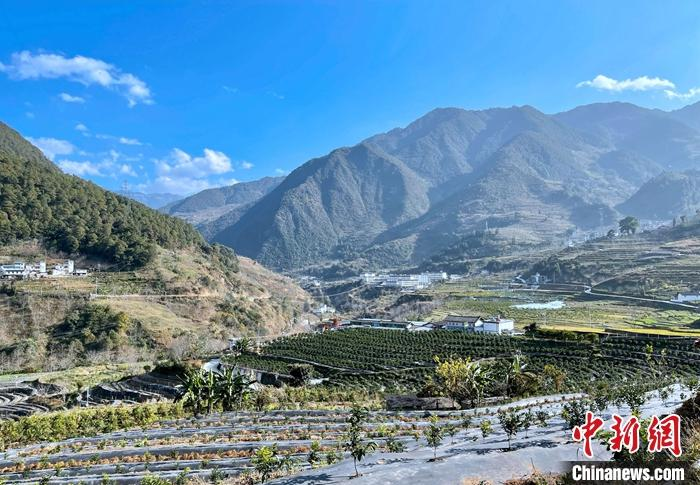 A view of Nujiang Lisu Autonomous Prefecture, Yunnan province (Chinanews.com/Fang Weibin)

Upgrading Laowo's appearance and economy
Vast, eye-catching citrus orchards can be found in Laowo village, Laowo town, Lushui city,Nujiang Lisu Autonomous Prefecture, but it did not always appear as it does today. Resident Zuo Xuefeng recently noted that the land that the trees grow on was dusty and rocky until the town government launched a citrus fruit poverty relief demonstration project with theYunnan Academy of Agricultural Sciences and e-commerce platform Pinduoduo in August 2019 and that it transformed the hamlet.
Li Jinxue, deputy director of the Yunnan Academy of Agricultural Sciences Institute of Economics, spearheaded a scientifically managed citrus cultivation project in the village and provided local farmers with training and assistance, which increased participation.The arboriculture expert stated that the great difference that exists between daytime and nighttime temperatures in Laowo village causes the fruit that is grown there to be sweeter than average.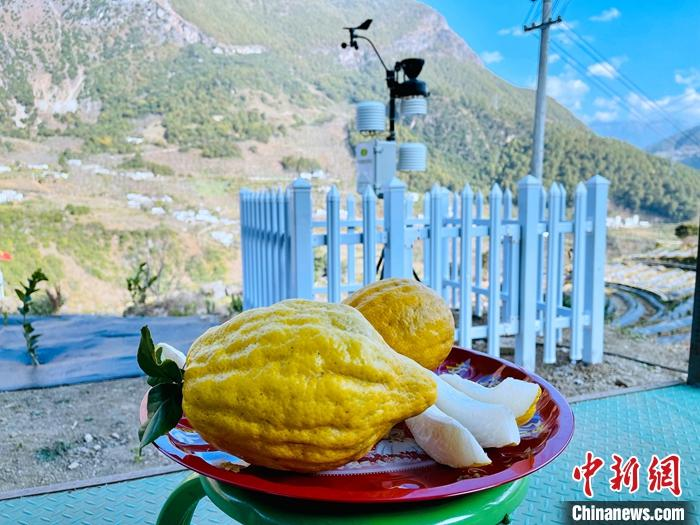 Freshly picked fruitrests on a plate in Laowovillage, Laowo town, Lushui city, Nujiang Lisu Autonomous Prefecture, Yunnan province. (Chinanews.com/Fang Weibin)
Intelligent irrigation system boosts efficiency
An intelligent drip irrigation system capable of reaching every tree that would eventually be planted in Laowo was installed during the early stages of the project. Resident Zhang Lirong mentioned that the technology makes it possible to irrigate 5.33 ha of land per day, whereas it would take aweek to do so without it. Laowo's farmers have also learned to operate multirotor UAVs equipped with precision variable spray controllers that are capable of applying insecticide to large swaths of orchards in a short amount of time.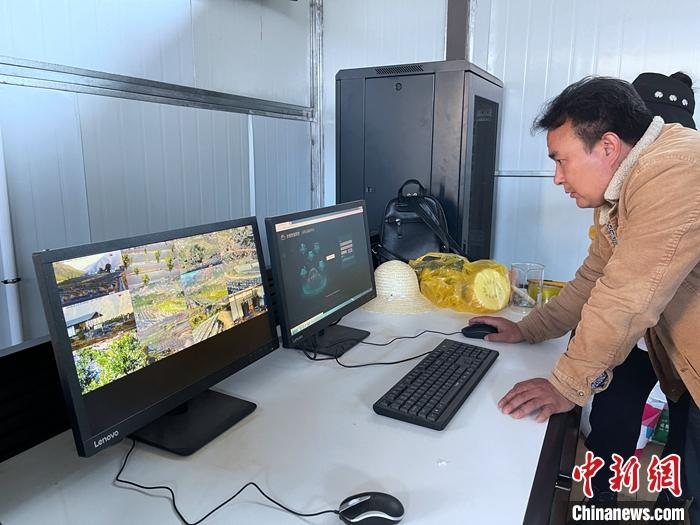 Laowo resident Zhang Lirong monitors the village's citrus orchards with an intelligent management system. (Chinanews.com/Fang Weibin)
Comprehensive digital system facilitates easy management
Wind vanes and other instruments protrude from metallic structures with the words "remote soil moisture monitoring station" printed on them scattered between the trees that grow in Laowo's citrus groves. Some of the village's residents mentioned that the equipment is part of an integrated air and soil precision agricultural monitoring and control system and that the Chinese Academy of Engineering's Zhao Chunjiang Team helped them set it up and install it.
Zhang Xin, associate researcher from National Engineering Research Center for Information Technology in Agriculture and member of Zhao's workgroup, mentioned that smart fruit farming systems accelerate the transformation and upgrade of industry and make it possible for farmers to increase their incomes bydecreasing manpower requirements and other costs.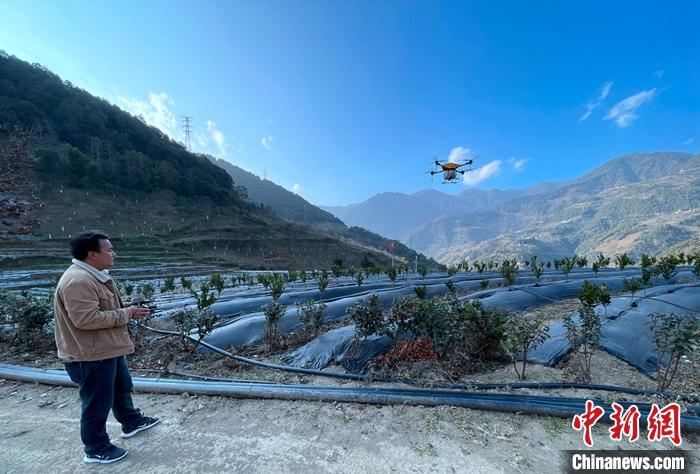 Zhang operates a drone in Laowo village. (Chinanews.com/Fang Weibin)
Guangdong-Hong Kong-Macao Greater Bay Area residents frequently purchase melons and other fruit grown in Yunnan, including a sweet, fragrant fruit shaped like a pomelo that Yunnan Academy of Agricultural Sciences researcher Gao Junyan explained with a smile is a fruit in the same family that Cantonese people are no stranger toand that it isknown as the bergamot.
Zhuhai city, Guangdong province, began assisting Nujiang Lisu Autonomous Prefecture with its poverty alleviation campaign in August 2016. Ye Zhen, head of Guangdong's third poverty alleviation cooperation working group, member of the standing committee of the Nujiang prefectural party committee , and vice governor of the province, stated that Zhuhai has invested 264.5 million yuan (US$40.65 million) in 166 industrial assistance projects involving characteristic fruit, vegetable, edible mushroom, traditional Chinese medicinal herb, and spice cultivation; beekeeping; and poultry, pig, cattle, and sheep farming in the prefecture and mentioned that the city has purchased and helped sell 140.4 million yuan's (US$21.58 million) worth of crops and animal products from Nujiang as of November 2020.