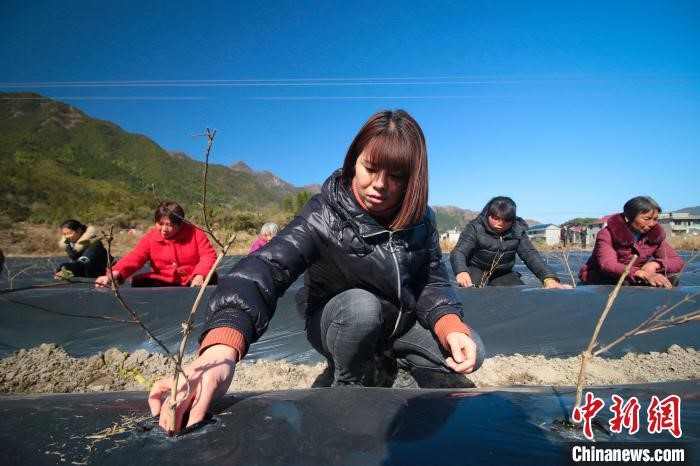 Ai Xihong(front) inspectsthe growth of recently planted shrubs at a honeysuckle cultivation base.(Chinanews.com/Wang Chengqian)
Formerly impoverished,Zhuzhen village, Shanglu town, Guangxin district,Shangraocity, Jiangxi province, resident Ai Xihong transformed herself into a poverty eradicationentrepreneurby spearheading crop cultivation endeavors on once-barren land, launching a mushroom processing facility, and establishing an agriculture cooperative and poverty reduction-oriented business in recent years in order to help people increase their earnings and boost employment in her area in addition to being able to escape from poverty herself.
A native of Gansu province, Ai moved in with her spouse and his parents inShangrao after she got married and eventually had two children. Her husbandpassed awayin an accident several years ago, however, which caused the household to fall into povertyand her life to become very difficult.
Imbued with tenacity, Ai established a small, handmade jewelry and accessory business in 2017. She sourced materials fromYiwucounty-level city, Zhejiang province – an administrative area known as "the world's capital of small commodities" due to the fact that it is home to the largest wholesale market devoted to them – and hired members of more than30 poverty-stricken households to work for her in their spare time, thus providing them with a new income stream.
The Guangxin District Office ofPovertyAlleviation and Developmentand government officials working in Shanglu helpedAi launch her poverty reduction project. She was able to purchasemore than 10 electric sewing machineswith an interest-free loan that she received from the government, distributed them to local impoverished households with members who have mastered various sewing techniques, and provided training and guidance.
"We mostlymake headwearand are busy throughout the year until Spring Festival arrives," the poverty eradication leader explained recently, noting that more than 80 people are currently involved with the undertaking. "Some live in Zhuzhen, while others live in other villages in the area. Some are in their 70s. Anyone can participate if they want to."
Formerly impoverishedChen Xiaoyu (right) fromZhuzhen village, Shanglu town, Guangxin district,Shangraocity, Jiangxi province,sews headbands at her home.(Chinanews.com/Wang Chengqian)
"I make fabric for headbands," Zhuzhen residentChen Xiaoyumentioned. "I earn0.14 yuan (US$0.022) for every finished product that Icreateand am able toproduce more than 600 a day."
The seamstress also stated that she earns more than 13,000yuan(US$2,005)a year and that working at home makes it possible for her to take care of her parents and her children.
"I earn 0.10 yuan (US$0.015)for every plastic bag full of 12 bows, each of which is a different color," Jie Haihua noted while packing finished products in the courtyard of another farmhouse. "Iwork quickly andearn up to 3,000 yuan(US$463)a month when we experience peak order volume."
"Ai Xihong provides her employees with equipment, raw materials, and training, collects finished products from their homes, and takes care of sales and distribution," remarkedMao Bibiao,director of the Guangxin District Office ofPovertyAlleviation and Development. "Herpayroll hasreached a total of600,000 yuan(US$92,520) per year."
"This dryer is used to process bamboo mushrooms," the enterprising Zhuzhen dweller mentioned while leading the way through several machines and other pieces of equipment anchored to the floor in her mushroom processing factory and pointing at one of them. "We established theHongzhan AgriculturalCooperative,growmushrooms on 2.66 haof former wasteland,and process them after they are harvested.We produced 3,500 kg's worth of the crop in 2020, mostly sold itto buyers locatedin Fujian province as well as to some in other areas, and achievedapproximately500,000 yuan(US$77,100) of output value."
Ai was careful to conduct extensive crop rotation research and determined that it would be best to grow the profitablehoneysuckleshrub during the three-year waiting period that soil that has been used to grow bamboo mushrooms requires.
The industrious business leader leases unused land from Zhuzhen's inhabitants at the rate of4,500 yuan(US$694)perha and spearheaded a honeysuckle plantation that members of more than a dozen local households have become involved with.
"We want to convert barren land into a valuable asset," Ainoted before explaining that she provides participants withseeds, teaches them variouscultivation techniques, and has implemented a unified purchase model and that these efforts have created a new source of income in the village.
Poverty alleviation officials have recognized the strength that the mother of two possesses and the fact that she is a practical and capable leader who is eager to engage in development and launch new undertakings. Offices engaged inpoverty reduction workand several levels ofgovernment departmentshave supported her endeavors and given her encouragement.
"The assistance that they have provided along the way makes us feel more confident about the future and helps us widen our path to prosperity," Ai concluded.