In recent years, Huaiyuan county, Bengbu city, Anhui province, has been implementing a bold, innovative campaign designed to boost residents' incomes by helping them get involved with its prominent pomegranate industry. The drive has led to the establishment of more than 2,333 ha's worth of cultivation bases devoted to the crop and over 1,200 people increasing their incomes by 98 million yuan (US$15.18 million) as of late 2020.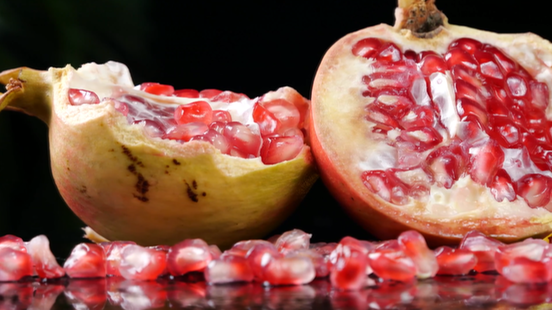 Huaiyuan county's pomegranates
Located near the 33rd parallel – the transition zone between warm temperate and subtropical climates – Huaiyuan has a long history of pomegranate farming. The crop has received government recognition over the years and was awarded China's national geographical indication designation in 2010.
In 2014, approximately 55,600 members of 26,900 families in 51 of Huaiyuan's villages remained impoverished, however, or 5.1 percent of the county.
The Huaiyuan government decided to establish more than 666 ha's worth of farming demonstration bases near the Ping'a Mountains, the Jingshan Mountains, and the new Cihuaixin River levee and introduce a series of policies designed to support the local pomegranate industry in order to promote high-quality poverty reduction and economic growth.
The demonstration bases provide impoverished citizens with pomegranate seedlings free of charge and comprehensive assistance with everything from cultivation to sales in order to enhance employment and incomes in accordance with the "enterprises + cooperatives + bases + farmers" development model.
Huaiyuan emerged from poverty in August 2018 after pursuing various projects devised to boost prosperity. The administrative area has continued to develop its pomegranate industry in subsequent years in order to consolidate poverty reduction achievements and help residents continue to increase their incomes.
"The county's special climate and location make our pomegranates sweet and delicious," explained cultivation base employee Chen Jingsi.
Bailianpo village, Jingshan township, Huaiyuan county, native He Chun had been working as a migrant laborer until he returned home in order to participate in the pomegranate industry several years ago. Government support made it possible for him to lease several hectares of land and begin growing the crop with other impoverished people living in the area, which resulted in the group escaping from poverty and becoming more prosperous.
"The base located near the new Cihuaixin River levee and the one near the Jingshan Mountains yielded a total of more than 3,500 tons of the fruit in 2020," mentioned Du Yuyan, director of the Huaiyuan Huaixi Modern Agriculture Demonstration Plot's pomegranate industry office.
Huaiyuan also holds cultural tourism festivals, exhibitions, cultivation forums, performances, agricultural fairs and competitions, and trade shows related to pomegranates in order to develop its brand and enhance awareness of it.
"The annual Huaiyuan Pomegranate Festival helps make our fruit more well-known," Du noted. "It has been held six times now. We have also combined the industry with rural tourism and are working on creating a new farming base with a special landscape 'gallery.'"
Approximately 55,200 people living in 24,300 households in Huaiyuan had escaped from poverty by the end of 2019; pomegranate-oriented projects and other efforts contributed to the county's poverty rate falling to 0.06 percent.