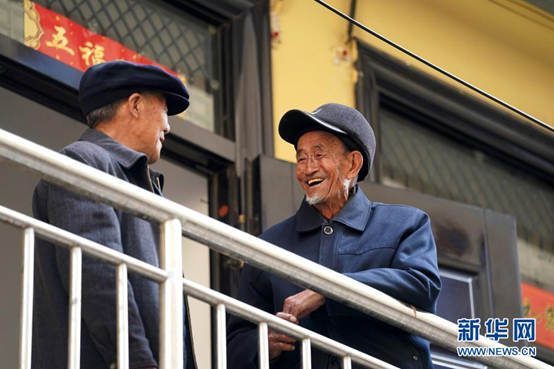 Liu Qingji (right) talks to a neighbor outside of his home in the resettlement community they live in in Yukou town, Fangshan county, Lyuliang city, Shanxi province. (Xinhua/ Zhan Yan)
Located amidst a swath of the Loess Plateau that is punctuated by mountains and ravines, Shijiamao village, Yukou town, Fangshan county, Lyuliang city, Shanxi province, is characterized by its high elevation, steep terrain and dry climate.
Eighty-five-year-old former resident Liu Qingji lived in a dark earthen cave in the hamlet for most of his life. He kept a cow, cultivated approximately 0.67 ha's worth of land, drank brackish water, and dreamed of eventually moving into a better cave dwelling.
In 2018, the Yukou government constructed a poverty alleviation-oriented resettlement community featuring 10 six-story buildings with clean, bright interiors, improved healthcare access, and convenient transportation as well as an activity center, dining hall, senior center, vegetable market, and other facilities so that villagers living in areas with harsh environments could upgrade their lives.
Approximately 2,000 former residents of 18 of Yukou's villages have had the opportunity to relocate to the site, including Liu. He has been living in the community for more than two years now and is very grateful for the changes that he has experienced.