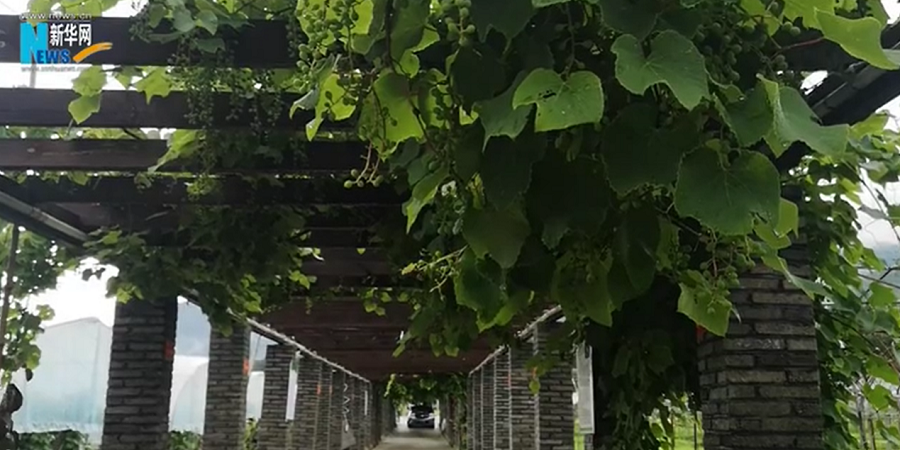 A still frame from a video about the grape production base in Changxiang village, Hedong town, Songxi county, Nanping city, Fujian province [Xinhua]
Dense clusters of green grapes currently dangle from the vines that grow on the trellises at the 12-ha grape cultivation base in Changxiang village, Hedong town, Songxi county, Nanping city, Fujian province, indicating that another bumper harvest will be achieved this year.
A national courtyard economy demonstration village and provincial ecological conservation village, Changxiang established a pioneering agricultural park in 1997 after residents transferred 100 ha's worth of their land rights, which made it possible to establish grape, strawberry, tree, and chive cultivation bases. The project resulted in the creation of more than 400 jobs and annual per capita income rising by 8,000 yuan (US$1,256). The Fulaixiang Cooperative, Ziniu Cooperative, and Songxi Qifeng Fruit and Vegetable Cooperative were also formed in subsequent years and began implementing a development model involving "technical experts + cooperatives + farmers."
The specialists that have participated have adjusted Changxiang's agricultural production structure, helped establish cultivation bases that produce new plant varieties, introduced facility agriculture, launched projects that make use of modern agri-technology, demonstrated relevant concepts, and taught farmers new skills in order to modernize the village's agricultural production and help its residents increase their incomes.
They also helped the Songxi Qifeng Fruit and Vegetable Cooperative select high-yield grape varieties, such as shine muscat and kyoho, with approximately 900,000 yuan (US$141,390) of output value per ha. A total of 153 villagers have become members of the organization, and 1,356 households in the area are involved with its supply chain at present. In 2020, Changxiang logged 171,000 yuan (US$26,864) of collective income and per capita disposable income reached 14,449 yuan (US$2,270).
Wu Qifu, secretary of Hedong's Party committee, recently mentioned that an orchid production base is currently under construction across from Changxiang's grape base and that it will cover more than 6.67 ha when it is completed. He noted that it will be used to conduct agricultural research, promote the development of the local flower and tourism industries, help vitalize the village, create more jobs and boost farmers' incomes.
Wu also explained that Changxiang's agricultural park will continue to innovate in line with the village's rural vitalization strategy and that the people who are involved are committed to creating a modern agricultural complex that combines industry, leisure and tourism.