E-commerce reduces poverty, empowers rural areas in China
p.china.org.cn by Liu Yizhou,August 18, 2020

Adjust font size: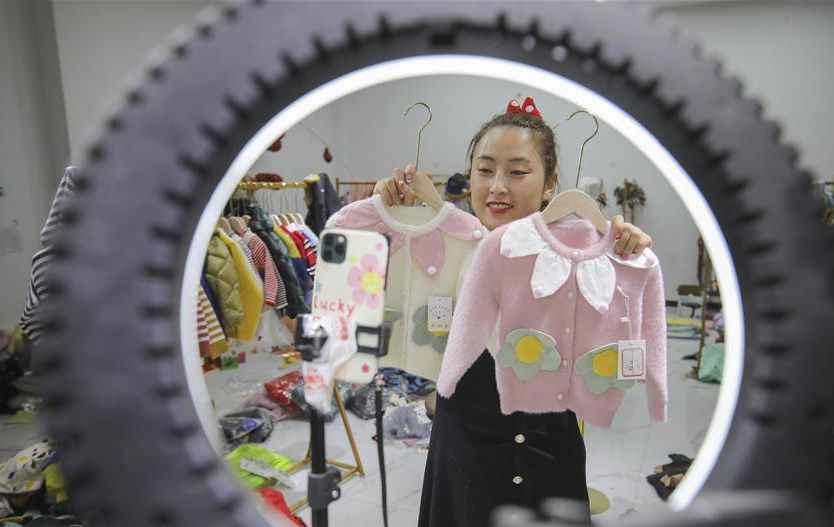 A woman in Linqi, Shandong is livestreaming. [Photo courtesy of Fan Changguo]
"Friends, our peaches were harvested today and are sweet and crispy. Order soon if you would like to enjoy some before they run out!" Niu Qinghua, a resident of Beiyanzi village, Shandong province stated while taking a bite from a freshly picked peach in front of a camera in a 35-degree greenhouse. All of the peaches sold in just two days and brought in 100,000 yuan (US$14,130) of revenue.
The Mengyin County E-commerce Association has been using livestreaming platforms to sell products from the area recently in order to offset the low offline sales that have been logged this year due to the COVID-19 pandemic reducing the flow of buyers to the area. People like Niu have been busy hosting many video feeds.
Sales have been booming on livestreaming apps and websites in recent months. CCTV reporters sold 500 million yuan (US$70.65 million's) worth of products in three hours; the deputy mayor of Haiyang county-level city, Yantai city, Shandong province launched a program to help farmers sell their products that received 2 million views; magistrates serving 30 counties in Hubei province have promoted specialty products from the areas they work in...More and more people are selling agricultural products and hosting video feeds on Taobao, Tiktok, Kwai, and other platforms, including farmers, university students who have returned to their hometowns, poverty reduction team leaders, and public officials. The videos tend to attract many viewers and have set sales records. Livestreaming platforms make it possible for various regions to integrate their resources, strengthen connections between the supply side of the agricultural industry and the demand side, and play an important role in promoting consumption and production, particularly during the COVID-19 pandemic period.
E-commerce also helps accelerate the poverty alleviation process. The public has become aware of and purchased many characteristic products from mountainous areas by way of various online markets and livestreaming platforms, which helps farmers escape from poverty and become more prosperous and brings new color to the rural economy. More than 4,900 online stores operated out of Mengyin in 2019, for example, and they brought in 320 million yuan (US$45.22 million) of revenue, which was a 31.6 percent increase year on year. Sixty million kg of peaches were sold, and prices increased by more than 30 percent.
Smartphones and other electronic devices are helping to connect impoverished regions to the mass market. E-commerce is beginning to play a greater role as China approaches the end of its battle against absolute poverty and is helping to empower rural areas. Officials are becoming more familiar with the internet and e-business and are helping to teach farmers about the process. Local governments are improving internet infrastructure, enhancing storage and logistics, standardizing agricultural products, and training e-commerce staff. These efforts are helping to achieve more sales and develop the endeavor.
The internet will have a greater influence on everything from backend strategy and production to frontend promotion and sales in rural regions as they engage in more e-commerce on livestreaming platforms. Progress is being made in areas such as technical training and precision matching of supply and demand. Some products that are promoted via video feeds suffer from low quality, customer service is not always satisfying, and the supply chain is still in the initial stages of development in many impoverished areas, however, which requires everyone who is involved in the undertaking to enhance their efforts in order to address these kinds of issues and improve the situation.