Committed poverty alleviation official visits over 40 counties in a year
p.china.org.cn by Liu Yizhou,August 14, 2020

Adjust font size: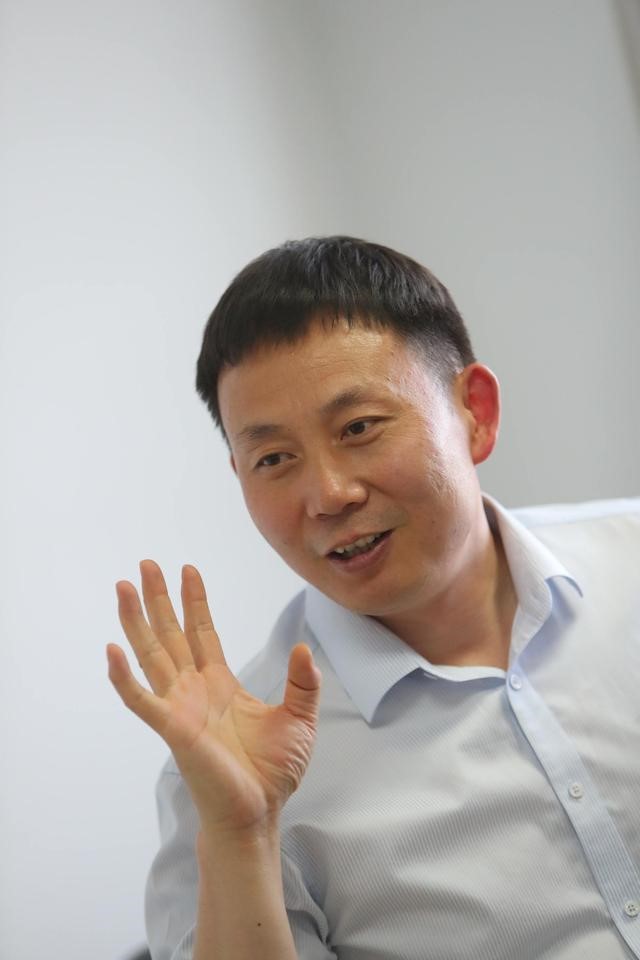 "Daddy, can we please continue our video call?" poverty alleviation official Zhou Shilin's three-year-old daughter Hehe asked him via a social media app on the June 1 International Children's Day. The father lives in Beijing but has not been back since his work resumed in March after it was temporarily suspended as a result of the COVID-19 outbreak, so he has been communicating with his daughter by video recently.
A bed sits against the wall not far from Zhou's desk in his office in Zhangjiakou city, Hebei province. The local government has arranged special apartments for officials who have been temporarily assigned to work in the area, but he is often engrossed with his work and does not have time to go to the one that has been prepared for him, so he usually sleeps in his office.
Busyness is the norm when it comes to poverty reduction work. Zhou once visited more than 40 impoverished counties in a year when he was working at the Hebei provincial poverty alleviation office. He immediately went to visit all of Zhangjiakou's 13 districts and counties that are involved in a pairing assistance program with Beijing after he arrived in the city and spends 10 days a month on an average in their rural areas. Zhou even drafted an urgent report on his laptop near the door of the intensive care unit that his father was in when he was hospitalized as a result of an illness on April 11, 2019.
"The mission is arduous," Zhou mentioned. He explained that Beijing participates in a poverty eradication pairing system and provides assistance to the cities of Zhangjiakou, Chengde, and Baoding, and that Zhangjiakou is the most difficult of the three to help. Eight of the 13 counties and districts in Zhangjiakou that receive pairing assistance were recognized as severely poverty-stricken at the national level, and 12,000 people living in poverty were impoverished until recently.
Zhangjiakou's top poverty reduction priority consisted of helping the 12,000 people who remained impoverished out of poverty by the end of June. Zhou began visiting impoverished families as the COVID-19 pandemic began to get under control and spent time with 39 of them in just half a month. He assessed relevant poverty indicators with the families and tried to solve any problems that he discovered as soon as he could. The official explained that most of the impoverished people that he encountered are not well-educated and that they do not express themselves well or even ask for anything, but that expectation can be seen in their eyes.
Zhou was born in the contiguous and concentrated Dabie mountains impoverished region in Henan province. Poor conditions existed at his primary school when he was growing up, and students had to sit on stools made of mud bricks. Zhou tripped and fell on the regular desks and chairs that were later delivered to the school several times when he was receiving his, but he was still very happy. These kinds of experiences resulted in him not hesitating to pursue a poverty alleviation career in Hebei province.
"He lives in an adobe house with only a few bags of potatoes and a blanket on a bed," Zhou stated when recalling an elderly impoverished man who lives alone that he met in Kangbao county. His children had not been home in eight years, but he told the official that he understood their decision. The visit impacted Zhou a lot and made him realize that poverty elimination is just the beginning – rural revitalization has a long way to go.
China is currently in the critical final phase of its campaign to eliminate absolute poverty in the country, and Zhou is busier than ever. Are members of impoverished families who are able to work employed? How many people are the projects benefiting? How should cooperatives distribute poverty elimination project dividends? How much funding is currently available? Zhou carefully keeps track of the various accounts and ledgers that he encounters and works with everywhere he goes in order to keep an eye on possible fraud and embezzlement. Thirty-five Beijing-based companies have engaged in pairing assistance programs, 255 million yuan (US$34.41 million) of corporate investment has occurred, and 11,614 people were able to increase their incomes in Zhangjiakou as of the end of June. The city has also encouraged Beijing to purchase 183 million yuan's (US$26.14's million) worth of characteristic poverty reduction products as of mid-2020, which has benefited 22,181 people that were impoverished. Poverty alleviation progress is currently ahead of schedule in Zhangjiakou, despite the existence of the COVID-19 pandemic.
"The more soil is underfoot, the more emotion is in your heart." The expression is more than just a catchphrase for Zhou. He lives by these words and feels very honored to devote himself to poverty eradication even in his golden years.