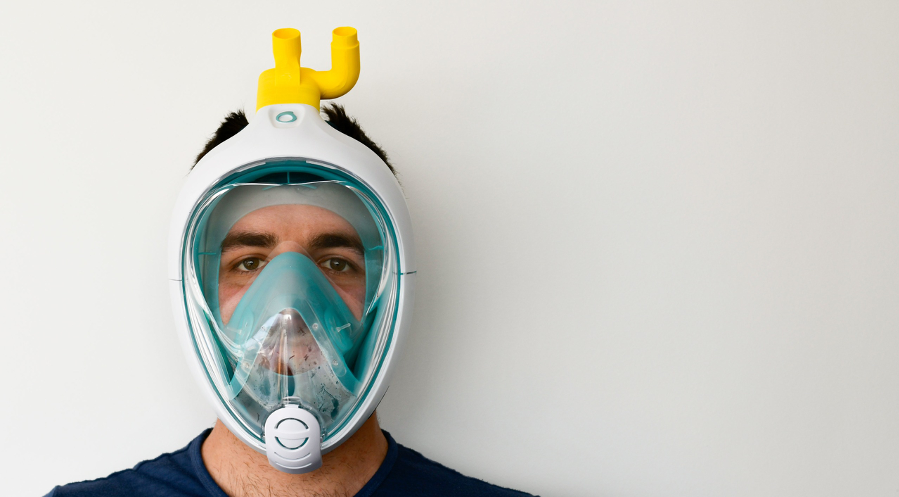 A man wearing face mask [Photo courtesy of ISINNOVA]
On April 21, the international community celebrates World Creativity and Innovation Day. On the occasion, the UN is calling to embrace the idea that innovation is essential for harnessing the economic potential of nations. The call states "Innovation, creativity and mass entrepreneurship can provide new momentum for economic growth and job creation. It can expand opportunities for everyone, including women and youth. It can provide solutions to some of the most pressing problems such as poverty eradication and the elimination of hunger."
Humans have always improved life through creativity and innovation. From the discovery of fire to the electricity and the internet, new thinking has always been fundamental to social progress and economic growth.
Creativity and innovation often overlap. However, despite being linked, the two terms have a different meaning. Creativity indicates the use of imagination to create new things. It is the ability to perceive the world in new ways and to find solutions while making connections between apparently unrelated factors. On the other hand, innovation refers to the ability to go beyond what already exists through the implementation of something new or by producing a significant improvement of what is already present. Generally speaking, creativity and innovation are typically part of human activities, but they are stimulated and run fast when the need for new or different solutions necessary to solve issues and improve the human condition is stronger.
Over the last years, the two concepts have been especially linked to the need to face an unprecedented wave of change boosted by worldwide trends such as a globalized economy and society, the rise of automation and cognitive roles and, above all, the disruption of new technologies. Until not so long ago, we were all talking about how to deal with the shocking rapidity of digital transformation and with a world increasingly dominated by change and complexity. Nobody could have ever imagined that a new disruptive phenomenon was about to come and rock that world, contributing to take uncertainty at its extreme and urging people and governments to be more creative and innovative to tackle the volatility depending on it.
The World Health Organization (WHO) officially announced the SARS-CoV-2 or COVID-19 outbreak as a global pandemic on March 12, 2020, and it is now spreading quickly across continents. In just a short period of time, our lives have changed with a severe impact on health, businesses, and the economy. It has also affected our freedom to move, and the way we work, engage and interact with others. Many countries have indeed implemented exceptionally rigorous measures in order to prevent further spreading of the virus resulting in a huge economic downturn and an increasing number of people who are experiencing temporary or permanent unemployment.
In this light, we have been called upon to make sacrifices and adjust to new ways of working, respecting social isolation rules, adapting to the new context and in some cases, developing a new sense of solidarity and cohesion.
While combating the health emergency, which has already caused a tragically large number of human lives being lost, governments and society are also reflecting and acting on how to respond to the economic and social aftermath that will follow the SARS-CoV-2 pandemic. The crisis triggered by the virus is like no other in our recent history. According to the IMF April World Economic Outlook 2020, global growth by the end of this year will fall to -3 percent, with deep dives of -7 in Germany and -9.1 in Italy.
Even if the magnitude and speed of collapse is unlike anything experienced in our life, the crisis could represent an opportunity to rebuild and develop a better, more inclusive and humane society. In a period of profound crisis, our survival instincts push us to look for new answers and solutions. In 1959, John Fitzgerald Kennedy said that "When written in Chinese, the word 'crisis' is composed of two characters. One represents danger and the other represents opportunity." In order to take advantage of this opportunity, new ways of thinking and solutions are needed, which translates into the need to apply massive doses of creativity and innovation intended as transformative forces that lead to the application of new models in all domains. Creativity and innovation are definitely crucial elements that, especially in this situation, have to guide all policies, strategies and initiatives.
Human history is marked by countless episodes of resilience and new beginnings after tragic events. Each time, creativity, innovation and solidarity have contributed to coming out of dark times and paving the way for a better future. Even on this occasion, we are looking at many examples of solidarity, creativity and innovation applied in different spheres to respond to our current health and emergency.
Examples of solidarity and innovation in these challenging times are surging from all corners of the world. The level of innovation and engagement coming out of the startup world has been positively surprising. In writing this article, we have been looking for examples of how this transformation is taking place, but quite honestly, it is impossible to make justice to all the efforts of so many companies that are coming together to help communities and governments to fight the health crisis. We are citing only some instances but there are obviously many more.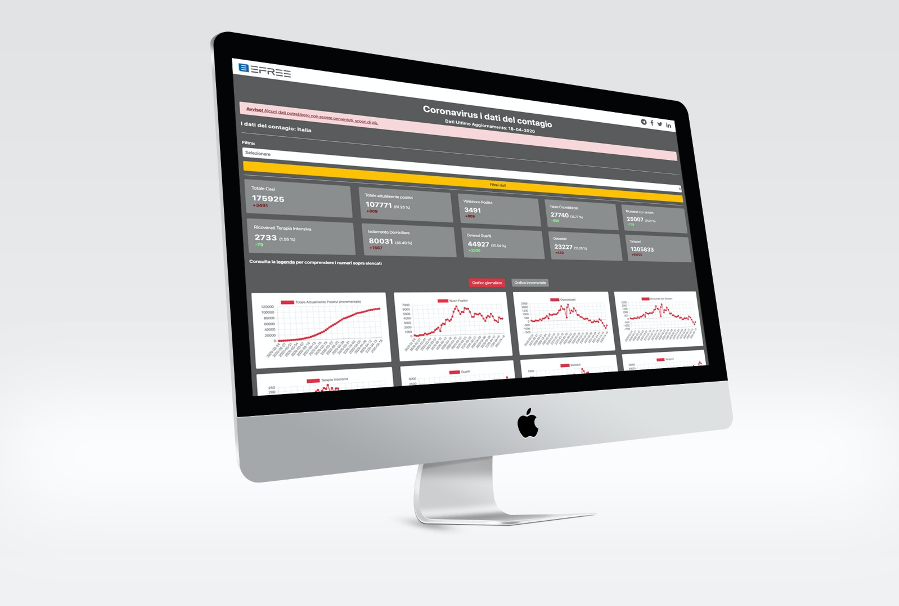 A computer screen [Photo courtesy of eFree]
In Italy, one of the countries most affected by the virus, a company called eFree offers a free messaging service via instant chatting applications that sends updates every day on the status of COVID-19 making the data easily accessible to everyone at no cost. Data is disaggregated at local, regional and national level as shared by official government sources. This service is also made available free-of-charge on request to local administrations that wish to communicate to their citizens the latest news or rules in place. Another example of messaging service is stopcovid.co, an initiative of volunteers based in New York City, that has partnered with essential businesses of all sizes to stop the spread of COVID-19 by providing free, high impact training for frontline workers delivered over text message. Their training is tailored to the needs of essential workers who are risking their lives every day to serve the communities and keep the economy functioning. Data and information are gathered from the WHO and the Centers for Disease Control and Prevention.
On April 14, WHO launched an interactive experience on Messenger with support from Sprinklr, to help provide accurate and timely information on the COVID-19 pandemic. In this way, more than 1.3 billion Messenger monthly active users will now be able to ask questions and get quick answers from the WHO's "Health Alert" interactive service free-of-charge.
At the peak of the epidemic in Italy, the rapid rising number of infected people caused a shortage of hospital C-PAP masks for sub-intensive therapy. In response to this deficit of medical equipment, Dr. Renato Favero, a brilliant former head physician of the Gardone Valtrompia Hospital in the Lombardy region, together with an engineering company called Isinnova, teamed up with the sporting goods retailer Decathlon to convert ordinary full-face snorkeling masks into homemade ventilators to provide critical air-flow to stop patients' lungs from collapsing. The group designed a new component to guarantee the connection to the ventilator called link Charlotte valve, which was created by using 3D printing. Unlike the standard respirator valve, the link is easy to make, so it is possible for all makers to try to print it correctly. The innovation has now been adopted by other nations helping hospitals facing an overload of COVID-19 patients needing sub-intensive therapy. Another aspect worth mentioning about this innovation is that the inventors have patented the link valve to make its use free so that the invention is made available to anyone at no profit.
Connected to the COVID-19 pandemic is another innovative and voluntary project launched by the Italian architects Carlo Ratti and Italo Rota named C.U.R.A. - Connected Units for Respiratory Ailment - which involves an international task force of designers, engineers, medical professionals, and military experts that have joined forces to work on capacity building in Intensive-Care Units (ICU). The aim of the project is to use repurposed shipping containers to create plug-in bio-containment pods that can be quickly deployed in cities around the world, promptly responding to the shortage of ICU space in hospitals and to the spread of the disease. Each pod can work autonomously or can be connected to other pods by an inflatable structure to create multiple modular configurations (from 4 beds to over 40), which can be installed in just a few hours. Some pods can be placed in proximity to a hospital to expand the ICU capacity, while others could be used to create self-standing field hospitals of varying sizes. In the last weeks, hospitals in the countries most affected by COVID-19, from China to Italy, from Spain to the USA, have been struggling to increase their ICU capacity to admit a growing number of patients with severe respiratory diseases, in need of ventilators. Whatever the evolution of this pandemic, it is expected that more ICUs will be needed internationally in the next few months, which makes these collaboration efforts particularly worth noticing.