Volunteer platform helps visually impaired during Chinese New Year migration
p.china.org.cn by Jin Ling,January 27, 2020

Adjust font size: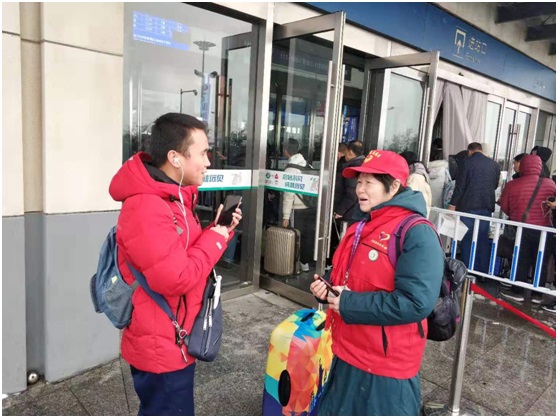 Xiaodu (anonym, left), a sophomore at Binzhou Medical University, waits in the line for people with special needs at Yantai South Railway Station with a volunteer named Xu Zhenshan. [Photo provided by Xu Zhenshan]
Chunyun, which is known as Chinese New Year migration, Spring Festival travel season, and the Lunar New Year rush in English, is the largest annual human migration in the world. China experiences an extremely heavy traffic load from about 15 days before Chinese New Year day until 25 days after it, especially on its railway system. Trains and railway stations become crowded, tickets are scarce, and other difficulties can emerge. This year, Chunyun will last from roughly Jan. 10 to Feb. 18.
Xiaodu (anonym) lost his eyesight when he was 10. He is currently a sophomore at Binzhou Medical University, which is located on east China's Shandong peninsula in the city of Yantai. The student is self-sufficient and usually travels independently.
Xiaodu is a loyal follower of a WeChat public account known as Sound Wave Help, which is run by the Beijing Sound Wave Disabled Persons' Social Service Center and is dedicated to providing comprehensive information and various assistance to people with impaired vision in China. About a month ago, he noticed that its 2020 Chunyun services became available. The system makes it possible for volunteers and staff who work at railway, subway, and bus stations to aid people with disabilities who travel during this period. Originally only available in Beijing when it began in 2015, it can now be used in more than 39 cities in China.
The student read about the history of the program and decided to try it out for himself. He filled out a form on his smartphone with details about himself and his plans. The next day, Moon Sister, a Yantai-based organization with 10,000 volunteers, contacted Xiaodu and confirmed the details of his trip. The organization has been helping people with disabilities from all over China travelling in Yantai for more than 10 years. It began providing Chunyun services this year and plans to continue to do so in the future.
Xiaodu had booked a ticket from the Yantai Penglai International Airport to his hometown. It was scheduled to depart at 9:10 p.m. on Jan. 6. The airport is located about 70 km from his university, so he asked for a volunteer to meet him at about 5:30 p.m. after he finished an exam and help him get on a shuttle.
The rain that had been falling throughout the day turned to snow in the afternoon, and the roads soon became icy, but the inclement weather did not stop the volunteer that was assigned to Xiaodu from arriving as scheduled. The staff at the shuttle bus station informed the two that the next bus would leave at 6:00 p.m. and the trip would take about three hours, however. The traveler would likely miss his flight because of the delay, so he used an app to buy a train ticket for the next day.
Xiaodu felt that he wasted the volunteer's time and energy and indicated that he would take a taxi to the railway station by himself. Moon Sister arranged for another volunteer to arrive early the next morning, however.
"I'm very moved that the volunteers arrived on time despite the blizzard that occurred on Jan. 6 and 7," the Sound Wave user said.
"The people that I have assisted have all been very grateful. I feel very happy to have helped them," stated Xu Zhenshan, founder of Moon Sister. Xu is a 68-year-old widow whose husband died when their son who suffers from cerebral palsy was only 11. In 2006, Xu and her son decided to begin volunteering to show their appreciation for the various aid that they received over the years. They help people with visual impairments read, handle online verification codes, and complete other tasks.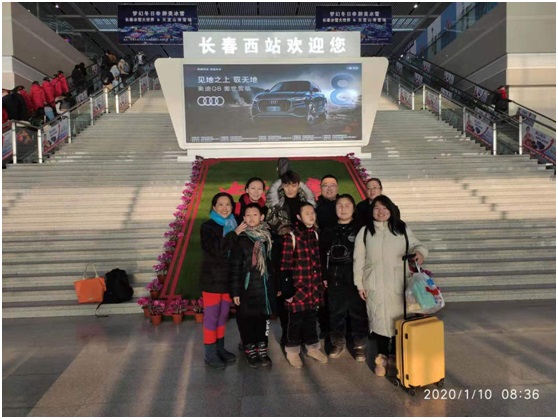 Six blind students from Changchun University pose with volunteers who provided by Sound Wave's partner at Changchun West Railway Station. [Photo provided by Sound Wave]
Xiaoyin (anonym), 20, is in his first year at Changchun University. He used Sound Wave's Chunyun service to arrange assistance for himself and five of his schoolmates who are also blind. They took the subway from their university to Changchun West Station. A mother, her son, another woman, and her daughter had volunteered to aid the group. They met the students at the subway station and helped them make their way to Changchun West Railway Station, where railway staff aided them with boarding their trains.
Xiaoyin was headed to Changsha in south China. He had to stop in Beijing, however, and transfer from Beijing Railway Station to Beijing West Railway Station in order to continue on his journey. Another volunteer was waiting to help him take the subway between the two stations and embark on the second leg of his trip.
"All of the volunteers were very kind," Xiaoyin said. "They made my trip faster and easier." He mentioned that the person who helped him in Beijing put a tag on his suitcase when they were on the subway. "The volunteers are very attentive," he concluded.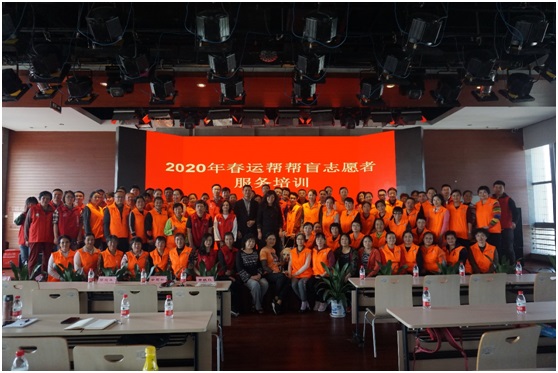 A volunteer training session in Shenzhen [Photo provided by the Shenzhen Accessibility Promotion Association]
The largest migrant city in China , Shenzhen began participating in Sound Wave's Chunyun service in 2016 and has offered year-round assistance to people who have visual or physical impairments ever since.
The Shenzhen Blind Association and the Shenzhen Accessibility Promotion Association organize the city's Sound Wave services. Additional volunteer organizations are beginning to participate, including a group that assists with subway travel. People with special needs can receive help traveling to and from any subway station in Shenzhen and locations that are within about a one-km radius of them.
Shenzhen's services include a special relay system that makes it possible for different volunteers to assist users at different stages of their trips. For example, the closest available volunteer to a user will help them get to the subway, and a different volunteer will meet them at their destination. The practice saves a lot of time and improves efficiency.
"Chunyun really tests our limits," explained Yu Guanbin, chairman of the Shenzhen Accessibility Promotion Association. "Some people have to scramble for tickets at the last minute, which leaves us very little time to make arrangements for them."
Yu mentioned that two different volunteer groups once simultaneously accepted the same assignment. A WeChat group was created so that everyone can communicate in real time and avoid similar problems in the future.
Huang Yuehong, chairman of the Shenzhen Blind Association, stated that a group once had more luggage than the volunteer who was assigned to help them could handle. This year they suggested that Sound Wave keep track of how many bags users will have with them so that an appropriate number of volunteers can be sent. Huang also mentioned that a new hotline was added this year. Last year, some users were not able to get through when they called Sound Wave.
"The volunteers like to be the eyes for people who are visually impaired," explained Gu Yajuan, head of Sound Wave services in Hangzhou, which is the capital of east China's Zhejiang province.
It is hoped that more cities and organizations will become involved with the Sound Wave system so that travel will become easier and easier for visually impaired people.