China to advance intangible cultural heritage workshops for poverty alleviation
Xinhua,January 10, 2020

Adjust font size: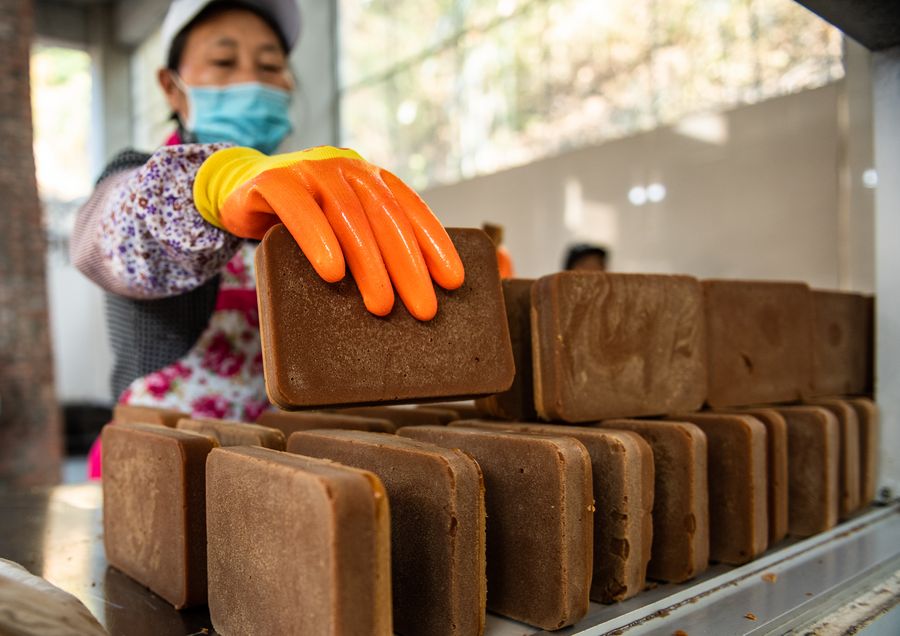 A worker arranges newly-produced brown sugar at a workshop in Lintan Village of Longxing Township, Xishui County, southwest China's Guizhou Province, Jan. 7, 2020. The brown sugar making technique in Longxing was listed as a provincial intangible cultural heritage in June last year. The brown sugar industry has helped local people increase income. (Xinhua/Tao Liang)
China will continue to support the establishment of intangible cultural heritage workshops nationwide for poverty alleviation, said a circular recently released by central authorities.
According to the circular jointly released by the Ministry of Culture and Tourism and the State Council Leading Group Office of Poverty Alleviation and Development, the workshops will rely on diverse intangible cultural heritage programs with distinctive features and help create jobs and increase incomes, especially in poverty-stricken areas.
The circular requires local authorities to take a string of measures to properly manage the workshops, including extensively promoting employment, providing training on traditional craftsmanship, developing quality products and increasing sales channels.
Over the last year, the campaign of targeted poverty alleviation through promoting intangible cultural heritage has yielded results nationwide, said the circular.
Statistics showed that a total of 2,310 such workshops have been set up across the country, including those in 393 national-level poverty-stricken counties. The workshops have helped add 463,800 new jobs and lifted 200,000 households out of poverty.