Children receive schoolbags as gifts for their summer vacation from volunteers at Wuying, a village of Miao ethnic group under joint administration by Rongshui County in Guangxi Zhuang Autonomous Region and its neighbouring Congjiang County of Guizhou Province, July 27, 2019. (Xinhua/Huang Xiaobang)
The Chinese government has created its own solutions to poverty issues, covering education, transportation, housing, infrastructure, finance, industrial development, employment and health, among other areas, says an Argentine expert.
With continued efforts throughout the next year, China will wipe out extreme poverty in 2020, a senior Chinese official has said at a recent seminar held in Beijing.
Over 90 percent of China's poor counties will also be removed from the poverty list by the end of this year, said Liu Yongfu, director of the State Council Leading Group Office of Poverty Alleviation and Development.
The goal was set in accordance with the Asian country's performance in poverty alleviation. In the past 70 years, China has lifted over 800 million people out of poverty, which is the greatest poverty reduction feat in history, said United Nations (UN) Secretary-General Antonio Guterres in September.
A couple at their farm stay in Gaxiu Village, Gannan Tibetan Autonomous Prefecture of northwest China's Gansu Province, Aug. 27, 2019. (Xinhua/Chen Junqing)
CHINESE SOLUTIONS
By the end of 2019, around 95 percent of China's poor will be lifted out of poverty under the current standards, Liu told reporters at the seminar held by his office on Oct. 11.
Official data showed that per capita disposable income of rural Chinese residents living in poverty-stricken areas reached 10,371 yuan (1,460 U.S. dollars) by 2018, equivalent to 71 percent of that for urban residents.
From 2012 to 2018, 82.39 million people had left poverty behind. In 2018 alone, 13.86 million people were no longer impoverished, according to a white paper issued by China's State Council on Monday.
The Chinese government has created its own solutions to poverty issues, Argentine political observer Lautaro Taibo told Xinhua in an earlier interview, noting that there were comprehensive solutions covering education, transportation, housing, infrastructure, finance, industrial development, employment and health, among other areas.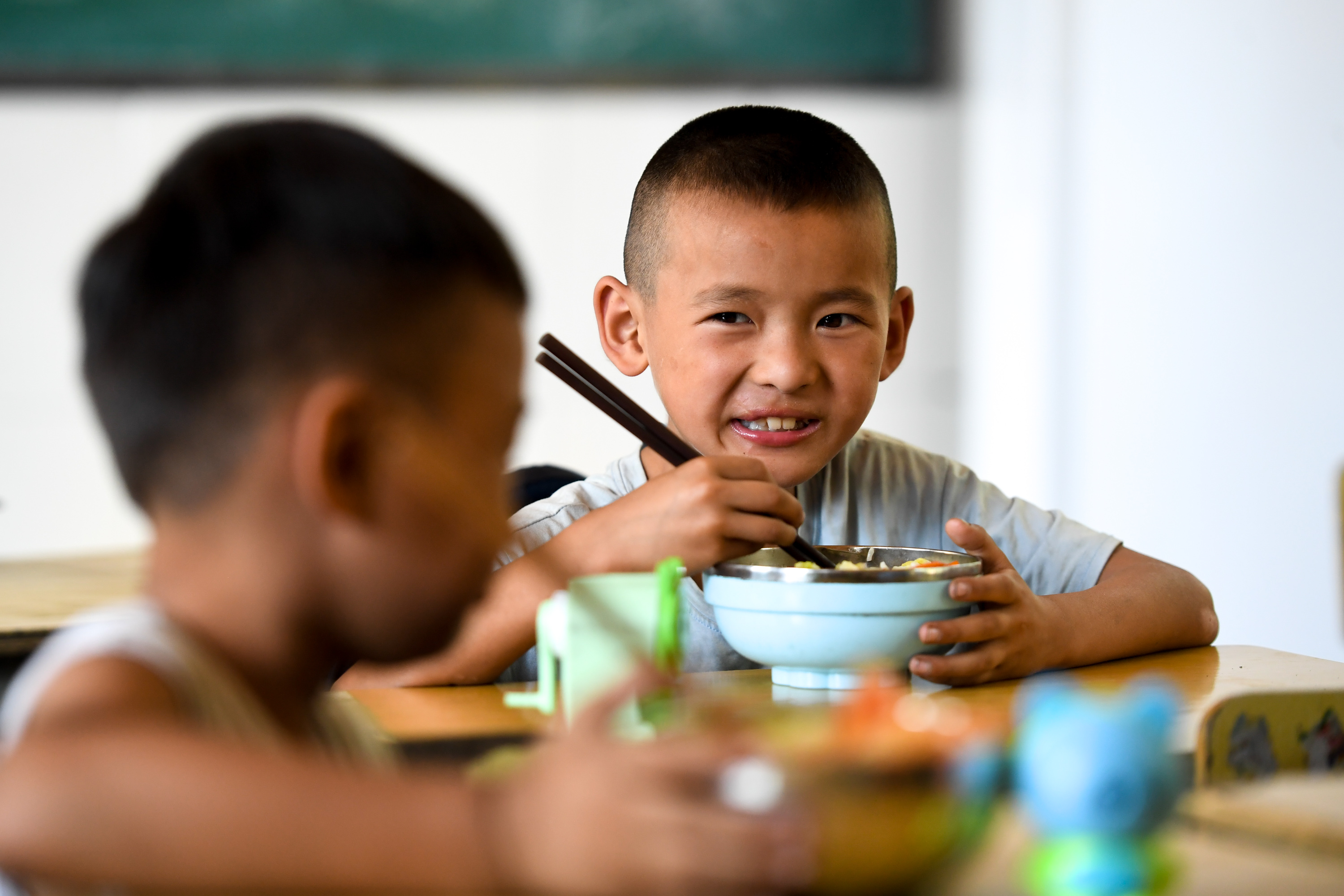 Students have lunch in a classroom at the Shibadong Primary School in Shuanglong Town of Xiangxi Tujia and Miao Autonomous Prefecture, central China's Hunan Province, Sept. 5, 2019. (Xinhua/Chen Zeguo)
Take health and education, two of the most pressing issues that impoverished families have been facing worldwide, as an example. Cross-continental studies showed that better nutrition is associated with improvements in children's school performance, said the United Nations Children's Fund in a highly anticipated report released this month.
The Chinese government has prioritized health and education in its efforts to eradicate poverty with measures such as maternal nutrition intervention, meal allowances, better dormitory and tuitions waivers for rural schools, and aligning their teaching standards with the urban ones, according to a white paper released in 2016.
Students receive bags and stationery items from China Foundation for Poverty Alleviation (CFPA) in Kathmandu, Nepal, Aug. 27, 2019. (Photo by Sunil Sharma/Xinhua)
REACHING OUT
China has demonstrated that it is possible to achieve economic growth in record time while lifting millions of people out of poverty, said Lawrence Banda, vice secretary general for Universal Peace Federation (Zambia Chapter), adding that the achievements were an inspiration to African countries.
Meanwhile, China's poverty reduction also serves to reach the common goals in the UN 2030 Agenda for Sustainable Development.
"The reason that the poverty (rate) has fallen around the world is ... mostly because China has taken 700 million, or a higher figure of people, out of poverty and given them the chance to become part of an earning middle class," said former British Prime Minister Gordon Brown on the sidelines of the 74th session of the UN General Assembly in September.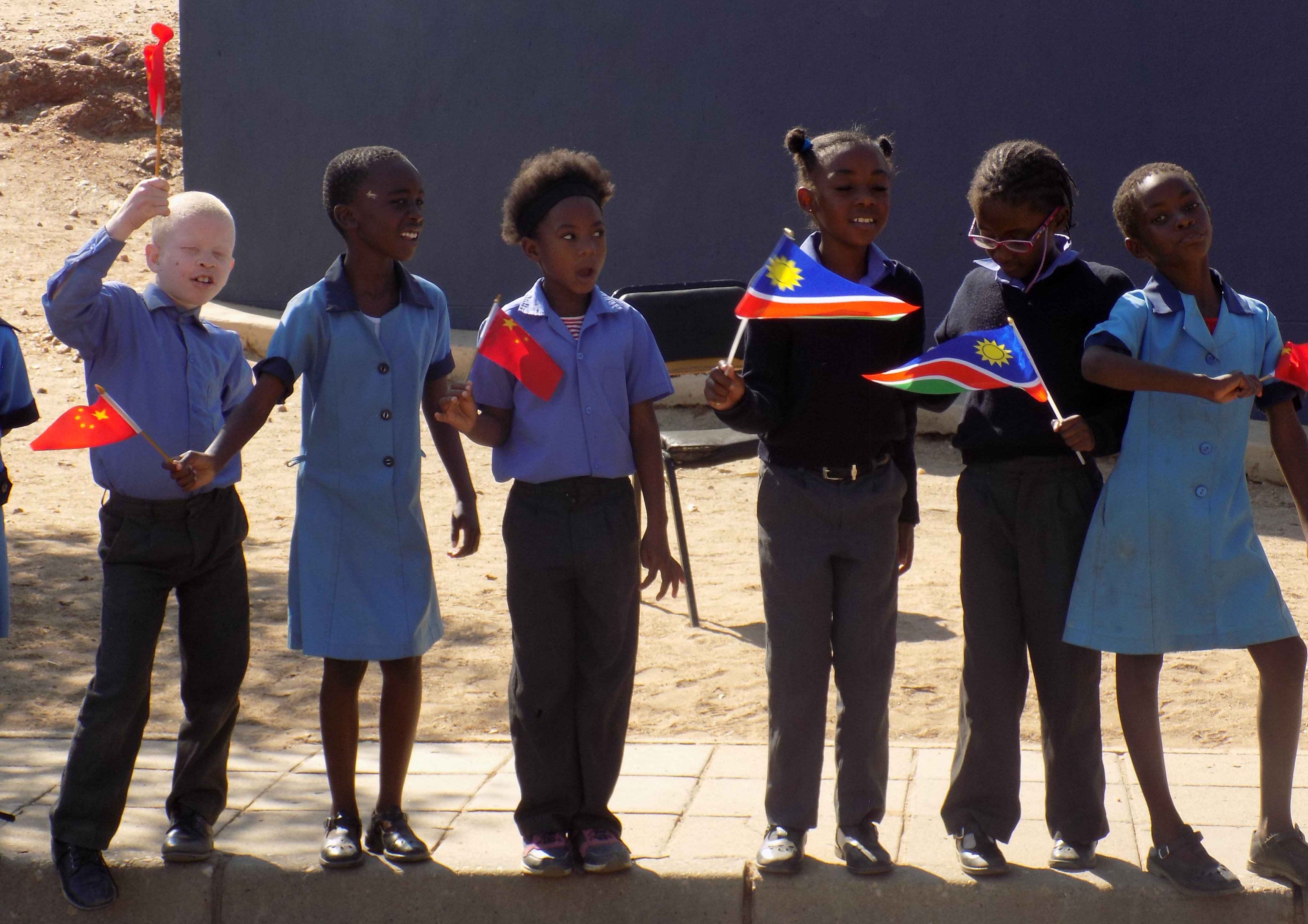 Students wave flags prior to the launching ceremony of the Panda Pack Project at Tobias Hainyeko Primary School in Windhoek, Namibia, Sept. 24, 2019. (Photo by Musa C Kaseke/Xinhua)
"While battling against poverty of its own, China has been helping other developing countries, especially the least developed countries" through programs such as the China-proposed Belt and Road Initiative (BRI), said Ma Zhaoxu, China's permanent UN representative.
Since May 2017, China has invested 2 billion yuan (281 million dollars) in emergency food assistance to developing countries along the BRI routes, and has launched 100 "happy home" projects, 100 poverty alleviation projects, and 100 healthcare and rehabilitation projects, said an official report on the BRI.
Once fully implemented, the BRI will lift 7.6 million people out of extreme poverty and 32 million out of moderate poverty, according to research published by the World Bank in June.