South-South cooperation is key to rural poverty reduction
China.org.cn/Chinagate.cn by Jin Ling, An Yu,October 02, 2019

Adjust font size:

Gilbert F. Houngbo, President of the United Nations' International Fund for Agricultural Development (IFAD), visited China in August 2017. While in China he had deep discussions with Chinese officials, and also shared with Chinese media his insights on China's rural development programs, the South-South Cooperation and the approaches of developing countries in their fight against rural poverty.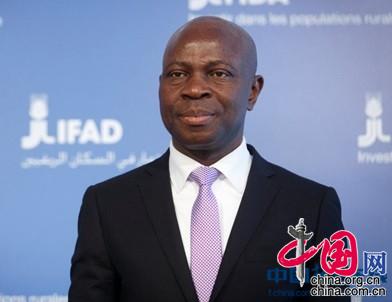 H.E. Gilbert Houngbo, President of the InternationalFund for Agricultural Development.
"China has successful experience in rural development and poverty reduction which can be shared with other developing countries," said Houngbo during an exclusive interview with China.org.cn. The experience of the IFAD has shown that the most effective way to reduce poverty and improve food security is to enable small farmers and other poor rural people to learn skills and knowledge and to be confident in poverty alleviation, he added.
Houngbo stressed that there should be a series of activities and approaches complementary to the South-South Cooperation to ensure the effectiveness of development. Taking smallholder agriculture and rural development for example, there should be exchanges of knowledge, skills, resources and techniques.
Houngbo also announced that the China-IFAD South-South and Triangular Cooperation Facility would become effective in the first half of 2018. The primary goal of the Facility, according to him, is to identify best practices in rural poverty reduction and then use the IFAD's network to share it with the world and benefit other rural areas.
During his stay in China, Houngbo also visited the IFAD's poverty alleviation project in the Liupanshan mountain area in Qinghai Province. The project has also been funded by the Chinese government to raise income of poor rural families and the vulnerable and to better connect farmers with the market
Houngbo called on China and the IFAD to strengthen cooperation in co-financing the activities and to achieve the common goal of eradicating poverty through rural development.
The IFAD is one of the first international financial institutions to invest in the development of rural China. Since 1981, the IFAD, through a co-financing mechanism, has financed 29 projects and programs in China, with a total investment of over $2 billion (of which $862.4 million were from the IFAD directly as loans and grants). These projects and programs have benefited more than 4.3 million rural households.