Martin Evans: China has done amazing things with poverty reduction
China.org.cn/Chinagate.cn by Wang Donghai, Liu Mengya,October 02, 2019

Adjust font size:

During an exclusive interview with China.org.cn, Martin Evans, Economic & Social Policy Analyst for Child Poverty at the UNICEF gave his opinion on child poverty reduction and some suggestions for child poverty reduction.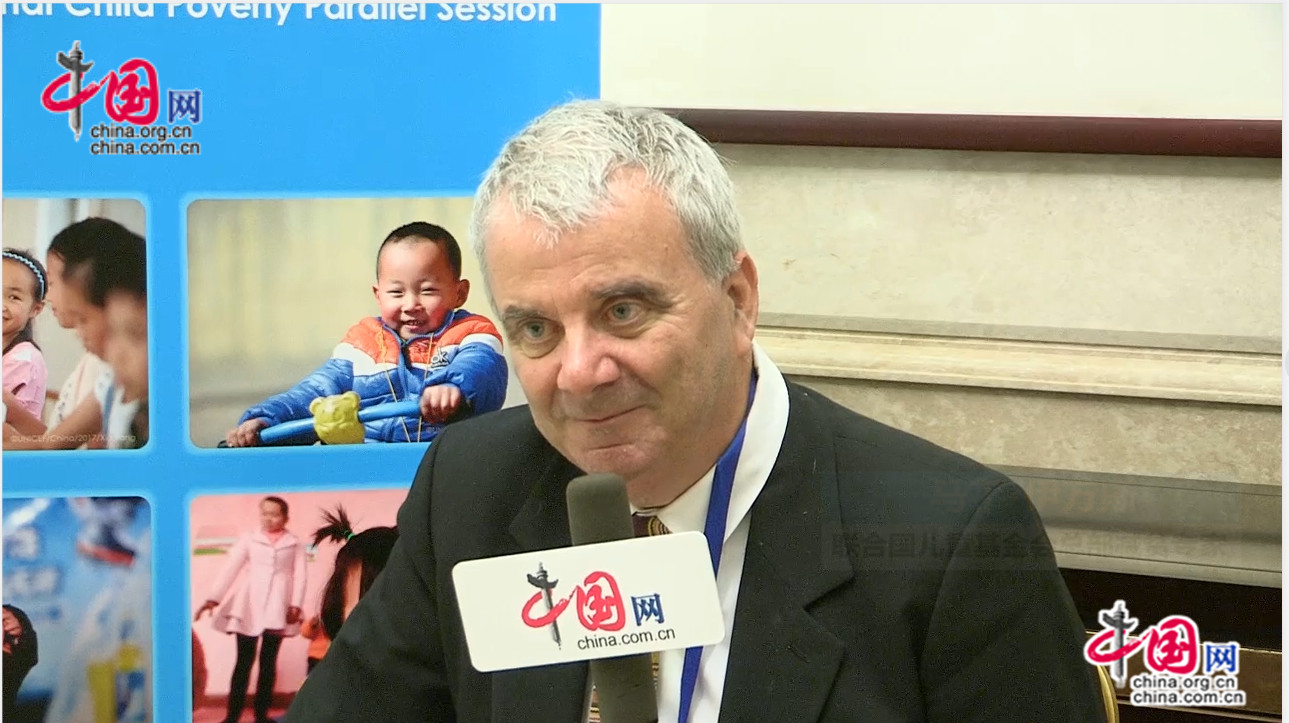 H.E. Martin Evans, Poverty Specialist in the UNICEF headquarters.
China.org.cn: What do you know about the extent of child poverty globally?
Martin Evans: Last year, we worked with the World Bank to produce the first ever estimates for global child poverty. What we found is that 385 million children live under the poverty line, set at $1.90 per capita per day. 385 million children is a lot, but it is also twice the rate of the adult poverty. 19% of children are poor and only 9% of adults.
China.org.cn: Do you have any numbers on multi-dimensional poverty?
Martin Evans: Multi-dimensional poverty is more difficult to measure. But we've been working with a team from Oxford called the OPHI. They have produced a figure for us, and for the world as well, similar to the one we got with the World Bank.
There are about 699 million children in multi-dimensional poverty, and again the rate for child poverty is much higher than the rate for adult poverty. About 38% of children are poor – they live in multi-dimensional poor households – against only 24% of adults. We see, on both poverty measures, that children are much poorer than adults, and much more likely to be poor. In fact, using both measures, about 50% of the poor are children, and that is incredible when they are only about a third of the population.
China.org.cn: China has achieved notable successes in poverty reduction and gained much successful experience. What can other developing counties learn from China?
Martin Evans: China has done amazing things with poverty reduction when you think about the number of people and children that have been lifted out of poverty. I think that this shows commitment to clear economic growth, which makes sure that it provides jobs and opportunities to adults, but also a clear and real commitment to human development and the provision of education and health services.
What can other countries learn? I think a strong commitment to growth and strong government backing for poverty reduction and the programs that go with it. And these are water, sanitation, schools, and health services as well as giving people jobs and making the economy grow.
China.org.cn: What are your suggestions for lifting children out of poverty in China?
Martin Evans: First of all, commitment to children as a separate poverty target. It is not only the number of poor people, but also the specific elements of child poverty that really matter. And this shouldn't mean only improving access to education, because that is already excellent. It should be about improving the quality of education and making sure poor children get excellent opportunities to go as far as they can and to realize their potential.
It means dealing with the costs of health sometimes as well, because in some areas it cost a lot to get access to some forms of child health care. I think nutrition also needs some attention.
I think that can do it. But it is a big agenda. Is China up to it?
China.org.cn: What has the UNICEF done in promoting global child poverty reduction?
Martin Evans: The UNICEF is doing a lot to help on child poverty reduction, especially with the new sustainable development goals. We are working globally with partners – the World Bank, the UNDP, the OECD and rich countries – to see how child poverty reduction targets should be set and what could be done to achieve them. But our main area of work is at the country level.
As you know our office in China does a lot of work with the national government of China and with other partners. In all countries, the UNICEF is working with governments, with NGOs and with other people both to identify child poverty and to ensure that it is reduced for the sustainable development goals.