China's path to poverty reduction in Africa
China.org.cn/Chinagate.cn by Jamie Mulholland,October 02, 2019

Adjust font size:

Poverty reduction has transitioned from an aid-driven approach in the 1990s to one driven by models of economic development. The Chinese model is based on the idea that improvements of infrastructure will attract investment and promote mobility, resulting in an increase in the quality and quantity of employment opportunities available within a given region, and thus elevate people out of poverty. This approach has been proven effective by China's past experience.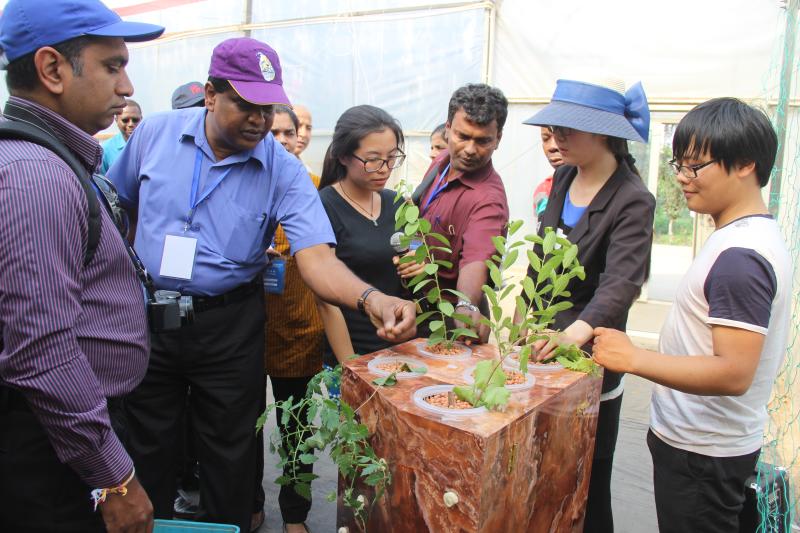 International training program attendees visiting theBeijing International Urban Agricultural Science andTechnology Park.
As a global economic power successful in poverty reduction, China has been engaged in humanitarian projects and sharing knowledge and experience from successful domestic poverty reducing strategies to assist the developing countries, especially Africa.
China has long seen Africa as its ally, and "win-win", "mutual respect", "friendship" and "non-interference" are phases that can best describe its relations with African nations. In addition to economic relations, China is engaged in humanitarian projects. The past few years have witnessed Chinese aid to Africa in the four "pillars": infrastructure development; agriculture and food security; health and medical care; and, education and human resources.
China's poverty reduction strategies are viable for Africa. Africa, like China, was an agrarian society with limited infrastructure and employment opportunities outside of traditional occupations. As a global leader in infrastructure projects, China has been attempting to replicate its success in reducing poverty across the African continent, and has supported Africa's infrastructure investments in railways, ports, energy projects, highways, light rail, city projects, etc. The benefits to locals are obvious. Chinese investment is driving trade, and infrastructure projects are building and connecting communities. Investments in Africa's infrastructure will give full play to Africa's resource advantages and help to connect communities with a network of regional and global markets, providing a broad range of new economic opportunities, as well as increasing mobility and access to education, which will benefit Africa's poverty reduction.
China has provided knowledge, funding, expertise and manpower to modernize Africa and boost its economy in line with its own successful domestic poverty reduction strategies. For example, China launched the Global Poverty Reduction Online Knowledge Sharing Database (http://case.iprcc.org.cn/), a platform for showcasing successful models of poverty reduction characterised by its use of tree diagrams, standardized templates, and a strong network of contributors. A unique aspect of the portal is the tracking of on-going projects, providing updates for locals, investors and other groups that have an interest or wish to learn from the success and failure of other projects. The open nature and sharing of information between experts and local communities is what makes this project unique. Starting with the sharing of China's experience, it shares a range of tools and innovations that is open to benefit everyone, including Africa.
To achieve a win-win situation and to help the African countries reduce poverty, China has introduced a series of new policies and amendments intended to enhance taxation transparency, simplify trade procedures and ease bureaucratic limitations. For example, China is promoting tourism along the Silk Road "to boost regional economic and infrastructure cooperation, as well as people-to-people exchange in Asia"; China's taxation authority has introduced a number of measures, in addition to publishing tax guides and offering training courses to improve taxation services for investors to serve the Belt and Road Initiative; and China's Foreign Ministry is adopting several new policies to facilitate the flow of personnel between China and countries involved in the Belt and Road Initiative. All of these will expand and diversify economic and employment opportunities for Africa.
China's Belt and Road Initiative, an economic project that connects China with 68 countries and a vehicle for mutual benefit among its partners, promotes the prosperity of the world, especially Africa. "The Belt and Road is now seen as part of the China solution for the whole world, not just the developing world," says David Kelly, head of research at China Policy, a Beijing consultancy. Domestically, this ambitious project is expected to remedy slowing economic growth in China's border provinces while boosting China's global influence. Internationally, the locals benefit from China's investment in infrastructure and the new opportunities they provide, and China's efforts to share experience and modernize infrastructure represent a chance to break the cycle of poverty and reliance on aid.
Jamie Mulholland isPhD candidate at the University of Reading.
Opinion articles reflect the views of their authors only, not necessarily those of China.org.cn/Chinagate.cn.