A friendship with scientists enriches a Shaanxi farmer
p.china.org.cn by Wu Tong,June 13, 2019

Adjust font size: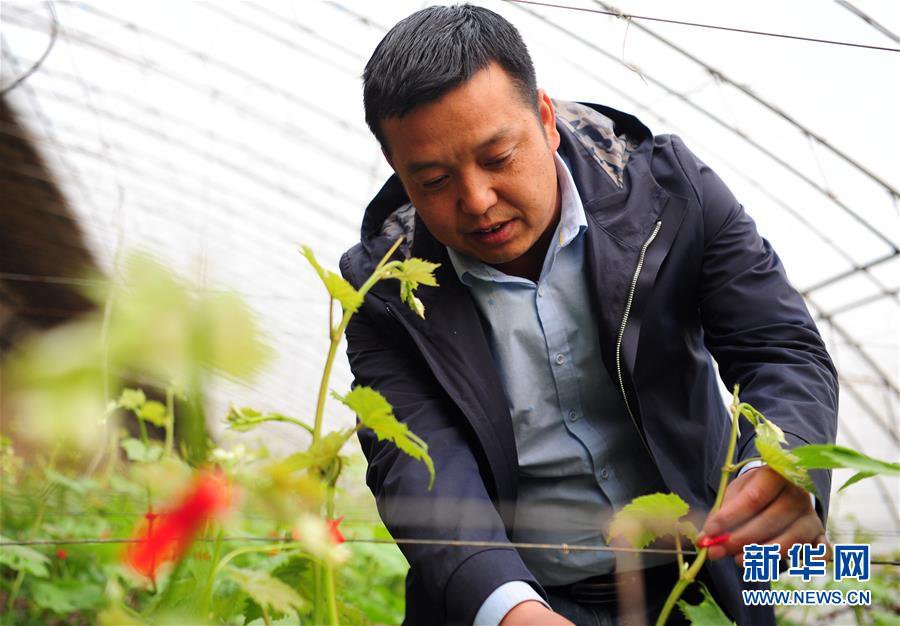 Li Haiping, a supporter of new agricultural equipment and skills, checks the vines in his greenhouse. [Photo by Zhang Bowen/ Xinhuanet.com]
Located in Shaanxi Province, in the middle of the Guanzhong plains of northwestern China, the Yangling Agricultural Hi-tech Industries Demonstration Zone is known as China's City of Agriculture. It was the birthplace of China's agricultural civilization, and now is the home of a series of agriculture and forestry universities, research institutes and key secondary agricultural schools. It was established with the approval of the State Council, China's cabinet, in July 1997 and is becoming an important force in leading and underpinning the development of modern agriculture in arid and semi-arid areas.
Li Haiping, head of the Yangling Jintian Fruit and Vegetable Cooperative, is a supporter of new agricultural equipment and skills. Whenever he has questions, he will consult professors and experts from the Northwest Agriculture and Forestry University, Yang Ling Vocational & Technical College and other educational or research institutions in Yangling. These contacts have now become his friends.
In one of Li's greenhouses, his scientist friends helped to improve the irrigation and fertilization methods and also tested out the best time, temperature and humidity for grape planting. Thanks to new farming techniques, the survival rate of Li's grape increased from 30 percent to 95 percent, and the irrigation time spent on his 33 hectares of land fell from 25 days to less than 5.
Together with other farmers from Yangling last October, Li visited an American farm called PG where he saw farmers analyzing their production with remote sensing technology and big data.
"They have only a staff of about 20 to take care of the 4,000-hectare farm. Their refined management and operation are amazing, and these are my goals," says Li.