Making the Voice of Rubber Farmers Heard
chinafrica.cn by Xia Yuanyuan,March 08, 2019

Adjust font size: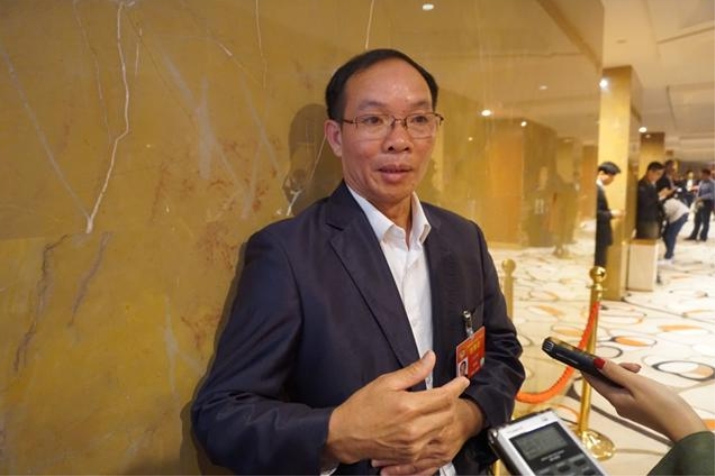 CPPCC member Yang Fengji (XIA YUANYUAN)
When it comes to poverty alleviation, Yang Fengji has much to say. As the deputy head of Da'an Township in Hainan's Baisha Li Autonomous County, and Secretary of Tianbiao Village Party Branch, he worked at the grassroots level for more than 30 years.
Baisha Li Autonomous County is located in the central mountainous area of Hainan Province. It used to be classified as a "poverty-stricken county" at the national level. In Tianbiao Village, where Yang lives, a majority of villagers are of the Li ethnic minority. More than 1,200 villagers only had 500 mu(33.3 hectares) of paddy fields to generate income for their livelihoods. As a result, the per-capita annual income of Tianbiao villagers was less than 600 yuan ($89.4).
However, things have changed. The per-capita annual income of villagers today is about 9,000 yuan ($1,341.3), and almost all of them have been lifted out of poverty. Many families now live in two-story houses. Tianbiao Village has become a well-known village far and wide for the beauty of its landscapes. Such transformation is directly linked to the relentless efforts of Yang in the past 20 years.
In 1998, Yang, as the only high school graduate in his village, was elected as the Village Party Secretary. The first thing he did after assuming office was to lead his fellow villagers in finding ways to get rid of poverty. Yang had in mind more than 3,000 mu (200 hectares) of land located on a nearby mountain, where local natural conditions were suitable for the growth of rubber trees. And this is how Yang personally introduced rubber tree planting to the Li people.
For more than 20 years, both in Tianbiao Village and Da'an Township, rubber farming has become a local industry, bringing tangible benefits to villagers and helping a large number of them to rise above poverty.
"The rubber industry is very vulnerable to the impact of the weather. Too much precipitation or a single typhoon can have a devastating impact on rubber trees. Along with the low rubber prices in recent years, many rubber farmers have begun to lose their jobs," Yang told Beijing Review.
Being aware of the risks of relying on a single industrial structure, as a member of the National Committee of the Chinese People's Political Consultative Conference (CPPCC), Yang made a point of bringing the "worries" of rubber farmers to the CPPCC National Committee. At the annual CPPCCNational Committee session in March 2018, he and five other members jointly submitted a proposal on "implementing insurance projects for rubber farmers, promoting new rubber farming technology, and doing a better job in developing rubber farming economy."
The proposal received a positive response from the Ministry of Agriculture and Rural Affairs.
"Since September last year, the state has included rubber farming into the list of insurance projects. Every year, rubber farmers will receive insurance subsidies, and their income will be guaranteed," said Yang, adding that he hoped this policy will be extended to the entire rubber farming area in Hainan in the future.
At this year's two sessions, Yang once again spoke up for the grassroots efforts taking place in his hometown.
"This year, I will suggest that the state give policy support to the integration of natural rubber production and processing in Hainan, so that the industry becomes a strategic guarantee for the construction of the Hainan Free Trade Zone, while at the same time, ensuring that farmers' incomes keep increasing and that poverty is kept under control," he said.