Innovation helps China fulfill commitment to poverty eradication
China.org.cn,November 02, 2018

Adjust font size:




Forested land covering more than 18 million square meters in Sichuan province is the scene today, just a decade after the area was devastated by a lethal earthquake on May 12, 2008.

This is not simply a reforestation program, but also an online interconnection between donors and local conservationists through the platform of Ant Forest, a subsidiary of Ant Financial belonging to the Alibaba Group, which is based in Hangzhou, capital of east China's Zhejiang province.

This is proving to be a perceptive way to address poverty, ensure ecological protection and promote a low-carbon lifestyle through exchanges via online platforms, said Huang Hao, vice president of Ant Financial, speaking on the first day of the International Forum on Reform and Opening Up and Poverty Reduction in China, yesterday in Beijing.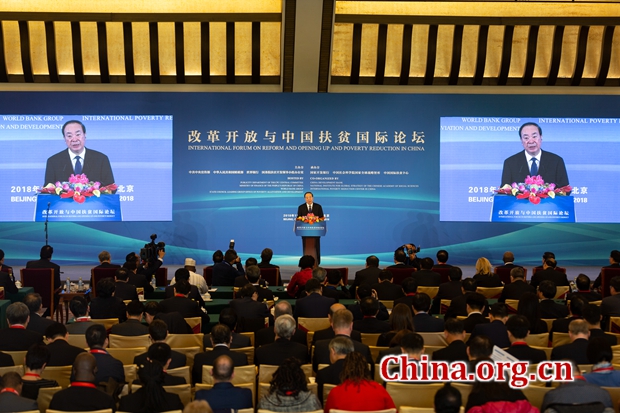 In addition to the forestation efforts, which have enabled 55.52 million trees to be grown on formerly arid land, not to mention the job opportunities it has created, the Ant Financial also established platforms to provide healthcare services and micro loans for people, especially those in rural areas, who are still struggling to break the shackle of poverty.
"Our boss (Jack) Ma Yun has defined poverty reduction in three different stages, exemplifying providing initial subsidies to poverty-stricken families as the first step, shaking off poverty as the second, and living a life of abundance as the last," Huang said, while attending the forum's Third Round Table Discussion.
"It is just like giving fish to the impoverished population, then teaching them how to catch fish, and last but not least, building a fish pond, pooling all social resources, including education, healthcare, gender equality norms and e-commerce [to ensure their well-being]," he added.
China has set a goal to eradicate poverty by 2020, which means it has to lift an estimated 30.46 million people out of poverty by that time. According to the World Bank, more than 800 million Chinese have been able to escape poverty over the past four decades.
In his keynote speech at the opening session of the forum, Jim Yong Kim, president of World Bank Group, said: "In December, it will be 40 years since Deng Xiaoping initiated China's reform and opening up process with his famous speech: 'Emancipate the mind, seeking truth from facts, and unite as one to face the future'.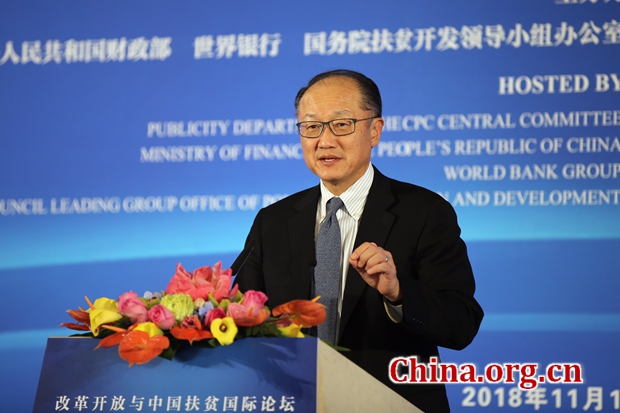 "That triggered four decades of reforms bringing China to where it is now: the second largest economy in the world, and one of the few countries that will soon have made the journey from low income country to high income country."
According to Achim Steiner, administrator of the United Nations Development Programme (UNDP), China had made remarkable progress unique in human history by lifting hundreds of millions of people out of poverty.
However, he emphasized that the remaining pockets of poverty posed a challenge. It required a journey involving the efforts of nation, society and communities, he said.
In recent years, China has highlighted a precise and multidimensional targeted approach to poverty reduction involving micro financing, compulsory education, healthcare system and ecological conservation following on from initial infrastructure construction.
Liu Yongfu, minister of the State Council Leading Group Office of Poverty Alleviation and Development, said despite universal policies adopted during the past 40 years for poverty reduction, the situation was changing and new measures had to be adopted catering more to local circumstances.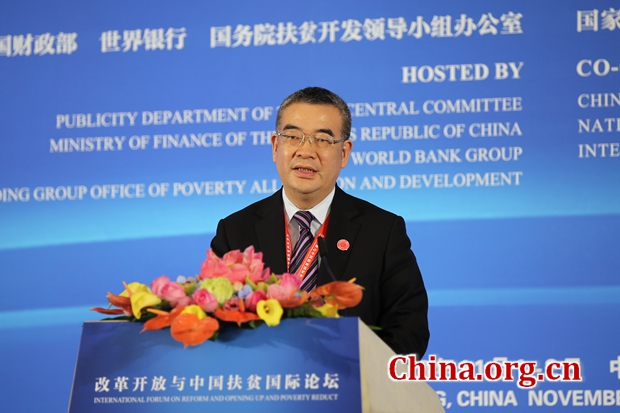 Zhu Hexin, vice governor of the People's Bank of China, said the country's rural rejuvenation strategy for building a beautiful countryside had become the priority for the financial services sector. This also encompassed adoptions of cutting-edge technologies, such as, cloud computing and artificial intelligence (AI), with improved supervision to prevent illegal actions.
The forum, which closed Friday, was jointly organized by the Department of Publicity of the Communist Party of China (CPC) Central Committee, the Ministry of Finance, the World Bank Group and the State Council Leading Group Office of Poverty Alleviation and Development. ( by Wu Jin)