Party members spearhead fight against poverty
China Daily,October 17, 2018

Adjust font size: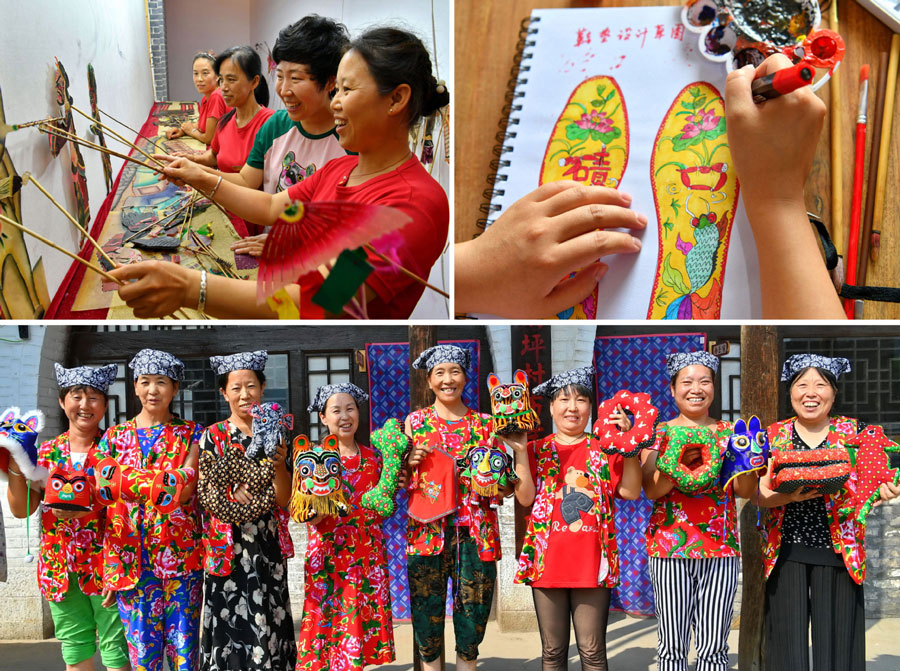 Clockwise from top left: Du Liangshu (second right), the first Party secretary of Zhaizeping village, Linxian county, Shanxi province, watches a shadow play rehearsal by the villagers; Du designs an insole with a traditional pattern; Villagers demonstrate their handmade artworks. [Photo/Xinhua]
Thousands join drive to improve lives in rural areas
Du Liangshu, 33, used to teach drawing and calligraphy, and sometimes worked as an exhibition curator at a gallery in Xiaoyi, Shanxi province.
When Communist Party of China members were encouraged to join the poverty reduction campaign two years ago, Du was more than willing.
She volunteered to be the first Party secretary of Zhaizeping, a village in the town of Qikou, administered by Linxian county, and be responsible for poverty reduction. The village lies at the foot of Lyuliang Mountain in Shanxi, in one of the most impoverished regions of the country.
Wednesday marks China's Fifth Poverty Alleviation Day. By the end of last year, the country had 30.46 million people in rural areas categorized as living below the poverty line. Since 2020 was set as the target to eradicate poverty, Party members have been mobilized to go to economically disadvantaged villages and serve as first Party secretaries to help villagers shake off poverty.
By promoting the attractions of Qikou as a tourist destination, Du helped poor villagers develop tourism-related businesses, as Zhaizeping is only about 1 kilometer from the town.
Thanks to her efforts over the past 20 months, cash has flowed into the village and living standards have risen.
Compared with two years ago, the per capita income of poor villagers has risen by about 40 percent to an estimated 3,500 yuan ($514) this year, above the national poverty threshold of 3,200 yuan.
"The key to poverty reduction is precisely identifying its causes, and taking targeted measures in turn," Du said in an exclusive interview with China Daily.
President Xi Jinping, also general secretary of the CPC Central Committee, placed poverty reduction at the top of the list of major tasks as the Party vowed to build a moderately well-off society in 2020.
This means that by that year, the rural poor population should be guaranteed food, clothing and safe housing, compulsory education and basic medical care.
In Xi's view, if rural China, particularly people in impoverished areas, is left behind, a moderately prosperous society will not emerge.
Xi proposed the idea of targeted poverty alleviation for the first time in November 2013, when he made an inspection tour of Shibalidong village, Huayuan county, Central China's Hunan province.
During talks with people in the mountainous village, he told local officials that targeted measures must be taken to lift the poor out of poverty.
"Precision" is a key word in Xi's battle against poverty, which requires implementing the targeted measures at the right time, in the right way, and according to the situation.
Du said Xi's theory on targeted poverty alleviation is a guideline for relief officials, particularly for first Party secretaries such as herself, adding that the policy has been effective.