2018 Beijing Forum on Human Rights focuses on poverty elimination
CGTN,September 19, 2018

Adjust font size:

Chinese officials said China's achievements in poverty reduction have contributed to more than 70 percent of the world's total reduction during the 2018 Beijing Forum on Human Rights, which is convened Tuesday and Wednesday.

The forum is organized by the China Society for Human Rights Studies and the China Foundation for Human Rights Development.

Hundreds of officials and scholars from around the world attended the 2018 Beijing Forum on Human Rights, and they said reducing and eliminating poverty have always been goals and basic rights of all people in their pursuit of a happy life.

The theme of the two-day forum is "Poverty elimination: Seeking common development to build a community of shared future for human beings."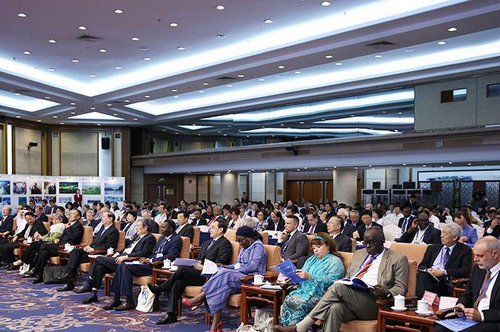 Officials and scholars attend the2018 Beijing Forum on Human Rights, September 18, 2018. /Chinese MOFA photo
Huang Kunming, head of the Publicity Department of the CPC Central Committee, stressed:
"As President Xi Jinping said, China's reform and opening-up play a decisive role in determining the nation's destiny. The policy has changed the current situation of China and its people, and is writing a new chapter in China's cause of human rights."
Many say the forum has provided a platform for South-South Cooperation and experience-sharing in poverty alleviation.
Lord Neil Forbes Davidson, a UK parliamentarian of House of Lords said: "I think this forum is very important, it brings people from all across the world to exchange ideas, an area like human rights, there are many different ways of looking at human rights. Too often, people assume their points of view on human rights, it's the only view. This kind of discussion opens up people's minds of different society. I think this is very valuable."
While combating poverty at home, China also actively helps other developing countries address their poverty problems.
China aims to lift at least another 10 million people out of poverty this year. The country hopes to eliminate absolute poverty by 2020 as part of the creation of a "moderately prosperous society."
Experts believe China's progress in reducing poverty will significantly contribute to the decline in global poverty.
D.R. Kaarthikeyan, President of Age Care India, said: "What the government has done in reducing poverty over the last forty years is equally a miracle, which is achievable."
Benjamin Davis, Strategic Programme Leader of Rural Poverty Reduction of the Food and Agriculture Organization of the United Nations said:" I know China has the goal to eliminate extreme poverty in the next two years, it's a fundamental part of dignifying the status of people's living conditions. I think it's an important contribution to human rights."